Cyber way to fight back against bullying
Shillong girl's app selected for silicon valley mentorship round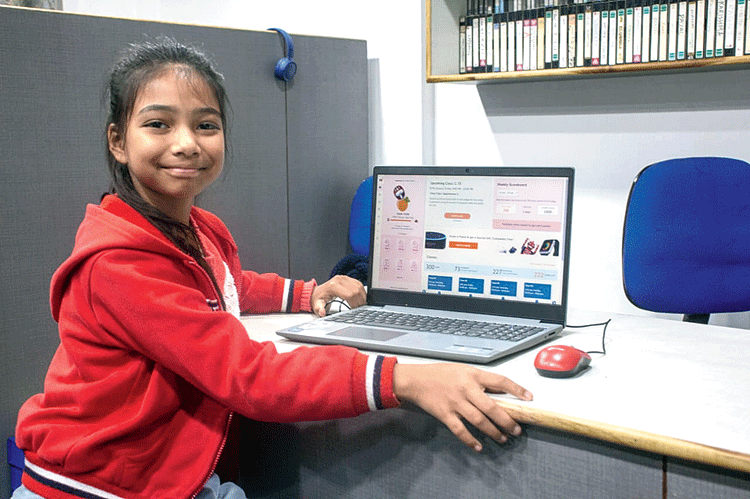 ---
|
Shillong
|
Published 09.02.20, 07:32 PM
---
If experience is the best teacher, a nine-year-old girl has used it to develop an anti-bullying application that can be utilised worldwide.
Meaidaibahun Majaw, a student of class IV here, has come up with an application to report against bullies to school principals, teachers, parents and even friends.
She told The Telegraph at her residence on Sunday that she was bullied ever since she first stepped into her school.
"From nursery till class II, I had to face bullies in my school. In fact, from day one itself when I entered nursery class, I was bullied. I would report against these bullies to my parents, teachers, and even the school principal," she said.
Having first-hand experience of being bullied for four years, she decided to come up with the application.
In September last year, she enrolled with White Hat Junior, an online portal where children can learn fundamentals of coding — logic, structure, sequence and algorithmic thinking — to generate creative outcomes like animations and apps.
By December 2019, Meaidaibahun was able to develop the anti-bullying app. She has been selected by White Hat for the Silicon Valley Mentorship Round. Only 20 students among 7,000 applications have made it to the round.
The anti-bullying app outperformed on each and every parameter, which included uniqueness of the idea, core functionality, user interface, and world impact.
If chosen to be in the top six category, Meaidaibahun will participate in the Silicon Valley Challenge to be held in May in California where she will present the app before an audience, including those from the industry.
The app has also been graded as an industry app, and if approved, it will be included in the Playstore from where users can download and install it on their mobile phones.
"This app can be used not only by children to report against bullies but even by college students or those who encounter cyber bullies," she said.
Cyberbullying or cyber harassment is predominant in the virtual world where Internet users encounter through various means.
Apart from the anti-bullying app, Meaidaibahun had also developed an app where customers in cafes can place their order for eatables without human interface.
On her future plans, the nine-year-old said, "I would like to start a company, which develops apps, games, websites, and even robots."
To bullies out there, her message was, "Stop bullying. You will not become famous by bullying others."
And to those who are being bullied, she said, "Fight back. Report against the bullies to your parents or school principal. Do not stop."