Puzzling, but luck, quick action may have helped
Why Mizoram has escaped Covid death so far
'We don't know yet but factors like prompt transfer of patients to care centres may have helped'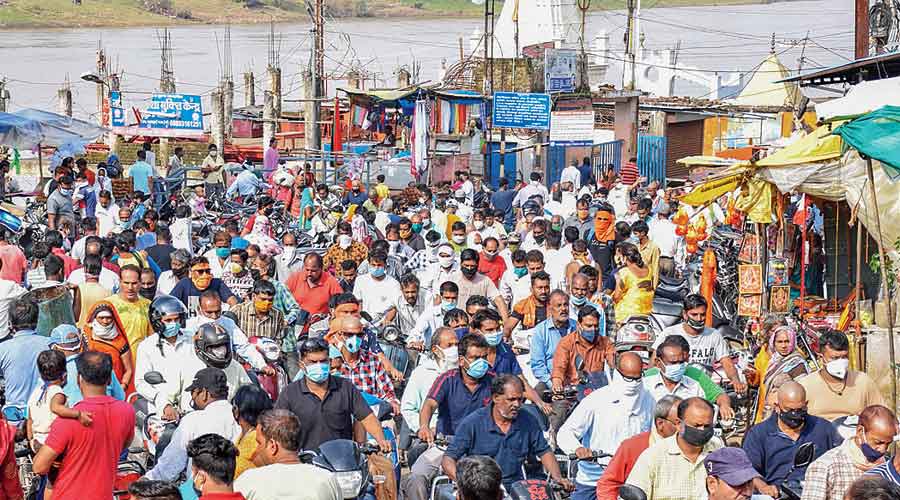 ---
---
Amid India's rising coronavirus deaths, Mizoram stands alone for now.
Eight states, Bengal among them, accounted for 80 per cent of the 819 new coronavirus deaths recorded on Tuesday, but Mizoram remains the only state without a single documented Covid-19 death.
While Mizoram's count of lab-confirmed Covid-19 cases has reached 1,011 and 420 patients were under medical supervision on Tuesday, doctors in the state say its zero death number is a puzzle but likely the result of multiple factors.
"We've been fortunate so far — we've seen very few severe cases," Eric Zomawia, a senior state public health official told The Telegraph. "But we've also seen prompt transfer of patients to Covid-19 care centres or to our one dedicated Covid-19 hospital and our staff dedication has been remarkable."
Mizoram recorded its first Covid-19 case on March 25, a patient with a foreign travel history, then no cases at all until early June. Since then, cases have increased with multiple spikes — from 46 new cases on June 9 to the highest single-day count yet of 120 cases on August 15.
The first patient did develop severe Covid-19 and had required ventilation for several days, Zomawia said. But the majority of patients diagnosed since then have had mild symptoms.
"We don't know why yet — this will need research," said Sukanta Sinha, a senior microbiologist and dean at the Zoram Medical College, Aizawl, the state's only dedicated Covid-19 hospital 15km south of Aizawl. "I think many factors are contributing to this — we can only speculate for now."
Mizoram is India's least populous state after Sikkim with an estimated 1.2 million people. Sikkim's count of Covid-19 cases has climbed to 1,652 and three patients have died.
Public health experts would view Mizoram's terrain marked by hills and jungles as posing a challenge to epidemic control but, Sinha said, people across the state are "more organised and very cooperative".
"I think the state has been able to contain the epidemic much better than others — with community engagement," he said.
Mizoram was among states least prepared for the pandemic — it did not even have a viral diagnostic laboratory. "We had to build the lab from scratch in just seven days," Sinha said. Microbiologists in neighbouring academic institutions initially lent machines for Covid-19 diagnostic tests.
While the reasons for the relatively low proportions of severe disease remain unknown, Sinha said, patients who do develop moderate to severe disease and require oxygen receive the best possible treatment from the staff.
"Our doctors, nurses, other staff work with no inhibitions at all," he told this newspaper, citing the example of a young microbiologist who has a young baby but has reported every single day through the pandemic. "It may seem like a small thing but still something great in a pandemic," he said.
Some researchers have speculated whether genetics or nutrition might also explain the low prevalence of severe disease. "Nutrition among the Mizo population is relatively good compared to populations in many other states," Sinha said.
The college has plans to pursue research on these lines in collaboration with other academic institutions that could contribute through studies on human and viral genomes. "But that's for later. Right now, we're just managing samples (for tests) and patients."
The eight states with the largest number of new deaths on Monday were Maharashtra (184), Karnataka (113), Tamil Nadu (91), Andhra Pradesh (85), Uttar Pradesh (63), Bengal (52), Punjab (49) and Madhya Pradesh (20).
India on Tuesday recorded 69,621 new Covid-19 cases, raising the total number to over 3.69 million, of whom nearly 2.84 million patients have recovered, 785,996 are under medical supervision, and 65,288 have died, 819 on Monday.
The eight states account for 69 per cent of the country's active patients.