Second wave spike hits Assam, count rises
Cases more than double in a week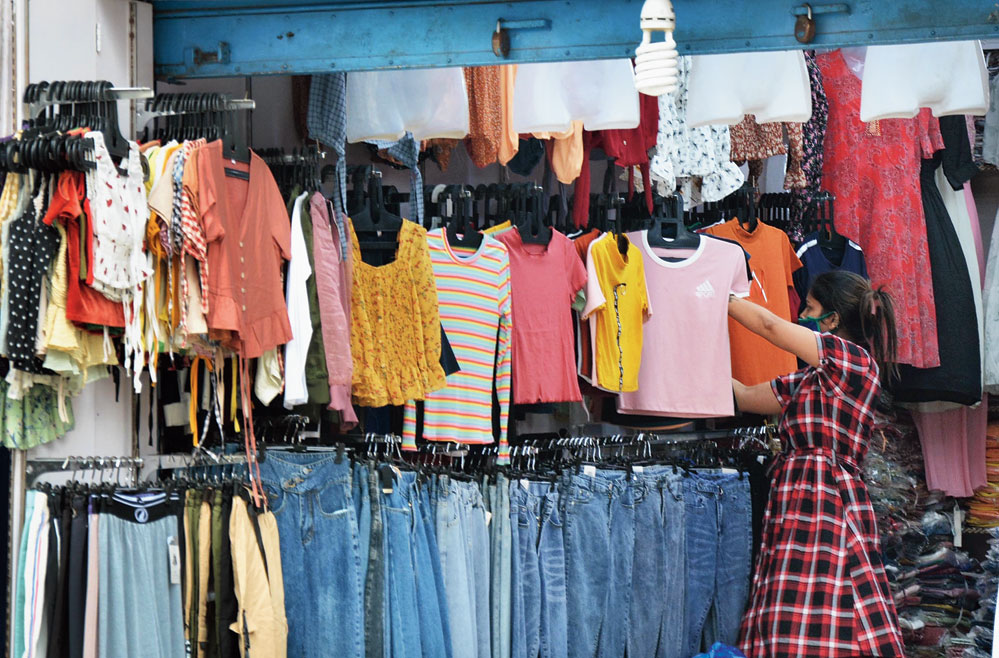 A customer checks out clothes at a shop at Fancy Bazar in Guwahati on Tuesday.
Picture by UB Photos
---
Guwahati
|
Published 19.05.20, 08:09 PM
|
---
Dispur's "worry" over the "second wave" appears to have turned into a reality with Assam recording the biggest jump in Covid cases in a single day. With 39 positive cases reported so far in the last 24 hours, the state's Covid count jumped to 154 on Tuesday.
Assam's Covid cases have more than doubled over the past week from 64 last Tuesday, the sharp rise registering after thousands of stranded people began to reach Assam.
What is worrying the state health department more is that the two border districts of Dhubri and Kokrajhar have begun to exhaust the intake capacities of their quarantine centres.
Health minister Himanta Biswa Sarma said on Tuesday, "Both the districts have around 5,000 people already in their quarantine facilities and cannot facilitate more. Today, I have come to Barpeta to inspect the facilities and have asked the district administration to prepare itself to absorb more people from May 22."
Both Dhubri and Kokrajhar districts, being located on the Assam-West Bengal border, have been screening and quarantining the maximum number of people who have entered the state via road.
Sarma said so far only those who were returning to Barpeta by train were being quarantined in the district. But from May 22, all the returnees who hail from Barpeta, whether they come by train or road, will be brought straight to the district. He also said that the testing capacity of Barpeta Medical College and Hospital was increased to 1,500 samples daily.
NF Railway has so far brought back about 17,000 stranded people of all northeastern states by 13 trains. A majority of them disembarked in Assam. Around 40,000 people have returned to Assam so far via rail and road route.
Fear of community transmission also deepened on Tuesday after a person from Rangiya in Kamrup district tested positive after his death (fourth in Assam) on Monday. "His source of infection remains untraced. We have declared an area of 500 meters from the deceased's house in Rangiya as containment zone," Sarma said. The sources of infection in the two previous cases of Covid deaths, also recorded in Guwahati, remain untraced too.
Sarma reiterated that people should not panic as most of the cases were detected among the returnees who were already in quarantine.
At least 20 of the 33 districts in Assam have so far been affected by Covid-19. On Tuesday, the hill district of Karbi Anglong recorded its first case as a migrant worker who came from Chennai tested positive.
No check-up: There was panic in Dhubri town on Tuesday after two buses full of passengers arrived from Calcutta early in the morning, allegedly without any medical check-up at the border. The Dhubri police, however, sent the buses back to Chagolia checkgate on the Assam-Bengal boundary for check-up and further course of action. Police sources said the buses, bearing registration numbers WB 41 G 5342 and WB 57 C 9542, had altogether 60 passengers who mostly identified themselves as students of a Calcutta-based madarsa. Sources said the buses had stopped outside Dhubri town and the passengers were roaming around, when, on enquiry, locals found that they had come from Bengal and informed the police.
The passengers claimed they had tried to enter through Chagolia but were not allowed to. The buses then went to Srirampur checkgate, 50km away, in Kokrajhar district where they did not have to undergo any check-up. They entered Dhubri town in the wee hours via Bilasipara town.
Thirteen of the passengers claimed to be Nizamuddin Markaz returnees. All of them hail from Dhubri. One of them said they had gone to Delhi in February to attend the religious congregation and had arrived at Srirampur from Delhi in a direct bus. At Srirampur, they were shifted to these two buses.
Health officials said 4,425 persons had been quarantined in 39 centres till Tuesday.
Additional reporting by Suroj Barman in Haflong and Mukesh Kumar Singh in Dhubri