Unorganised workers bear the brunt in Assam
Thousands of daily-wage earners are frantically trying to arrange food for their families during lockdown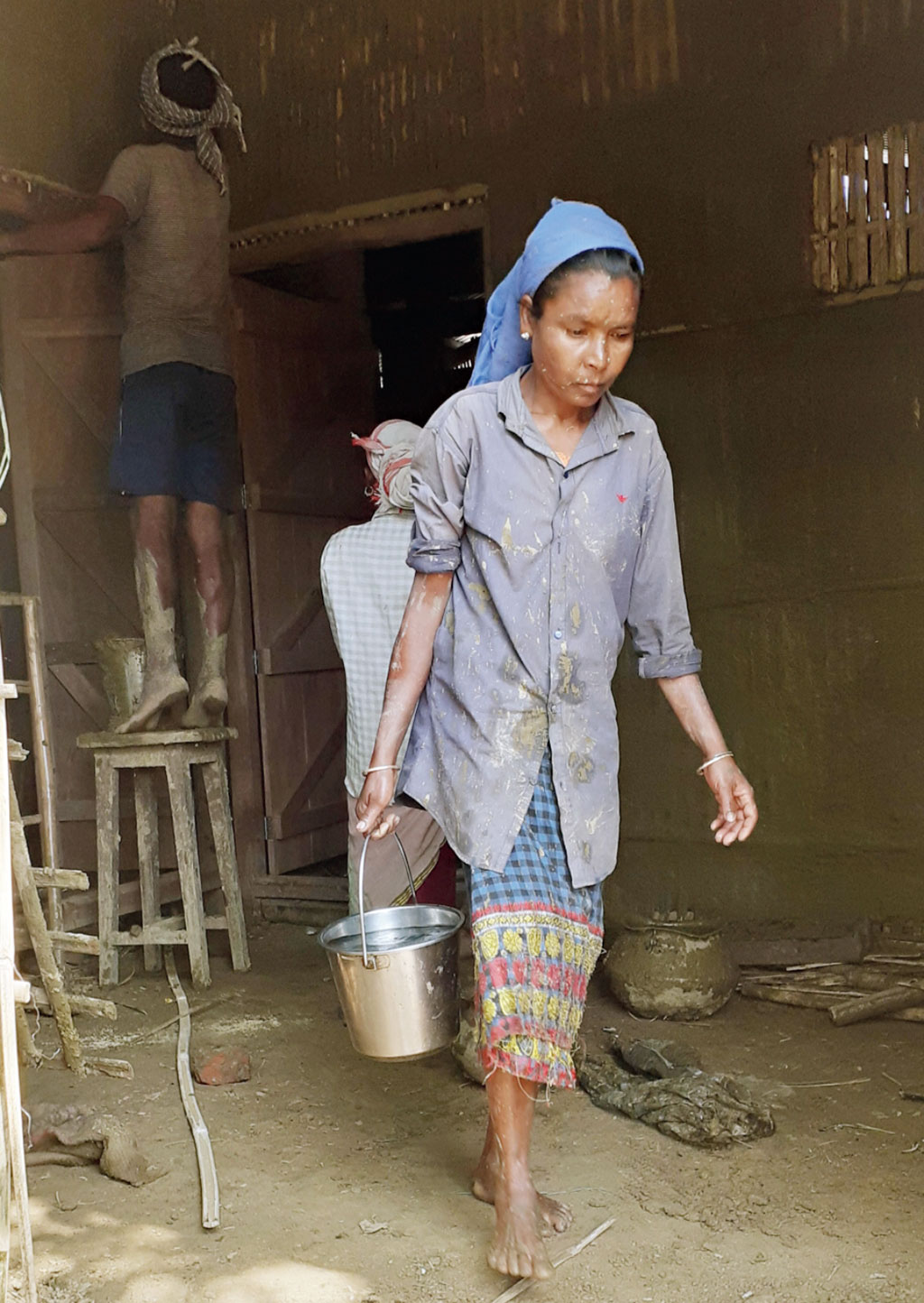 A worker in Tinsukia district on Sunday.
Picture by Manoj Kumar Ojha
---
Doomdooma
|
Published 12.04.20, 06:36 PM
|
---
As India grinds to a halt with a three-week nationwide lockdown in place to curtail the spread of coronavirus, the unorganised workforce in Assam has started taking up odd jobs in the rural belts of the state to make ends meet.
Vaijayanti Mala Tanti, a temporary worker in a bought leaf factory here, who is working in an under-construction house in Doomdooma subdivision, said: "Had it been a normal April it could have been a golden period for people like us in the state. We could have got regular work in the tea factories as there would be plenty of first flush green tea leaves for processing. The lockdown has shattered us in many ways. Our kitchens are empty. So, we are looking for jobs in the villages and working even at minimum wages. Ultimately we have to work for the survival of our families, including our children."
Vaijayanti is not alone in the battle for survival.
Thousands of daily-wage earners are brooding over how they will feed their families without any work as the lockdown continues to halt the spread of coronavirus outbreak.
People have been told to stay indoors, but for many daily-wage earners that is not an option. Waging a desperate battle for survival, millions manage to eke out their living as construction workers, painters, food vendors and are doing a host of other jobs.
Several small tea-growers have already destroyed their first flush leaves for one time as the bought leaf factories are closed.
"I thought of working as a rickshaw-puller and went to the town. I waited for passengers on a deserted road. Many policemen offered me food. They requested me to go back home and advised me not to step out till the lockdown ends. So I came back. Am I losing patience or going mad? No, this is all for self, family and children," Sorkar Tanti was in tears while narrating his pain. Later, he was helped by the government authorities and NGOs.
According to official data, there are 42 crore (420 million) people in the unorganised sector, including agricultural labourers, in India. There are lakhs of migrant workers who are stuck in distant corners with no transport to take them back to their villages. Others keep on trying to earn something.
All are frantically trying to arrange food for their families.
Suman Sarma, a social worker, said: "Chief minister of Assam Sarbananda Sonowal has already instructed the government authorities to do the needful to ensure that the poor do not suffer. The government of India too has several schemes. These are of great help for the downtrodden people. However, we will have to ensure that food reaches the last man standing in the last row."