Give relief or will die: Farmers of lower Assam
Small farmers do not have any mechanism to sell their produce except through middlemen and the lockdown has affected this system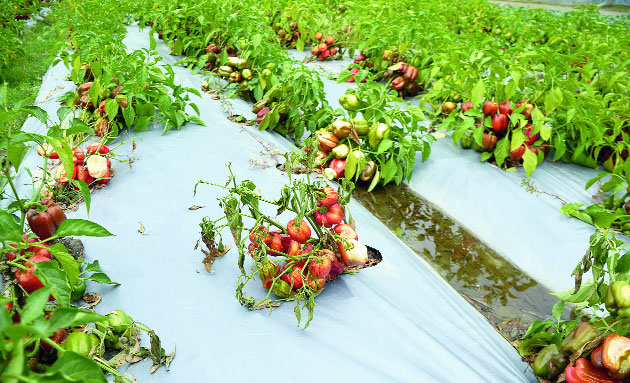 ---
|
Guwahati
|
Published 20.04.20, 07:47 PM
---
Farmers from lower Assam are demanding compensation before the next harvest season for the losses they have suffered because of the lockdown, failing which, they said, they would have no option but to commit suicide.
Farmers of Barpeta, Darrang, some parts of Bongaigaon and Goalpara, especially in the sar (sandbar) areas, where largescale commercial vegetable farming is done, have been hit hard.
The rate of vegetables are drastically down. "During the first week of Bohag month last year, we had sold ladies' finger at Rs 50-60 per kg but this time we are selling it at Rs 10 per kg. Moreover, we have to sell furtively. I also had to run to escape caning by cops. Quintals of vegetables have been damaged this year. We want compensation to survive and to continue to our next harvesting," said Rahim Ali, a farmer of Ghugubari village in Barpeta district." A cucumber farmer had to distribute his produce free to neighbours as he was unable to sell it.
Alom Khan, 40, Dakshin Sitoly village, Barpeta, who had cultivated vegetables on 10 bighas of land, said, "I could not sell any vegetables as I was not able to find a buyer. I have not been able to transport the vegetables to the markets. If we don't get compensation, how will we cultivate for the next harvest? The government must look after us so that we don't have to commit suicide."
These small farmers do not have any mechanism to sell their produce except through middlemen and the lockdown has affected this system.
Nalbari-based research consultant and farmer Bonojit Hussain said the integrated mechanism that the government says it will create to solve farmers' problems already "exists" on paper.
"By the time it is implemented, it will be next year. The agriculture produce lost cannot be recovered. Compensation is the only way out," Hussain, who has cultivated vegetables on 10 bighas, said. "Compensation to actual farmers has to be given but not based on land documents of ownership, as maximum farmers in Assam work the land on verbal lease. The government must think out of the box. This is an unprecedented crisis, so the rules have to be bent to help the needy. If the government does not compensate farmers before the next cropping, which will start 45 days from today, many farmers might be pushed towards committing suicide as their debts are increasing and they have no working capital in hand. Farmers in Assam usually don't commit suicide but the situation is grim this time," he added.
Chandan Kumar Sharma, a professor of sociology with Tezpur University, said small farmers engaged in production of crops, vegetables, livestock, fish and poultry have been severely hit during the lockdown as much of their produce has not been sold.
"A large quantum of these products has perished because of the absence of preservation facilities. Many farmers who took loan from banks are now in dire straits. The government has to take urgent steps to keep the supply chain open so that the rural economy does not collapse, to bail out farmers, including waiving off their loans and providing financial help, and to revamp the farm sector," he said, adding that the steps taken so far was "way below what needs to be done".
He said the government must ensure that the large number of youths who have taken up commercial farming in recent times are not thrown out of their livelihood. Besides, he said, "The agricultural sector needs special attention as it might require to accommodate lakhs of rural migrants from Assam working in other states who might now return home permanently."