Congress seeks white paper on bill, NRC
Ripun Bora alleged that the Bharatiya Janata Party was misleading non-Muslims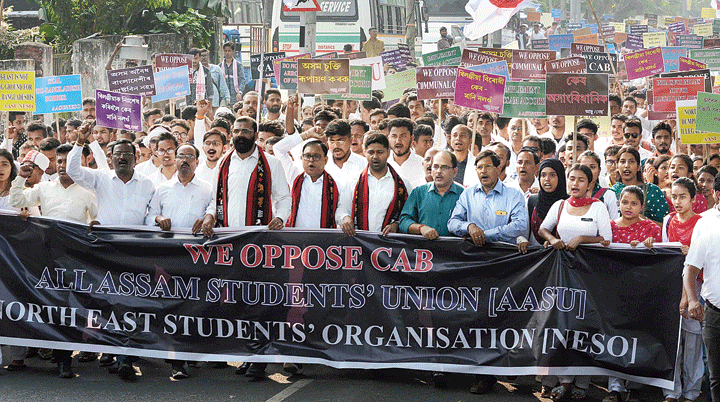 ---
|
Guwahati
|
Published 18.11.19, 08:36 PM
---
The Assam PCC had demanded that the Centre come up with a white paper on the Citizenship (Amendment) Bill before placing it in Parliament, whose winter session started on Monday.
The state unit of the Congress asked the government to clarify doubts over the possible outcome of the bill and the National Register of Citizens (NRC) in a white paper.
Countering the BJP's claim that the bill will assist those left out of final NRC, PCC president and Rajya Sabha MP from Assam, Ripun Bora, alleged that the ruling party was misleading non-Muslims.
"The bill aims to provide citizenship by naturalisation to people of minority communities from Bangladesh, Pakistan and Afghanistan who fled religious persecution. But those who were left out of the NRC can't claim to have migrated from other countries as they applied as Indians. The BJP is only fooling around," Bora said.
The bill seeks to grant Indian citizenship to minorities from Bangladesh, Pakistan and Afghanistan who fled their respective countries before December 31, 2014 because of religious persecution while the NRC was updated in Assam based on the Assam Accord's cut-off date of March 25, 1971.
Bora said, "Those excluded from the NRC, including the Gorkhas, Koch Rajbongshis and the tea tribes, had submitted their claims under the NRC as Indian citizens. Now, if the bill is enacted and the same people apply for citizenship under it, claiming that they belong to minority communities from Bangladesh, they will be accused of forgery and might get arrested."
The PCC president also asked the Centre to clarify doubts over the rights of those who would be covered under the Citizenship (Amendment) Bill.
"While the government will ensure constitutional, legislative and administrative safeguards for the indigenous people of the state by implementing Clause 6 of the Assam Accord, those covered under the citizenship bill will not have any rights over government schemes, jobs and other facilities. Then why grant citizenship to them? There are several confusions and contradictory theories over the bill and the government must answer them in a white paper before bringing the law," he said.
Bora discussed the matter with AICC president Sonia Gandhi and asked the party to oppose the bill in full strength.
The BJP is all set to push the passage of the bill to fulfil its election promise. The government has listed the bill in its items of business for the session and is likely to place it in Parliament within the next two days. Protests against the bill have already erupted in the Northeast.