Sonowal, Himanta traitors, says Gogoi
Sonowal and Sarma together had destroyed the peace and tranquillity of the state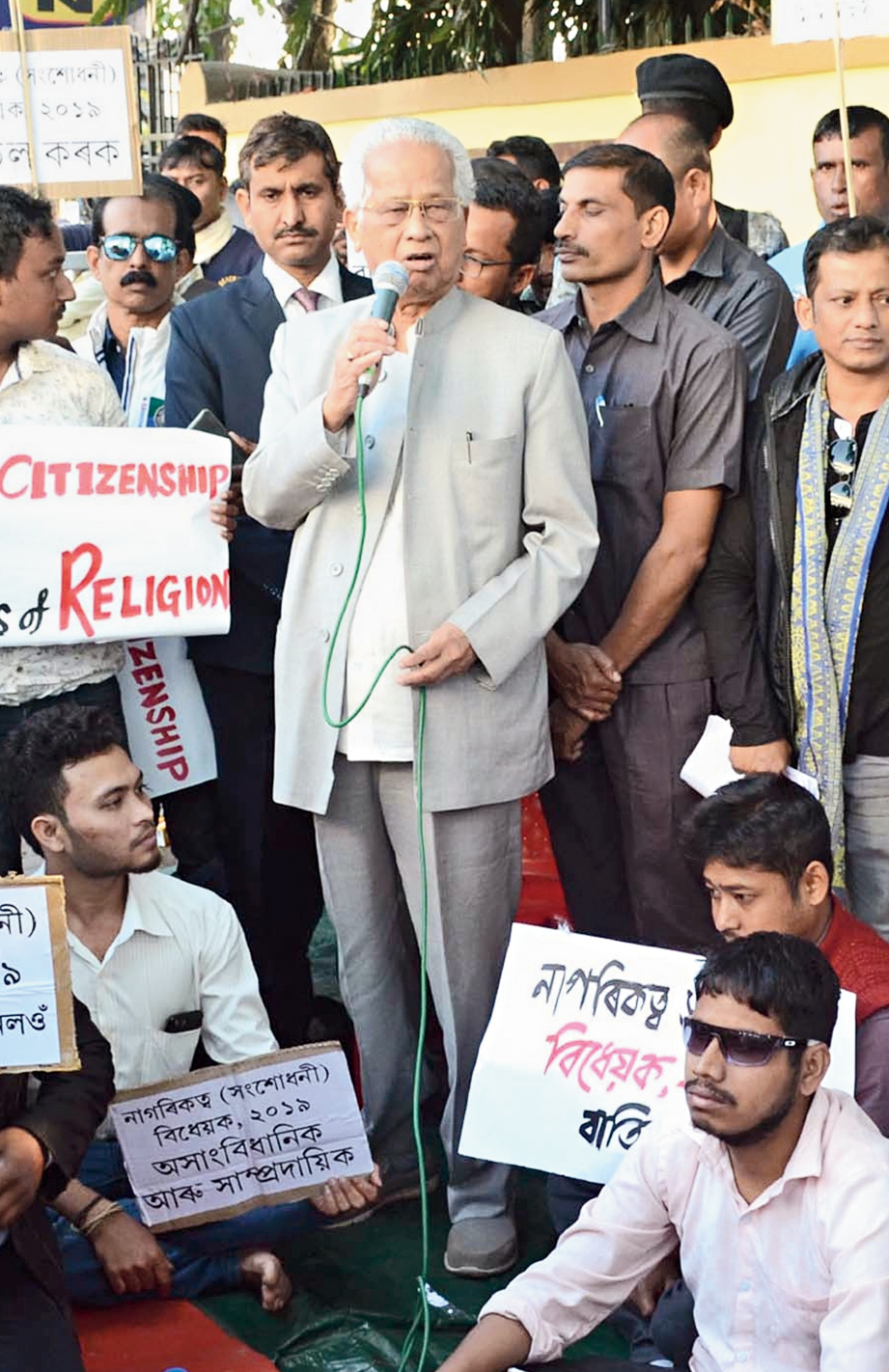 Tarun Gogoi addresses a rally in Guwahati on Monday.
Picture by UB Photos
---
Guwahati
|
Published 09.12.19, 10:12 PM
|
---
Former Assam chief minister Tarun Gogoi on Monday said his successor Sarbananda Sonowal and health minister Himanta Biswa Sarma had betrayed the people of Assam by bringing the controversial Citizenship (Amendment) Bill.
Joining the protest at Guwahati Press Club, Gogoi said: "People of Assam will remember Sonowal and Himanta as traitors of the Assamese of all time."
Stating that the Centre's forceful imposition of bill had unearthed the hidden volcanoes in people of Assam, Gogoi said: "Ever since Independence, the people of Assam have been forced to resort to movements for their rights and privileges, but we were never defeated by any force. We must do and die to scrap the CAB."
He said Sonowal and Sarma together had destroyed the peace and tranquillity of the state.
"Sonowal and Sarma have destroyed the state's work culture. They have forced students, youths and the elderly people to come out and protest on the streets. They (Sonowal and Sarma) are doing all these for their interest. They are traitors. Their destructive politics will encourage the younger generation to pick up arms again."
Gogoi said: "Both Sonowal and Sarma have been competing with each other to become the blue-eyed boys of the RSS, Prime Minister Narendra Modi and Union home minister Amit Shah."
He added if the Congress came back to power, it would prepare a law to protect the people of Assam. "No foreigner who came to Assam and settled after 1971 will get land, job and citizenship in the new law," Gogoi said.
He urged protesters to intensify the movement against the bill democratically, following Mahatma Gandhi's principle of non-violence. "The fight against CAB may take a longer period, but we must force the government to scrap it. We must understand the conspiracy of Sonowal and Himanta. They have been using communal violence to destroy the peaceful coexistence of the state."
Gogoi added that the people of Assam are not against any community or religion. "Our consensus is against every illegal foreigner, irrespective of caste, community and religion who came and settled in Assam after 1971."
"During my 15 years in office as the chief minister, I did not receive a single application reporting religious persecution from Bangladesh. The BJP's excuse to term the illegal foreigners as persecuted on the basis of religion is false propaganda," Gogoi said.
He added that along with the people of Assam, the Congress would move the Supreme Court.