Care for rare manuscripts
Normal School Silchar has collected more than 500 very rare and old manuscripts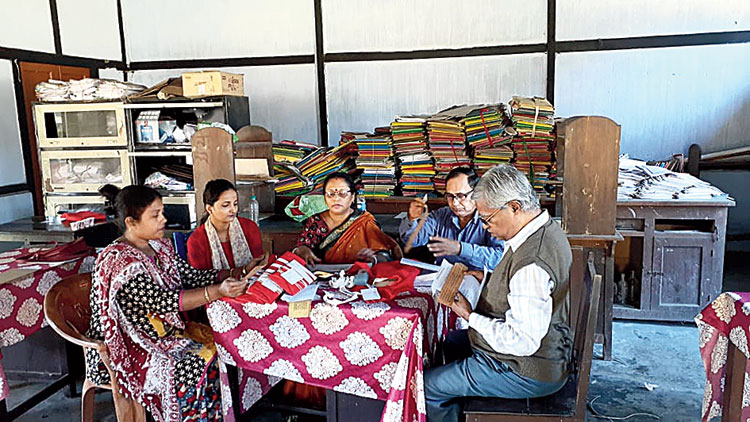 ---
---
Normal School Silchar under the Abul Kalam Azad Institute of Asian Studies has collected more than 500 very rare and old manuscripts which will be preserved in a special room of the school.
The contents of the manuscripts belong to the times of Ramayan, Mahabharat, Mangalkavya, Purana, and Vaishnavite literature and some even date back to days when sorcery was practised. These will be preserved at the school using modern technology.
Eminent folk culture researcher of south Assam Amalendu Bhattacharjee, played the lead role in collection of these rare manuscripts.
He said collection started in May and those were now ready for preservation.
Bhattacharjee said: "Many years back some teachers of Normal School took the initiative to collect and preserve rare manuscripts of Barak Valley. However, these are now on the verge of extinction due to lack of scientific management. Now with help of the institute these will be preserved properly."
He said many research works on the manuscripts were done by scholars of the valley and these would be also preserved.
According to him, there will be a list of manuscripts and a researcher can easily get the required information from the list.
Bhattacharjee added that some rare documents were also kept in the record room of the Cachar district administration in Silchar which would also be preserved now.
The chairman of the institute, Sujit Kumar Ghosh, earlier criticised Assam University for not taking initiatives to preserve manuscripts despite having a separate cell in the varsity for that purpose.
Bhattacharjee said they had collected 150 Sanskrit scripts and 362 Bengali scripts.
He said rare manuscripts containing Rajnagar Kavita written by Joy Chandra Bhatta in 1876 was found.
These refer to the devastating earthquake of 1800 Bhattacharjee added they found a part of manuscript of Vishnu Dharmatwa Purana written in Sanskrit in 1688.
He said they also found 80 and 64 scripts of the Ramayan and the Mahabharat respectively, 44 scripts of Mangalkavya, 16 scripts of Purana, 45 scripts of Panchali, 69 scripts of Vaishnava Sahitya, 12 scripts of Gita besides scripts on yoga and sorcery.