Bru blockade on despite restrictions
Bru refugee leaders have claimed that 6 persons have died from "starvation" and 3 fell face down out of exhaustion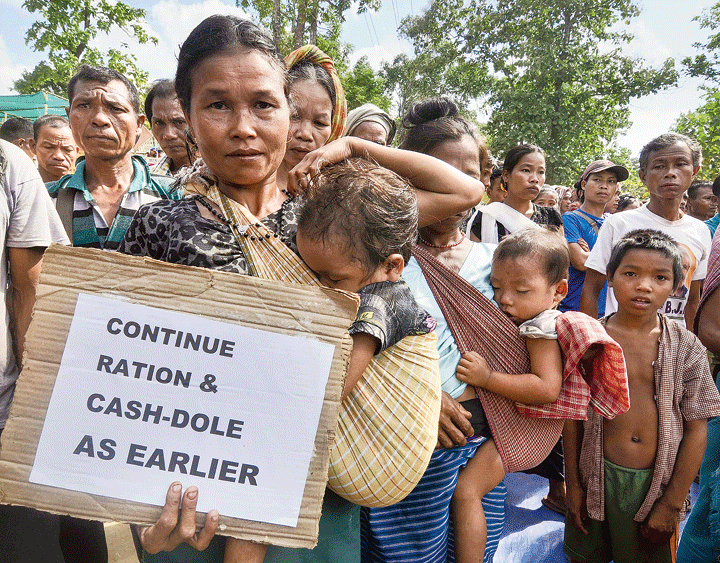 Ration demand
Telegraph Picture
---
Agartala
|
Published 05.11.19, 06:55 PM
|
---
The blockade by Bru refugees, near the Naisingpara relief camp in Tripura's North district, continued for the sixth day on Tuesday, amid the imposition of Section 144 of CrPC in the area.
Bru refugee leaders have claimed that six persons have died from "starvation" and three fell face down out of exhaustion. The refugees have blocked the road from Dasda to Anandanagar protesting against the decision to stop rations and other essential items while repatriation to Mizoram was undergoing since October 1.
Mizoram Bru Displaced People's Forum general secretary Bruno Msha said Kanchanpur subdivisional magistrate Abhedananda Baidya on Tuesday met the Bru refugees and announced that they have imposed Section 144 in the area and no agitation would be allowed.
"The SDM asked the agitators to clear the road or else the government will have to take legal action. In honour of the state government's decision, I called off the blockade considering the problems of local residents," Msha said.
He clarified the Bru refugees, however, have rejected the proposal and said they will continue the demonstration until food supply was resumed in the relief camps. "The Bru people have opposed my decision. They are angry and have said they will continue the agitation come what may," Msha said.
Baidya said Section 144 of CrPC has been imposed in the entire stretch from Dasda to Anandabazar via Naisingpara and in two more relief camps and nobody would be allowed to demonstrate or even gather in the area.
"We have deployed over 1,000 security personnel, including CRPF, Tripura State Rifles and state police, to maintain law and order. If they don't withdraw the road blockade, we will use force. Prohibitory orders would be in force from Tuesday night to ensure the road is cleared by Wednesday," he said.
On Sunday, a meeting decided that those who repatriate to Mizoram within the next three days will get an additional Rs 25,000 and there was no question of resuming free ration as directed by the Union ministry of home affairs.
On the other hand, royal scion and former PCC president Pradyot Kishore Manikya Deb Burman said he would visit the relief camps and interact with the people on Thursday. "I have already donated 1,500kg rice, pulses and other relief materials for the people. I will provide more assistance from my end. The Bru people have been deprived of their right to food under Article 21 of the Constitution," he said.