Brakes on pool car drive
Officials said the government was averse to taking any unpopular move, even if it concerned children's safety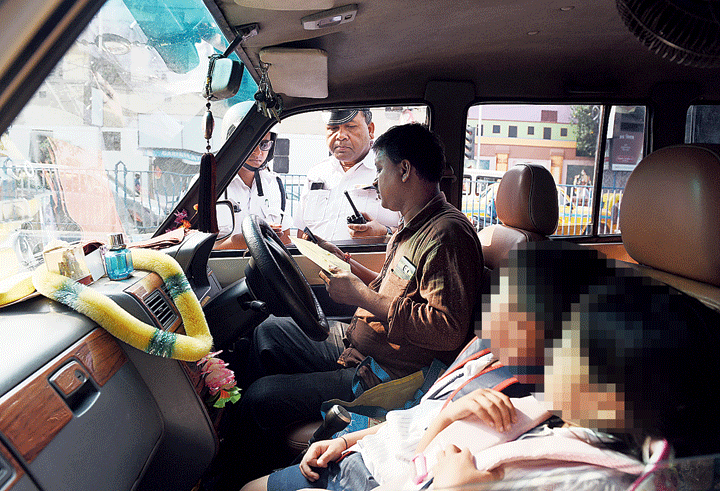 ---
|
Calcutta
|
Published 14.11.19, 07:34 PM
---
Motor vehicle inspectors have been asked to slam the brakes on the drive against hired vehicles that ferry school students illegally, sources in the transport department said.
A drive against such vehicles — the ones that lack a fitness certificate and do not have other papers in order either — faced parents' protests in Jadavpur.
Officials of the transport department said the government was averse to taking any unpopular move, even if it concerned children's safety. "What can we do if parents themselves don't want to switch to safer vehicles?" an official said.
The government first wants to come up with an advisory that will contain a checklist for parents who send their children to school in pool cars.
The advisory, to be prepared by the transport department in consultation with the school education department, will be circulated to schools and parents soon.
The advisory, officials said, will spell out the types of vehicles that will qualify as pool cars. Vehicles like Maruti Omni and others whose engine capacity is below 1000cc will not be allowed to ferry schoolchildren.
The advisory will ask schools to draw up a list of vehicles that ferry their children and hand it to the transport department and the police.
"The drive against faulty buses and pool cars will resume after some time. We want to first spread awareness among parents about the safety features that these vehicles must have," a senior police officer said.
The government launched a drive against errant pool cars on Wednesday, a day after a bus ferrying children to a north Calcutta school rammed into a signal post and hit a heap of sand before toppling on its side in Chitpore. Eight children and six guardians, who were in the bus, were injured.
Transport department officials had said that the bus, which was hired by some parents to ferry their children to school and back home, did not have a fitness certificate. The owner had also defaulted on road tax.
On Wednesday, when a few motor vehicle inspectors were preparing to impound four pool cars, parents demanded to know how their children would return home if the vehicles were gone. Outnumbered, the inspectors left with only two of the four vehicles they had wanted to seize.