Blockade on NH 37 over Bogibeel bridge name
Ahoms want it named after dynasty founder, some want name of Chutia queen, and BJP leader wants Atal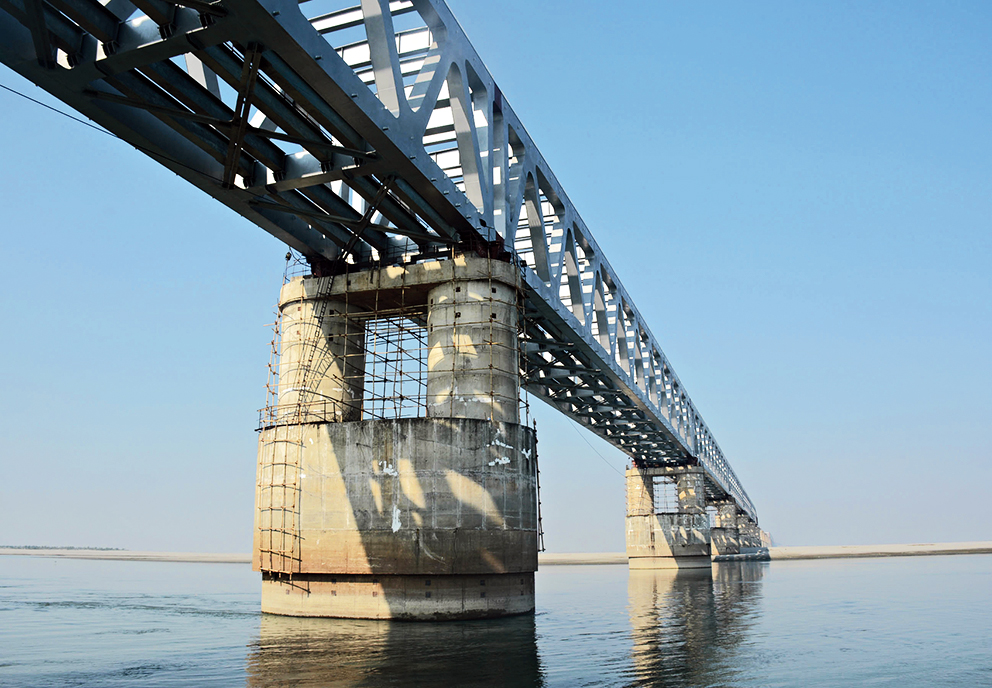 Bogibeel bridge
The Telegraph picture
---
Dibrugarh
|
Published 20.12.18, 07:55 PM
|
---
Several Ahom organisations on Thursday staged a blockade on National Highway 37 near Siu-ka-pha Bhavan here demanding the naming of Bogibeel bridge after Chaolung Siu-ka-pha.

The protesters holding placards and banners blocked the highway for two hours, pressing for their demand. The members of the Tai-Ahom Yuba Parishad, All Assam Ahom Sabha and the All Assam Tai Students' Union participated in the protest.
"We want Bogibeel bridge to be named after Ahom dynasty founder Chaolung Siu-ka-pha. We have given 48 hours' time to the government to clear their stand. Siu-ka-pha should be described as the epitome of India's historical links with Southeast Asia and it would be significant to leverage this link towards realisation of the objectives of the Act East policy,'' said Dipankar Dowarah, district secretary of the Tai-Ahom Yuba Parishad.
He said they have submitted a memorandum to Assam chief minister Sarbananda Sonowal through Dibrugarh deputy commissioner Laya Madduri.
Prime Minister Narendra Modi will inaugurate the bridge on December 25. A debate over its name has started recently.
The All Assam Chutia Students' Union has recently demanded that the bridge be named after Chutia dynasty queen Sati Sadhani. The union threatened that 100 youths of the community would jump off the bridge into the Brahmaputra on the day of its inauguration if the government fails to name it after Sati Sadhani.
A section of BJP leaders, including Dibrugarh MLA Prasanta Phukan, are in favour of naming the bridge Atal Setu.
Recently, leader of the banned Ulfa (Independent) Paresh Barua said the bridge should be named after Bishnu Prasad Rabha and Jyoti Prasad Agarwala, two eminent personalities from Assam. The Deuri community has demanded that the bridge be named after their leader Bhimbor Deuri.
Several Mising organisations want the bridge named after Swahid Kamala Miri. They said most of those who had given their land for the bridge belong to the Missing community.
In a news conference here on Thursday, Eastern Assam Chamber of Commerce and Industry (EACCI) expressed pleasure over the bridge's imminent inauguration. EACCI president Bhudev Phukan said the bridge should be named as Bogibeel bridge.
Tuki plea: Former Arunachal Pradesh chief minister and Congress MLA, Nabam Tuki has appealed Modi to postpone the inauguration of the Bogibeel rail-cum-road bridge to any other date, since December 25 is Christmas day.
Additional reporting by Damien Lepcha in Itanagar