BJP eyes Congress-mukt Northeast
For over three decades, Mizoram has seen a straight fight between the Congress and the MNF for the 40-member Assembly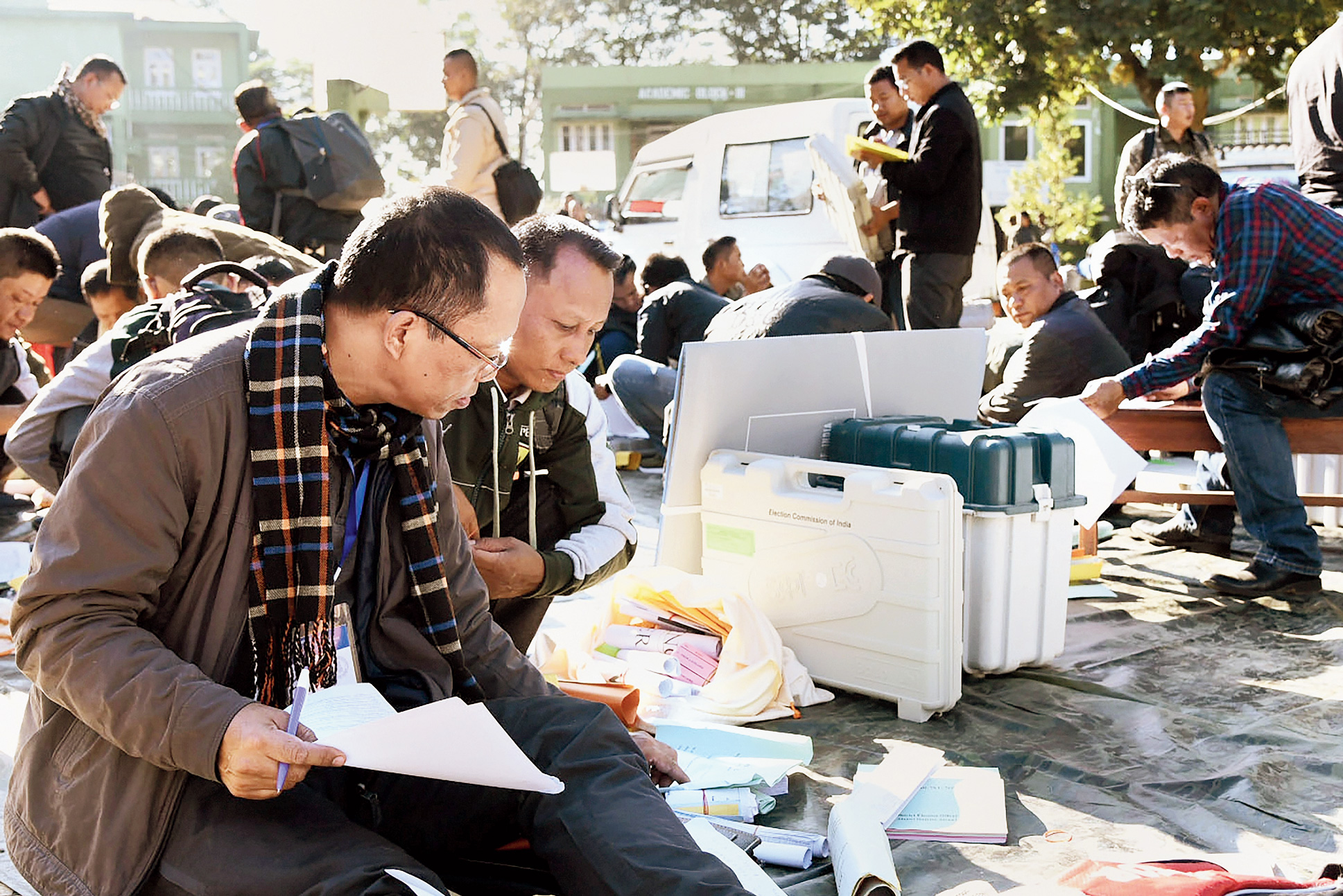 Poll officials collect EVMs and other election materials from a distribution centre in Aizawl on Tuesday.
PTI
---
Aizawl
|
Published 27.11.18, 06:47 PM
|
---
Mizoram will go to the polls on Wednesday with chief minister Lal Thanhawla seeking a third consecutive term and the BJP looking to defeat the ruling Congress in its last bastion in the Northeast.
In their quest to win, Lal Thanhawla and BJP leader Himanta Biswa Sarma, who is pushing for a Congress-mukt Northeast, made it clear that they were not averse to post-poll alliances if the December 11 results threw up a fractured verdict.
Lal Thanhawla, confident of winning a majority, said he would go with any party in case of a hung House except the BJP and the MNF, while Sarma said BJP would forge a post-poll alliance with "friends" from the Congress, MNF and the Zoram People's Movement (ZPM).
For Lal Thanhawla, Wednesday's polls will be the toughest till date for him and the ruling Congress.
Losing Mizoram will see the Congress without a single state in the Northeast. It has lost Assam, Manipur, Arunachal Pradesh, Meghalaya since the BJP came to power at the Centre in 2014.
Lal Thanhawla has been given a free hand by the Congress high command despite a spate of high-profile desertions from the party's state unit.
For over three decades, Mizoram elections have seen a straight fight between the Congress and the MNF in the 40-member Assembly, but this time a triangular or four-pronged contest will be the norm, with the ZPM and the BJP going all out to make their presence felt.
Lalthakima, an assistant professor at Pachhunga University College, said, "Anti-incumbency has led to formation of a new political front called ZPM which, in turn, has weakened the Congress and the MNF."
In 2013, the Congress had won 34 seats with a vote share of 44.6 per cent, MNF five with 28.7 per cent votes, Mizoram People's Conference got one seat with a 6.2 per cent votes while the BJP polled only 0.4 per cent vote but drew a blank from the 17 seats it contested.
In fact, it has not opened its account in five attempts, a reason why the polls are equally important for the BJP which is banking on minority Brus and the Chakmas to win a couple of seats. This time, the Congress and the MNF are contesting all 40 seats, the BJP 39, the ZPM 35, the newly floated People's Representation for Identity Status of Mizoram (Prism) has fielded 13, NPP nine, NCP five and Zoramthar group 24.
Serchhip will be the key battleground where Lal Thanhawla is up against ZPM's chief ministerial candidate Lalduhoma, MNF nominee C. Lalramzauva, Vanlalruata of Prism and Rev. Zaichhawna Hlawndo of Zoramthar.
Other key players include state BJP president J.V. Hluna, former Congress minister Buddha Dhan Chakma of the BJP and former Congress home minister R. Lalzirliana of the MNF.
One of the highlights of the polls will be voting by Bru refugees living in Tripura in Mizoram, the first time since 1997 when an ethnic clash forced thousands of Brus to flee to neighbouring Tripura.
Campaigns have been low- key except the lone trips of Congress president Rahul Gandhi, Prime Minister Narendra Modi and BJP president Amit Shah. Low-key campaign has been a feature of Mizoram and it has a lot to do with the Mizoram People Forum (MPF), a Church-backed election watchdog trying to ensure free and fair polls since 2006.
Most say Mizoram has come a long way since its days of insurgency triggered by famine (mautam) caused by bamboo flowering, leading to a sharp rise in rodent population in the fifties. It remained a disturbed state during the armed insurgency led by MNF chief late Laldenga for over 20 years between 1966 and 1986, when the peace accord was signed, leading to the creation of full-fledged statehood on February 20, 1987.
The state, which shares its border with Bangladesh and Myanmar, is one of the most peaceful states with a high literacy rate but is still underdeveloped. Wednesday's vote, most hope, will change things for the better.