For fun times at police station
Room with a view for children in cop care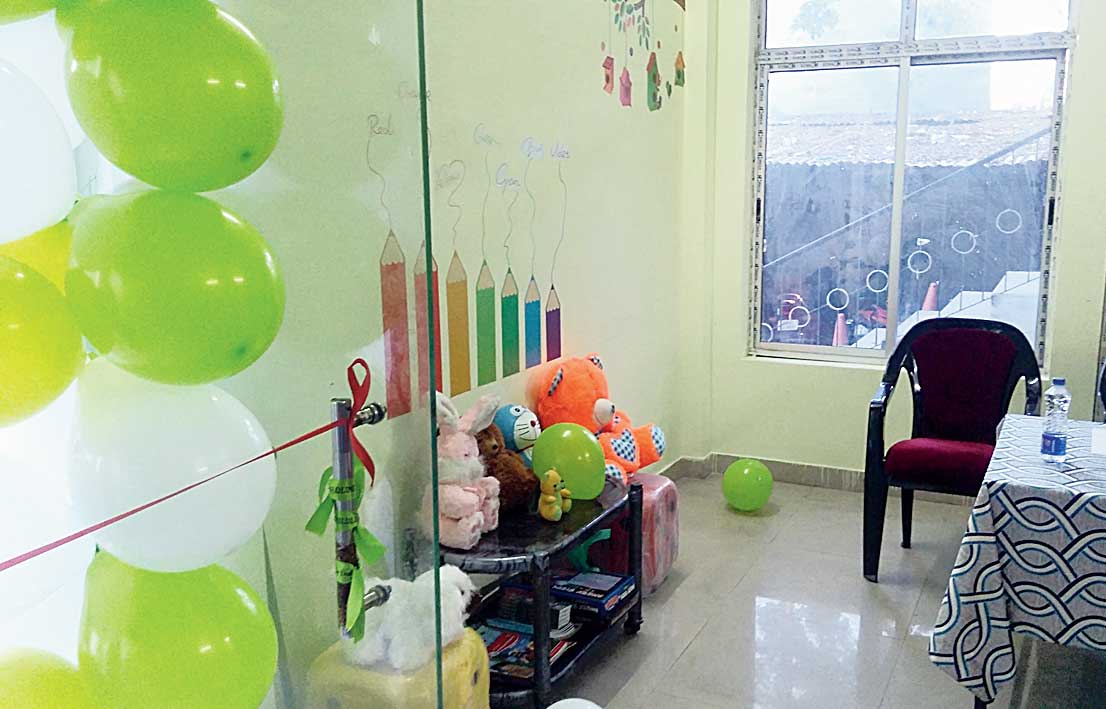 The children's room at the police station
Telegraph picture
---
Guwahati
|
Published 27.11.18, 07:24 AM
|
---
Juvenile Justice Act is a progressive legislation which provides for proper care, treatment, development and rehabilitation of the most vulnerable children of our society, that is children in conflict with law and children in need of care and protection — National Commission for Protection of Child Rights
Bharalumukh police station here on Monday became the first child-friendly police station in Assam with a special colourful room for children.
The room, with cartoon characters and colourful drawings painted on its walls along with a Toy Zone, was inaugurated by assistant commissioner of police (Jalukbari), Ponjit Duara, in the presence of nodal director of Childline, Guwahati, D.K. Saikia and collaborative director of Childline, Guwahati, Sunanda Das. The room is equipped with CCTVs. He said the room was set up as per the provisions of the Juvenile Justice (Care and Protection of Children) Act, 2015.
The idea is to erase fear of police out of children's minds. It will give kids coming in contact with police and having to spend a few hours at the police station a lively and playful atmosphere.
The National Commission for Protection of Child Rights (NCPCR), the country's apex child-protection body, in June last year had recommended a child-friendly corner or room in all police stations and also released guidelines for establishment of child-friendly police stations.
According to the commission, as the police are often the first point of contact between a child and the official child protection system, there is a need for the police to adopt a child-friendly approach.
The child-friendly room/corner was set up by Childline with the support of Assam police.
Childline India is a project of Union ministry of women and child development that operates a toll-free helpline for children in distress.
"This is the first such child-friendly room/corner set up in any police station in the state. Children are mostly scared whenever they have to come to a police station. This room will provide them a congenial atmosphere and also help them open up to the police," Duara said.
The children in need of care and protection as well as those alleged to be in conflict with law will be made to sit in the room keeping them safely away from regular criminals and perpetrators brought to the police station.
"This room is a symbolic expression of our respect to the rights of children. We want to set up such child-friendly corner/room in other police stations also in a phased manner," Saikia said. He thanked Assam police, particularly the city police commissionerate, for extending help and cooperation in setting up the room.