Assam's district count falls
The poll panel is conducting the delimitation, an exercise to redraw the boundaries of a constituency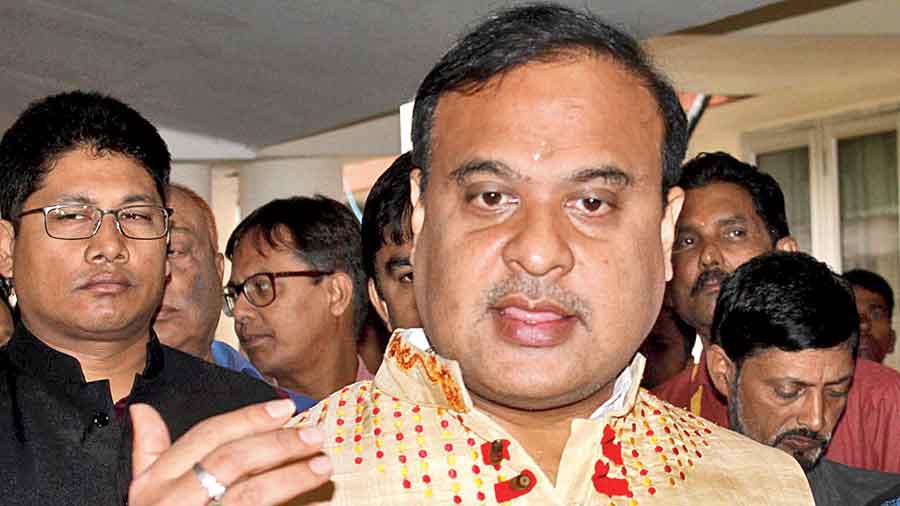 Himanta Biswa Sarma
File Photo
---
Guwahati
|
Published 02.01.23, 04:10 AM
|
---
Assam's district count fell to 31 from 35 on Saturday, a day before the Election Commission's ban on the creation of new administrative units till the completion of the delimitation exercise in the state.
The poll panel is conducting the delimitation, an exercise to redraw the boundaries of a constituency. Assam chief minister Himanta Biswa Sarma announced the decision to merge the four existing districts with the districts they were carved out of after an emergency cabinet meeting held in New Delhi on Saturday.
Losing their district tag are Bajali, Biswanath, Hojai and Tamulpur. In a tweet, Sarma said: "This year's last meeting of #AssamCabinet was held today in New Delhi where we took some important decisions including the merger of new districts with original undivided districts, transfer of areas from one district to another & ensuring remuneration for e-district project staff."
According to the cabinet decision, Bajali will be merged with Barpeta district, Biswanath with Sonitpur district, Hojai with Nagaon district and Tamulpur with Baksa district. The chief minister said these decisions had to be taken because of "administrative exigencies and definitely, decisions are always taken in the interest of Assam and our society".
Biswanath and Hojai districts were created on August 15, 2015; Bajali on January 12, 2021 and Tamulpur as recently as January 23, 2022. Sarma said, "We had to take these decisions on the last day of the year because we will not be able to take any decision from tomorrow, at least for some time, because the delimitation exercise will begin in Assam. And Election Commission has already directed the Assam government not to create any more administrative units or change any administrative unit with effect from January 1."
The chief minister further said, "The police district in this area will continue. Judicial establishments will continue. And all other district offices which have been created during this period will continue so that no employee or officer faces any difficulty. A senior ADC-level official will look after their affairs now."
The poll panel is conducting the delimitation, an exercise to redraw the boundaries of a constituency. The EC had said on Tuesday that it decided to initiate the delimitation exercise as per Section 8A of the Representation of the People Act, 1950, following a request from the Union ministry of law and justice on November 15. There are 126 Assembly and 14 parliamentary constituencies in Assam.