Assam Rifles jawan killed in Arunachal militant encounter
So far no organisation has claimed responsibility for the attack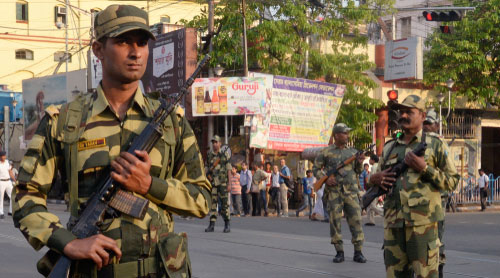 ---
|
Guwahati
|
Published 22.10.20, 02:00 AM
---
An Assam Rifles jawan was killed in an encounter with militants in Tirap district of Arunachal Pradesh on Wednesday morning.
An army statement issued in the evening said the soldier was killed in an encounter with a group of insurgents. "Based on specific input, the security forces had launched a joint operation with police to aggressively dominate, locate and neutralize the insurgent group reported to be present. During the operation, a contact was established with the insurgents in the early hours. In the ensuing firefight, a soldier sustained grievous injuries and made supreme sacrifice fighting the insurgents. The operation is under progress and security forces are committed to maintaining peace and tranquillity in the area," the statement said, without naming the insurgent group. The police was also a part of the joint operation.
The attack on the 6 Assam Rifles patrolling team took place around 8am near Sanliam village on Khonsa Lazu Road of Tirap district, which shares border with Myanmar, police sources said.
"The name of the deceased jawan is Babu Rao. The patrolling team were on foot when the attack took place according to our information. Sanliam is around 25km from the district headquarters Khonsa," one of them said.
So far no organisation has claimed responsibility for Wednesday's attack.
This is the second attack carried out against the paramilitary force this month.
On October 4, a warrant officer of 19 Assam Rifles was killed and another injured in an ambush carried out jointly by the NSCN (Khaplang), Ulfa (Independent) and Peoples Liberation Army (PLA), the armed wing of the Revolutionary Peoples Front (RPF), in Changlang district.
Tirap, Longding and Changlang, which border Myanmar, are districts where the Armed Forces (Special Powers) Act is in force. Tirap falls between Changlang and Longding districts.
Assam Rifles personnel guard the 1,643km Indo-Myanmar border. Four northeastern states — Arunachal Pradesh (520km), Nagaland (215km), Mizoram (510km) and Manipur (398km) — share border with Myanmar from where several insurgent outfits from the region operate.
Rebels have been targeting Assam Rifles in both Arunachal Pradesh and Manipur, more so after six militants of the NSCN (Isak-Muivah) were killed during an encounter with the force in Longding district.
On July 29, three jawans of 4 Assam Rifles were killed and six injured in an ambush "carried" out by cadres of the RPF, Ulfa and Manipur Naga People's Front (MNPF) in Chandel district of neighbouring Manipur after the troopers were returning to their base following an area domination patrol.
On October 16, NSCN (I-M) had flayed the Assam Rifles for their "total disregard of the agreed ceasefire ground rules". It had cited three incidents that took place this month where the outfit's members were assaulted/arrested, including the "unwarranted arrest" by the 19 Assam Rifles on October 14 at Jairampur, Changlang district, "without any provocation except for being a member of NSCN".