APW seeks NRC software audit
APW also demanded a high-level probe into the 'corruption' by the previous NRC authority, headed by Prateek Hajela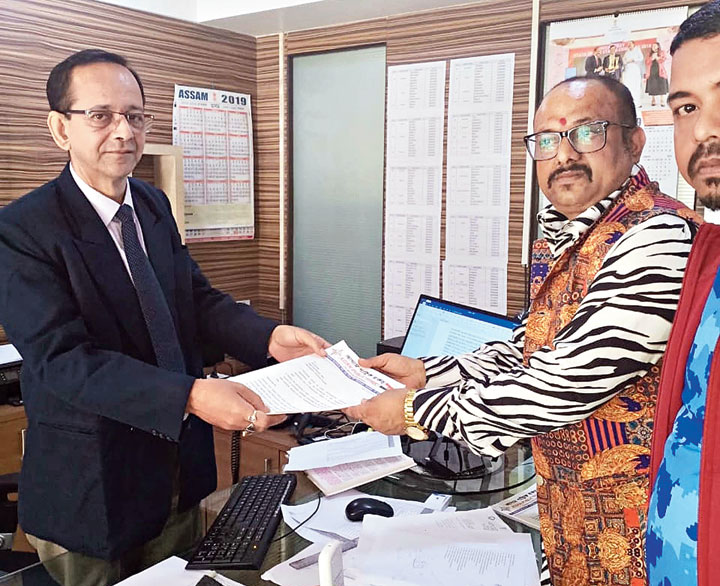 The APW team submits a memorandum NRC state coordinator Hitesh Dev Sarma on Monday.
Picture by UB Photos
---
Guwahati
|
Published 30.12.19, 08:10 PM
|
---
The Assam Public Works (APW), the original petitioner in the NRC-related case in the Supreme Court, on Monday demanded a third party audit by any internationally acclaimed organisation into the functioning of the software, application and IT infrastructure utilised in the updating the National Register of Citizens.
The APW also demanded a high-level probe into the "corruption" by the previous NRC authority, headed by Prateek Hajela with his close aides.
A four-member delegation of the APW met current state coordinator of National Register of Citizens (SCNRC) Hitesh Dev Sarma and submitted a memorandum of their demands.
"Different software was used to update the NRC. Ideally, there should be a test run for every software to judge its performance and all software needs time to run smoothly. But according to information available, it seems that most of the software were used in the process without a test run leading to serious malfunction, which ultimately resulted in wrong entries into the NRC," said the memorandum.
The memorandum said the APW also suspected manipulation of data, which could be delected only through an IT audit, was never done during the NRC update process.
" The third party quality check done by the then state coordinator of national register (Prateek Hajela) was through an agency employed by the SCNR himself, and they performed as per the direction of the SCNR only, leaving a space for us to question whether it was authentic or not," said the memorandum.
The APW demanded an inquiry into the "illegalities" and "irregularities" in spending Rs 1,600 crore utilised for updating the NRC.
Dev Sarma was appointed the new SCNRC in place of Prateek Hajela in November. Hajela was transferred to his home state Madhya Pradesh.