Assam Congress flags Narendra Modi's water mirage
Uninterrupted supply promised by PM is civic poll plank for Opposition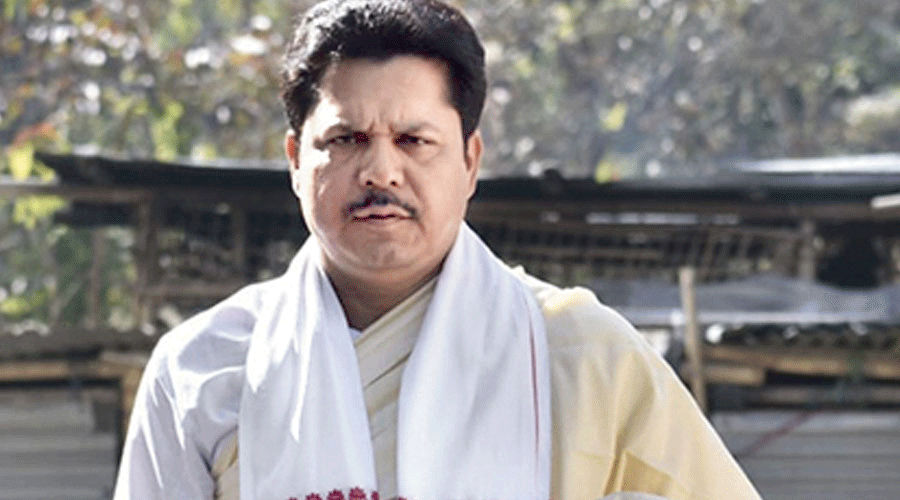 Bhupen Kumar Borah.
File photo
---
Guwahati
|
Published 13.04.22, 02:18 AM
|
---
The Opposition Congress on Tuesday reminded the people of Guwahati of their "unrealised dream" of having access to uninterrupted drinking water "shown" in 2014 by Narendra Modi, then the BJP's prime ministerial face. 
Assam PCC president Bhupen Kumar Borah made the perennial water crisis in the capital city a key poll plank while releasing the party's manifesto — Our Commitment — at Rajiv Bhavan here on Tuesday as campaigning for the April 22 Guwahati Municipal Corporation (GMC) gathered steam.
"Now Prime Minister Narendra Modi in 2014 had showed the people of Guwahati a dream to pull them through tough times. He had said how could there be drinking water crisis when the mighty Brahmaputra flows along Guwahati.
"He had said Gujarat had arranged such huge water pipes that the then Assam CM (Tarun Gogoi) and his family could drive through it in a Maruti car. From that day Guwahati residents started dreaming that the water crisis will be resolved under Modi dangoriya's leadership. After over seven years the result is there for all to see...," Borah said about the unrealised  dream.
He then targetted incumbent chief minister Himanta Biswa Sarma, an MLA from one of the four Assembly constituencies under Guwahati, about the unfulfilled promises made since he was a minister, first under the Gogoi-led Congress government and then under the Sarbananda Sonowal-led BJP government in the state. Sarma is chief minister of the BJP-led state government since May 2021.
"It is his (Sarma) habit of promising before every elections. He is now promising to supply drinking water from June. But this will not come true.
"Forget supplying water, now we have water syndicate. There has been sharp rise in rates of drinking water supplied by private parties. That is why I request the people of Guwahati to give the Congress a chance to serve you again, give the state's new leadership of an old party to serve you. It is our commitment that we will resolve the city's problems in a time-bound manner," Borah said.
Modi had said during electioneering in the city for the general elections in 2014 that there was plenty of water but Guwahati residents do not have water to drink, asking what was the then Congress government doing. He then cited how the Gujarat government resolved the water crisis in the Kutch region, adding problems can be solved but only with a strong policy and proper implementation.
However, the Congress and other parties in the fray for the GMC polls, last held in 2013, such as the Aam Aadmi Party (AAP) and Assam Jatiya Parishad have made the drinking water crisis, a key poll plank in the 60-ward GMC polls.
Only 30 per cent of Guwahati residents have access to piped water, the parties claimed. Recently there have been protests over the water crisis. Artificial flooding and non-clearance of garbage and cutting down of trees to build roads are other issues the parties are highlighting.      
The Congress has, among others, committed to provide free drinking water within 100 days, set up 100 vending zones for small businesses within 30 days, functioning street lights within 30 days, 50 per cent rebate for trade licence renewal fees for the Covid-hit, repair of roads within 60 days and measures to check flash flood within three years.    
Elected councillors to be responsible for garbage disposal, to provide free sugar testing, oxymeter and oxygen cylinder in his office to help the ailing in their respective wards, to be available for residents between 8am and 12 noon.
The Congress is, however, up against a well entrenched BJP which has not lost a single state poll since 2014. It has already won three of the 60 seats uncontested.
In March, the BJP won 759 of the 977 wards in the statewide urban body polls. 
The BJP's manifesto, released by chief minister Sarma here on Monday, too, has committed uninterrupted  drinking water (providing 5000 to 8000 new connections from June).
Other commitments included solution to the perennial flash flood, setting up a hospital in each ward, providing land rights to those living on government land for years, ease rules for buying and selling and registering land online, new projects to ease traffic, proper street lighting and extending financial assistance to around 60,000 families. 
Most senior BJP leaders in the state are campaigning for party candidates, once again displaying the seriousness with which the party takes every election.