Assam farmer ire at health minister Himanta Biswa Sarma
Protests over finger at peasants for kidney and liver diseases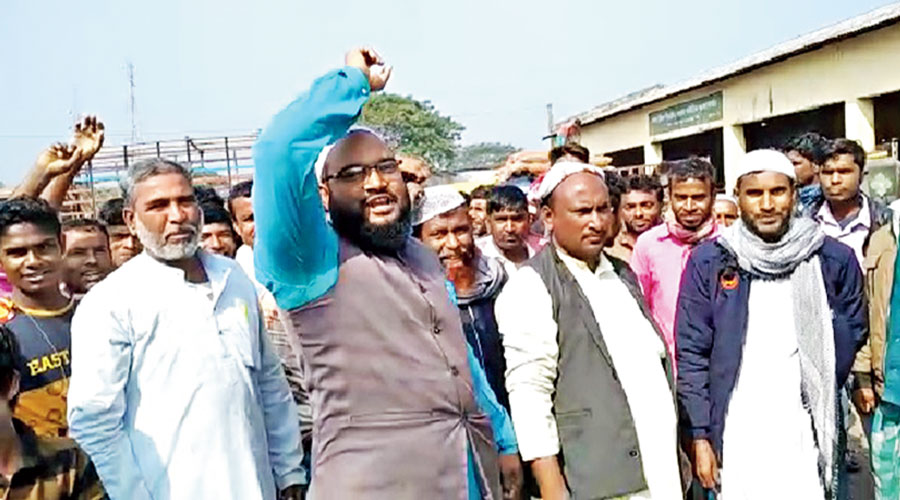 Kharupetia farmers at the protest against health minister Himanta Biswa Sarma's comments. Omar Ali is in green kurta.
Telegraph picture
---
Guwahati
|
Published 31.01.21, 02:48 AM
|
---
Farmers from Assam's vegetable hub in Darrang district are angry and hurt over health minister Himanta Biswa Sarma's claim that their produce is allegedly responsible for the "rise" in kidney and liver diseases.
Sarma had said at a public rally in Sivasagar that vegetable growers from the Kharupetia-Dalgaon belt in Darrang district are allegedly carrying out a "chemical and biological attack" through their produce, leading to a "rise" in kidney and liver diseases.
"Every day we keep hearing about somebody or the other suffering from kidney or liver ailments. The main reason is the vegetables from Kharupetia and Dalgaon... The unimaginable use of chemicals by vegetable growers there is posing a serious threat to our health," Sarma said.
He added: "They inject something to increase the size of brinjal and bottle gourd overnight. Similarly they feed something unimaginable to grow big fish… By eating these items, we Assamese are going to become sick. To recover from this chemical and biological attack, Assamese youth should increase production of these items."
His remark has triggered resentment among the vegetable growers who said the minister has allegedly targeted them for political gains in the ensuing Assembly polls. They staged a protest against Sarma on Thursday, daring the government to take action on those selling fertilisers or pesticides or those using excessive fertilisers or pesticides to boost output.
In Sarma's remark, they also saw an attempt to target the Muslims of East Pakistan-origin living in riverine areas and lower Assam, for "political" reasons. These people are the main growers of vegetables in Darrang district.
In fact, the Kharupetia-Dalgaon belt is not only considered the vegetable hub of Assam but also of the Northeast. Vegetables from the area are also exported to Australia, Dubai and Nepal, the growers said, adding they sell about 100 trucks of vegetables daily.
According to official figures, total vegetable production in 2020-21 till now in Darrang district under which Dalgaon-Kharupetia-Bechimari fall, is more than 3 lakh metric tonnes covering an area of 23,279 hectares, more than 18 per cent of the state's total produce, officials said. They grow between three to four crops a year.
Omar Ali, 38, a vegetable farmer, told The Telegraph that they are unhappy with the way the minister targeted only them even though there are other vegetable-growing areas in the state.
"We have been singled out for political reasons now that polls are round the corner. We are exporting vegetables to several countries and several states, within and outside the Northeast, as far as Uttar Pradesh and Delhi. We also consume the same vegetables we sell. We are not suffering from kidney or liver ailments. These ailments are also because of dietary habits, including drinking alcohol. The minister has accused us of carrying out a chemical and biological attack. Had we been so capable, we would have produced the corona vaccine long back," Ali said.
Ali, who is also the vice-president of a farmers' association, said instead of accusing them the government should carry out checks and create awareness about safe farming practices.
"We use both fertilisers and pesticides but within permissible limits. We have to use it or we will lose our crop to pests. We also use a huge quantity of farmyard manure (essentially cow dung). We buy around 60-70 trucks of manure everyday, each truck costing about Rs 6,000. Therefore, the minister should not confuse and mislead the people. We are planning another protest against him soon," Ali said.  
Nazir Sarkar of Kharupetia College said farmers use fertilisers but questioned where they were coming from and what was the government doing to stop their excessive use.
"The government should ban it and create awareness about the use of fertilisers. We see politics in this attack by the minister. The minister has targeted the Miya community who make up at least 75 per cent of the population. Attacking the farmers of Kharupetia-Dalgaon is not right. They are also Assamese. I am also from the Miya community and I teach Assamese," Sarkar said, apparently conveying the hurt of the community.
Sarkar said the issue will be discussed at a citizens' meeting in Guwahati on Sunday.
An agriculture department official told this newspaper that the use of harmful chemical fertilisers has come down significantly over the years. The youths who are taking to agriculture or horticulture are using more biofertilisers and biopesticides, he added.
"If harmful fertilisers are used for too long and in excessive quantities, it would also destroy the soil. Nothing of that sort has happened till now but yes we need to create more awareness," one of them said.