Assam eviction drive for solar plant
The official said around 1,000 security personnel, 20 excavators, 15 tractors and 60 labourers were engaged in the exercise, which lasted around six hours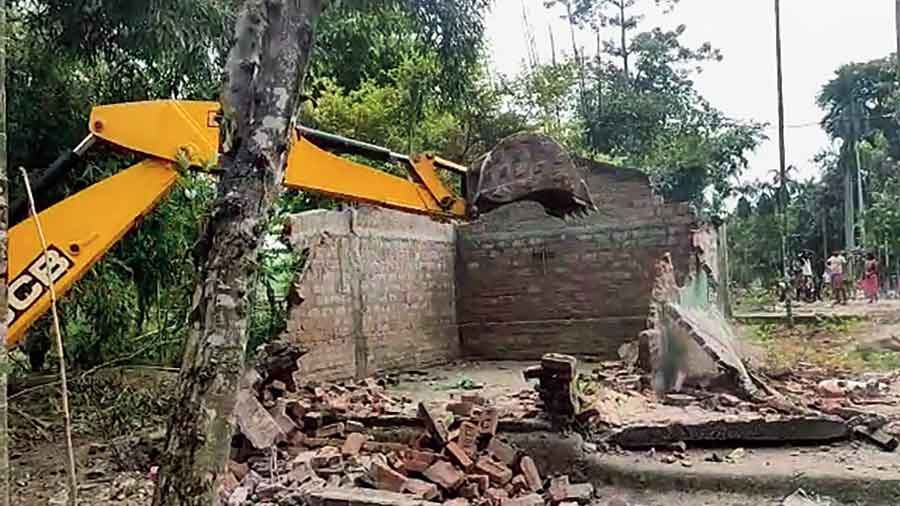 A bulldozer razes dwellings of the evicted people in Sonitpur district of Assam on Saturday.
---
Guwahati
|
Published 04.09.22, 01:52 AM
|
---
The Assam government on Saturday carried out a massive eviction drive in Sonitpur district to clear around 1,000 bighas of land to set up a 100MW solar plant.
Altogether 299 families — 243 Muslims and 56 Hindus — were allegedly staying on the encroached government land at Chitalmari 3 village under Borcolla constituency but most had left the place before the eviction started around 6am amid tight security.
"The eviction was peaceful and without any resistance because almost everyone had voluntarily vacated the government land they were occupying. We had started preparation from August 30. They knew from before because we had to put off the eviction drive in the past because of Covid-19 and early monsoon. Only 10 per cent of the structure was permanent, semi pucca. Most people dismantled their dwellings and took away what they could," Sonitpur deputy commissioner Deba Kumar Mishra told The Telegraph.
The official said around 1,000 security personnel, 20 excavators, 15 tractors and 60 labourers were engaged in the exercise, which lasted around six hours. "Everything passed off smoothly," Sonitpur police chief S.B. Sarma said.
The administration had dismantled a temporary madrasa but did "not touch two masjids" in the affected area.
"We have requested them to remove the masjids — one is a temporary and the other a half-pucca structure — since there will be no need for them now. They have agreed to remove the structures. We have also given them (evicted people) time to take away their agri produce from their field during the day under police surveillance since they had sought time," Mishra said.
The Sonitpur administration has submitted a proposal to set up a 100MW solar plant on the cleared government land. "We hope to launch the project within two-three months and it will take 12 months to complete the project. I am told the power generated by the plant will meet the need of the district," Mishra said.
Those evicted were into farming, mostly into jute and paddy. They have shifted to neighbouring Nagaon and Morigaon districts from where they had "migrated" and others are taking "shelter" in adjoining villages or with the relatives.
One of the affected families told The Telegraph that they had shifted on their own because they knew it was a matter of time before the bulldozers came in.
"We have been paying land tax since 1982. We were told about the eviction two days ago but we knew it will happen. We were given a notice some seven-eight months ago. People did not resist," said Abdul Awal, 27, who dismantled his kutcha house before the eviction started. 
This is one of the massive eviction drives carried out by the BJP-led state government since 2021.
Last September, the government had cleared 4,500 bigha of government land "occupied" by around 800 families in Dholpur area of adjoining Darrang district amid protests by locals.