Assam Congress fights for state government officials
Borah cited three instances of overbearing behaviour last week — twice by Bihpuria BJP MLA towards police officials and once by the CM towards an IAS officer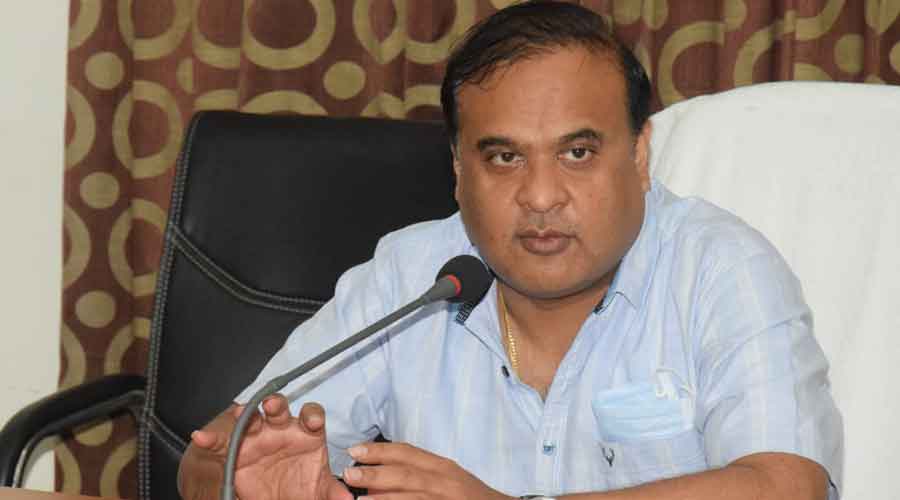 Himanta Biswa Sarma.
File photo
---
Guwahati
|
Published 19.01.22, 01:13 AM
|
---
The Assam PCC on Monday took up cudgels on behalf of state government officials at the receiving of "high-handed" behaviour of elected BJP representatives in the state.
Assam PCC president Bhupen Kumar Borah cited three instances of overbearing behaviour last week — twice by the Bihpuria BJP MLA Amiya Kumar Bhuyan towards two police officials and once by chief minister Himanta Biswa Sarma towards an IAS officer.  
The BJP is heading a coalition government in Assam since 2016.
"I have received calls from several high-ranking state government officials wishing me Bihu. While wishing they also pointed out why I was silent about the treatment being meted out to officials. I want to say the Congress will not remain silent," Borah said in Guwahati.
He then added: "I will meet the DGP today to know whether the police would register a suo motu case against the BJP MLA and to know what the security protocol for the CM entails. I will also write to the IAS officers association why they are silent about the ill-treatment meted out to one of their colleagues. We will not remain silent."  
The Opposition Congress referred to a leaked audio clip where the BJP MLA purportedly heard threatening the OC of Narayanpur police station for arresting three persons in a vandalism case.
In another audio clip, he was purportedly heard talking tough with a woman police officer for seizing a single-engine boat which was declared illegal last year after a boat mishap.
Boral also pointed out how chief minister Sarma had shouted publicly at Nagaon DC Nisarg Hivare for allegedly blocking traffic during the chief minister's visit to the district on Saturday. The video clip had gone viral triggering mixed response.
The PCC president said he wanted to "inform" the chief minister through the media, based on his "telephonic interaction" with the government officials, that there could be "revolt" by police personnel any moment during his tenure. "There could be revolt by government employees any time," he said. 
On Monday, Sarma said Bhuyan will be spoken to by the party, that he was trying to end the VIP culture in the state and that he wanted a "harmonious" relationship between officials and elected representatives so that the public is not inconvenienced. 
While some hailed Sarma for understanding the inconvenience cause to the public because of such traffic jams, most questioned his conduct towards the IAS officer who acted in accordance with laid down security protocol.
Sarma has Z-plus protection. A video of the Sarma pulling up the DC and trying to clear the National Highway 37 has gone viral. Traffic management is the job of the police, an official said.           
Sarma had earlier tweeted, "In our state we want to create a culture where DC, SP or any govt servant or public representative irrespective of background, intellectual capacity or popularity will work only for the people. Changing the babu mindset is tough, but we are determined to achieve our goal. Janta hi Janardhan."
In our state we want to create a culture where DC,SP or any govt servant /public rep-irrespective of background,intellectual capacity or popularity will work only for the people

Changing babu mindset is a tough, but we are determined to achieve our goal-Janta hi Janardhan https://t.co/c0FA0ojznG

— Himanta Biswa Sarma (@himantabiswa) January 15, 2022
PCC media in-charge Manjit Mahanta told The Telegraph Bhupen Borah led a delegation comprising him, spokesperson Mira Borthakur and two MLAs to meet DGP B.J. Mahanta.
"We highlighted the treatment meted out to police officials and wanted to know about the CM security protocol. He (DGP) said he will look into matter," Mahanta said.
Both Mahanta and Borthakur said the party would continue to raise their voice against such "high-handed" behaviour.