An Assam village that witnesses annual lockdown drudgery
Overflowing of the Nadihing river forces area residents to stay confined to their homes every monsoon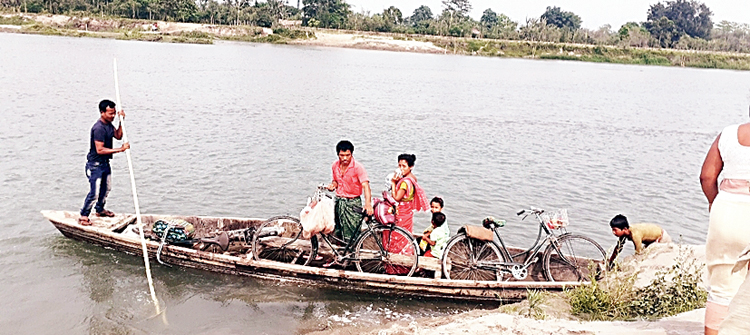 Villagers board a boat to cross the Nadihing
Pictures by Manoj Kumar Ojha
---
Doomdooma
|
Published 17.05.20, 08:59 PM
|
---
"Lockdown" is not a new word for them. For the last 18 years, the residents of border village Tengapani in Tinsukia district of Upper Assam have to go through lockdown from June to September every year when the Nadihing river overflows.

The village is 27km from Doomdooma.
"During a devastating flood in 1992, the Nadihing changed its course, separating Tengapani and putting it on Assam's border with Arunachal. Since then, the villagers observe a complete lockdown every year during the monsoon from June to September," Sarat Chetia, the village head, told this correspondent on Sunday.
"The Nadihing river, on whose eastern bank the village is located, gets flooded. Only a rickety boat is there to connect with the other bank of the river which we do not use as it is risky during the floods. The Zubeen Garg bridge, made by us this February, was allegedly damaged recently by Namsai police. In any case, the bamboo bridge would have been swamped by floodwaters during the monsoon. A concrete bridge upto the last edge of Thepabari village which joins Tengapani with the rest of Assam is a genuine demand of the villagers," he added.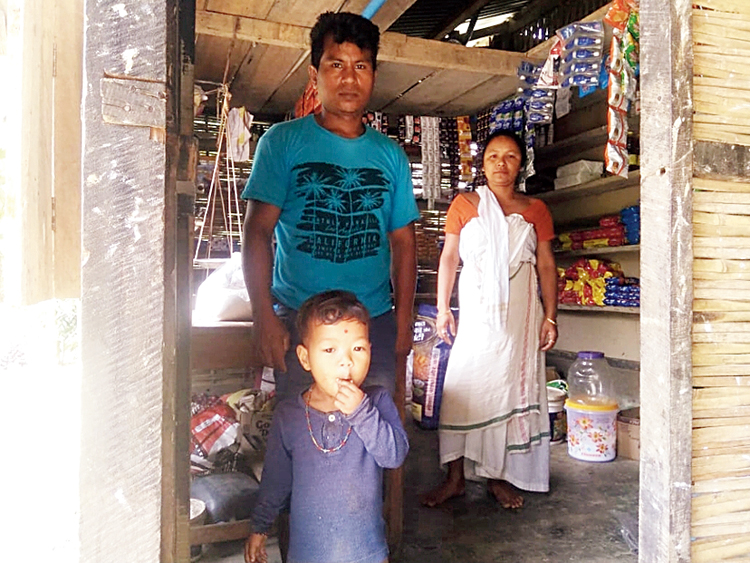 Administratively, the village continues to be under Hahkhati gaon panchayat under Dhola development block of Sadia Assembly constituency and Lakhimpur parliamentary constituency. The village has 107 families, all from the Moran community.
A villager said: "Thirty per cent of the villagers here depend on the river as the source of drinking water. There is no electricity in the village, no post office, no bank, no health centre, no community hall, no medicine shop, no multipurpose departmental store. The roads become slushy after rain. There is only a primary school cottage here. You can imagine our sufferings during rain as for every essential thing we have to cross the river to go to Doomdooma or Tinsukia which is 51km from here."
The villagers are very poor and dependent either on seasonal cultivation or daily work. The area is very rich in natural resources, but the people suffer because of illiteracy, lack of commercial skills and the government's apathy towards development of this belt.
Recently, Balin Chetia, the Sadia legislator, twice inspected the ongoing repair of Dirak-Sumoni dam which is around 3km from the village. The villagers hope that the dam, once completed, will provide relief to the residents of Hahkhati gaon panchayat and several others from floods and erosions.