All India United Democratic Front to 'wait & watch' on Rajya Sabha polls
The party's stand comes amid the Congress's 'hint' on a possible alliance with the AIUDF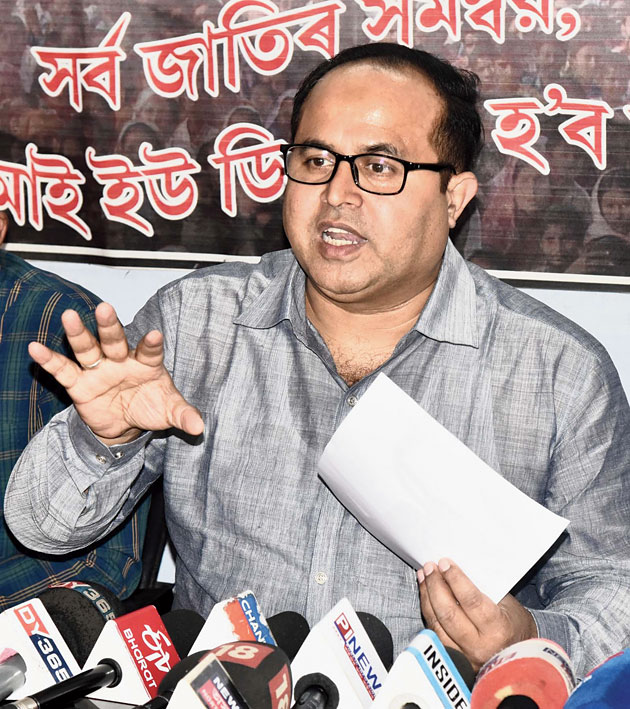 AIUDF general secretary Aminul Islam
Picture by UB Photos
---
Guwahati
|
Published 27.02.20, 08:09 PM
|
---
The AIUDF will "wait and watch" before deciding on joining hands with other parties for the third Rajya Sabha seat from Assam.
The party's stand comes amid the Opposition Congress's "hint" on a possible alliance with the AIUDF to strengthen the anti-Citizenship Amendment Act brigade's presence in Parliament.
Assam has seven seats in the Rajya Sabha, of which three, represented by Congress's Bhubaneswar Kalita and Sanjay Singh and Bodoland People's Front (BPF)'s Biswajit Daimary, will fall vacant on April 9.
In the House of 124 (two of the 126 seats in the Assam Assembly are vacant), a candidate will require 32 votes to win a seat. Since the BJP and its allies have 86 members (BJP 60, AGP 14 and BPF 12) and the support of the lone Independent member, they are sure to elect their candidates to two seats, of which the BJP has kept one and given the BPF one. The Congress and the AIUDF have 23 and 14 MLAs respectively. If the Opposition parties can project a unanimous candidate, they can win the third seat.
AIUDF general secretary Aminul Islam told The Telegraph on Thursday, "It's important to have a candidate who can raise voice against the CAA. But there is a need to think more on any possible alliance."
Former chief minister Tarun Gogoi had said on Wednesday that the Opposition parties need to field a common candidate, who can be vocal against the CAA in Parliament, for the Rajya Sabha polls on March 26. He said if required, the Congress should join hands with the AIUDF.
Despite the clear hint from the Congress veteran, the AIUDF is "sceptical" about the offer. A party insider said, "The Congress has been maintaining double standards on the CAA. They oppose CAA in the Brahmaputra Valley but support it in Barak Valley."
AIUDF sources said the party has not held any formal talks with the Congress yet.
Islam said AIUDF chief Badruddin Ajmal has gone for Haj and will return on March 1 and, hopefully, everything will be clear by March 2-3.
State senior cabinet minister Himanta Biswa Sarma had earlier said, "In the third seat, we have no role to play if the Opposition parties unite."