Agitation against citizenship bill to continue
BJP using NRC and citizenship bill to push its Hindutva agenda, says Hiren Gohain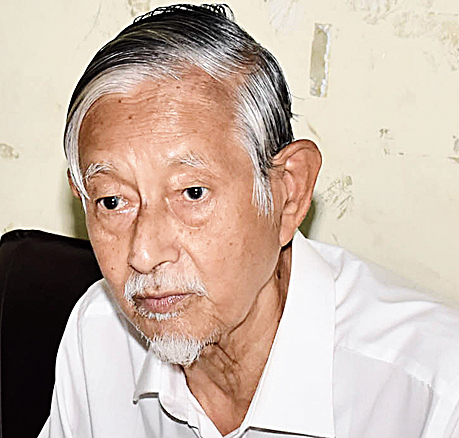 ---
Guwahati
|
Published 02.02.19, 07:01 PM
|
---
Eminent intellectual and Sahitya Akademi awardee Hiren Gohain, against whom a sedition case was filed recently, said at an public hearing on National Register of Citizens (NRC) and Citizenship (Amendment) Bill, 2019 on Saturday, that the ruling BJP — both at the Centre and the state — had manipulated the NRC and the bill to steer its own Hindutva ideology.
Gohain compared the BJP with the British colonial rulers for using divisive and communal politics which, he said, had pushed the people of Assam and rest of the Northeast to the edge of a precipice.
The scholar compared communal politics mostly played by the British against the hapless Indians during pre-Partition days with the present situation. The litterateur said just like the British, who gave the Indians a difficult choice — either to accept Partition or face conflagration — the ruling BJP, too, had left people of the Northeast with an "excruciating dilemma" of either to accept the bill or get ready to be swept by agents across the border.
"The NRC and the bill have no logical link but these have been manipulated by the ruling party to foment tension. Repeatedly, the ruling class is putting a stark choice before the people by bringing them at the edge of a precipice just like the British had done to the people and the freedom fighters. The British had carefully spread communal passion through planned manoeuvres. They (the British) made the thirties and the forties of the last century a dangerous blaze," Gohain said.
A vocal critic of the bill, Gohain is addressing public rallies one after the other. He said the choice given to the people of Assam regarding the bill was a "fake one," made "real through propaganda" by the ruling party.
"The ascent of the ruling party at the Centre and the state has suddenly increased the heat manifold. The ruling party, piloted by an organisation with firm belief in a Hindu Rashtra, has manipulated the NRC project since it came to power to achieve clandestine aims. There are attempts through a tacit plan initiated by the state government to communalise politics by favouring the Hindus against the Muslims," Gohain said.
He alleged that the foreigners' tribunal were now being manned by lawyers with seven to eight years of experience at the bar and not by seasoned judges.
"The NRC has caused unforeseen anxiety and hassle across the entire ethnic range of the state. The burning issue before human rights activists is immediate statelessness of four million people excluded from the NRC. The majority of them belongs to the poorest of the poor," he added.