Bail for 23 Indian Political Action Committee members
They were served notices individually to appear before Tripura police on July 31 or August 2 for alleged violation of Covid-19 protocols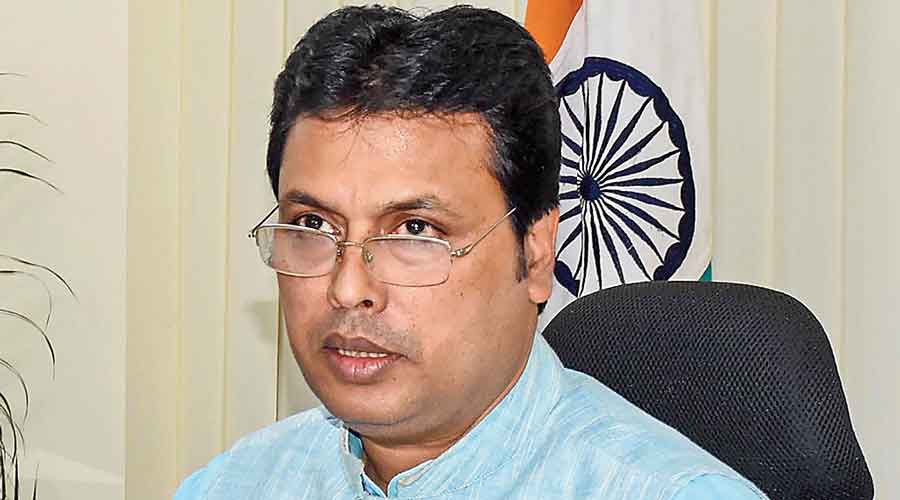 Tripura chief minister Biplab Deb.
File photo
---
Guwahati
|
Published 30.07.21, 01:53 AM
|
---
A court in Agartala on Thursday granted bail to 23 members of the Indian Political Action Committee (I-Pac) after they were served notices individually to appear before Tripura police on July 31 or August 2 for alleged violation of Covid-19 protocol.
The Trinamul Congress had alleged that the I-Pac team had been under house arrest at a hotel in Agartala. I-Pac is helmed by Trinamul's poll consultant Prashant Kishor.
Tripura chief minister Biplab Deb on Thursday said police were doing their work ahead of August 15 in a state with an international border.
"The people of Tripura are hospitable…. The state government will not interfere in the work of the police. Others won't either…. If a group arrives without prior intimation, the administration has a responsibility," said Deb.
"Even in our villages, if a couple of new people suddenly show up, people ask to find out who they are. That's all that was asked, nothing more. Covid-19 restrictions are in place," he added.O Thursday, 40-odd Congress leaders, including two former MLAs, joined Trinamul in presence of senior Trinamul leaders who reached Tripura to express solidarity with the I-Pac members.
The day also saw police take over 40 Trinamul Congress workers under preventive detention, while they were staging a protest against price rise and the "illegal" detention of the I-Pac members in Kanchanpur under North Tripura district.
Sources in the topmost tier of the Trinamul leadership said the party was jubilant with the "hyper-activism" against it by the BJP-led government in Tripura.
"Our party has national aspirations and there are plans being worked on for forays outside Bengal's borders. But, realistically speaking, the Bengali-dominated state of Tripura is the only place right now where we have a sound chance of winning a substantial number of seats," said senior Trinamul leader, known for his proximity to Mamata Banerjee.
"The BJP's paranoid hyper-activism against us in Tripura has given us cause for glee. This is helping us immensely…. The momentum we have right now, and the edge in the key area of perception, if we are able to sustain and build on that, even coming to power there will not be a pipe dream," he added.
The I-Pac members were served notices under Section 51 (obstruction of discharge of official duty or not complying with official order) of the NDMA, 2005, and Section 188 (disobeying order promulgated by a public servant) of the IPC on Tuesday.
"The notice was issued under Section 41 of the CrPC. After hearing both sides, the court granted unconditional bail to all the I-Pac members. There was no case against them before the notice was served to them on Tuesday," said senior advocate Pijush Kanti Biswas.
The NDMA, 2005, is being invoked to check the spread of Covid-19 in the northeastern state.
Trinamul has been raising the issue of the "house arrest" since Monday. However, officials have been maintaining that they have not been detained or arrested but were only asked to stay put in their hotel till their Covid-19 test reports came in.
"They can move around freely once they test negative," said an official. All of them have tested negative.
Tripura Trinamul's senior leader Ashish Lal Singh said protesting party members in Kanchanpur were picked up around 11am and released by 4 pm.
"We will be holding more protests in the days to come against the alleged misrule of the BJP-led state government," he said.
Trinamul's Rajya Sabha member Derek O'Brien and Barasat MP Kakoli Ghosh Dastidar reached Agartala on Thursday to take stock of the organisational matters and express solidarity with the I-Pac members who have been tasked with conducting a survey on the political situation in the northeastern state, where the BJP-IPFT has been in power since 2018.
The MP duo strengthened the currently visiting delegation of senior Bengal ministers Moloy Ghatak and Bratya Basu, besides Trinamul's labour arm leader Ritabrata Banerjee.
O'Brien told journalists in Agartala that there would be more visits by senior Trinamul leaders in the days to come. Criticising the detention of the I-Pac members who were on an assignment, he wondered what message Narendra Modi and Amit Shah wanted to send out.
Both the MPs held separate closed-door meetings with state and district Trinamul members to know about the organisational strength, weaknesses and what needs to be done to emerge as an alternative force to the ruling dispensation, Singh said.
Trinamul's national general-secretary Abhishek Banerjee might visit Agartala on Monday, following which the party will intensify its activities in Tripura.