Accord violated, say Anti-CAA groups
AASU, who has been spearheading an anti-CAA movement across Assam, said it will never accept the law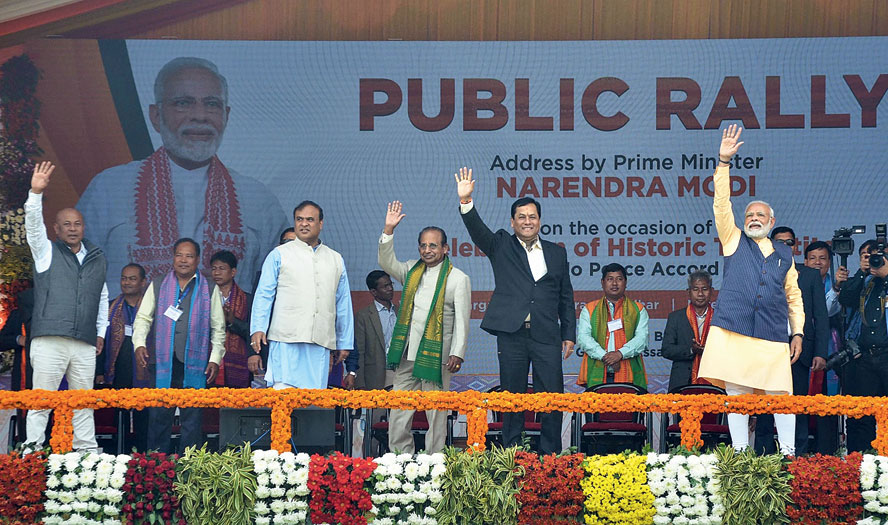 ---
|
Guwahati
|
Published 07.02.20, 08:06 PM
---
Organisations that oppose the Citizenship Amendment Act (CAA) on Friday said the pertinent issue is not entry of outsiders to Assam because of the Act but the Assam Accord's violation through the amended law that offered citizenship to those who had illegally entered the state after March 24, 1971.
The organisations reacted to Prime Minister Narendra Modi's comment that there have been rumours about outsiders entering the state because of the Act and his assurance that nothing as such would happen.
"It is a different topic whether outsiders will enter Assam because of the Act or not. What worries us is that because of the amended law one will get citizenship even if he/she entered Assam after March 24, 1971. We will never accept that," said Arunjyoti Moran, president of the All Moran Students' Union (Amsu).
Amsu on Friday organised a rally in Upper Assam to protest the Act.
Moran said various indigenous communities have been reeling under numerous problems. "But the Centre is concerned about foreigners instead of its own people," Moran said.
The All Assam Students' Union (AASU), which has been spearheading an anti-CAA movement across the state, said it will never accept the law.
"Assam cannot accept a single migrant who entered the state illegally after 1971. This is why we have been protesting the Act. We follow the ideology of Mahatma Gandhi. The Centre should listen to the voice of democratic protests," said AASU general secretary Lurinjyoti Gogoi.
AASU, Asom Jatiyatabadi Yuba Chatra Parishad, the artistes' fraternity and 30 organisations representing various communities will organise a state-wide torchlight procession on Saturday evening.
AASU vowed to continue the protests till the Centre scraps the Act and appealed to everyone to join the movement. In Guwahati, the rally will begin from Swahid Nyash at Uzan Bazar.