Assam's AAP lodges complaint against Himanta Biswa Sarma
Party seeks removal of CM and constitution of an inquiry committee to look into the alleged anomalies surrounding purchases of PPE kits and sanitisers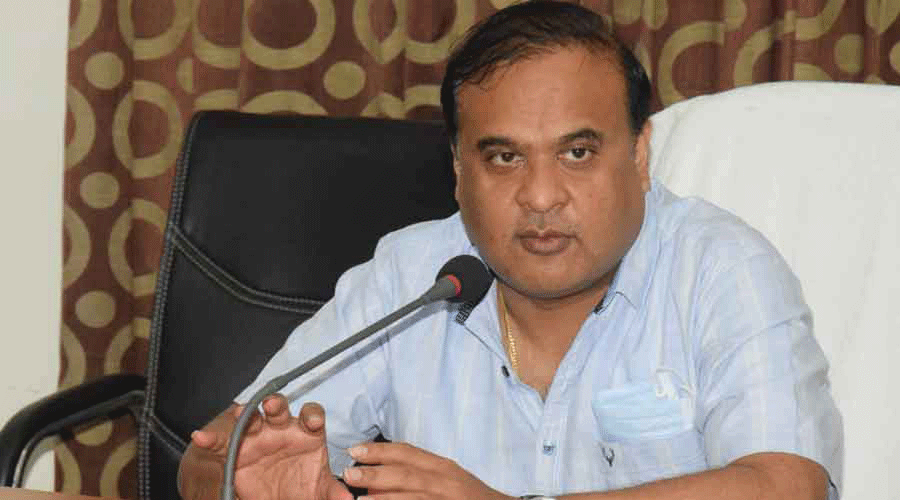 Himanta Biswa Sarma.
File photo
---
Guwahati
|
Published 08.06.22, 03:14 AM
|
---
The Assam unit of the Aam Aadmi Party on Monday lodged a complaint with the police seeking registration of a criminal case in connection with the alleged irregularities in the purchase of personal protective equipment kits and sanitisers during March-April 2020 when incumbent chief minister Himanta Biswa Sarma was the health minister.     
The complaint was filed by the AAP state secretary Victor Gogoi and party workers with the Latasil police station here after staging a two-hour dharna at nearby Dighalipukhuri seeking a through probe into the alleged anomalies.
The AAP later also submitted a memorandum to governor Jagdish Mukhi through the deputy commissioner seeking removal of the chief minister and constitution of an inquiry committee to look into the alleged anomalies surrounding the purchases of the healthcare items. 
Both chief minister Sarma and state government spokesperson Pijush Hazarika have dismissed the allegations as false on Saturday.
The AAP complaint has requested registration of a criminal case against Sarma, his wife Riniki Bhuyan Sharma, businessmen Ghanshyam Dhanuka, Rajib Bora and other unknown persons who were "involved in this PPE Kit scam, sanitiser scam, benami company scam" by taking "undue advantage" of the Covid situation in Assam and "profit illegally" from "urgent procurement" by the government of Assam when Sarma was the health minister.
Sarma became the chief minister in May 2021, replacing Sarbananda Sonowal after BJP and its allies won the Assembly polls for the second straight time.  
The complaint also sought investigation into the workings of the companies involved in the purchases, including their directors, proprietors, owners and past shareholders "to unlatch the larger conspiracy".
Registration of case has been sought under several IPC sections, including criminal conspiracy, cheating and dishonestly inducing delivery of property, criminal breach of trust by public servant, or by banker, merchant or agent besides sections under benami transactions (prohibition act) and prevention of money laundering act, 2002.
The AAP is seeking a probe following the publication of reports on the alleged irregularities jointly by The Wire, a Delhi-based news and opinion website, and The Cross Current, a Guwahati-based digital media platform, last week. These reports were based on RTI responses to queries related to purchases of PPE kits and sanitisers, among others.
AAP state-coordinator Bhaben Choudhury told The Telegraph that they wanted a thorough probe into the allegations of wrongdoing, including favouring companies linked to the chief minister's wife and those of his son's business partners and buying PPE kits and sanitisers at inflated prices when Sarma was the health minister. 
Choudhury said that they have also forwarded the police complaint along with the petition to the governor to Prime Minister Narendra Modi and the Enforcement Director, while denying any connection between the arrest of the Delhi health minister and their demand in Assam.  
The other Opposition parties — Congress, Raijor Dal and Assam Jatiya Parishad — are seeking a CBI probe into the irregularities. These parties also staged dharnas here last week. 
The AAP had stepped up the ante in the BJP-ruled Assam following the arrest of Delhi health minister Satyendar Jain in a money laundering case. Delhi and neighbouring Punjab are ruled by the AAP.   
On Saturday, Delhi deputy chief minister Manish Sisodia had held a press meet accusing Sarma of corruption and also wanted to know why the ruling BJP was silent on the alleged corruption involving the chief minister of a BJP-ruled state at a time when it had arrested Satyendar Jain on false charges. 
Sisodia's allegation drew a sharp riposte by Himanta Biswa Sarma, who not only dismissed the accusation but also threatened to file a criminal defamation case against him.  Sarma tweeted on Saturday, "The company in question wrote to Assam's NHM stating that supply of around 1,500 PPE kits for Covid warriors must be treated as CSR contribution and hence not a single rupee must be paid by Govt."
The company in question wrote to Assam's NHM stating that supply of around 1,500 PPE kits for Covid warriors must be treated as CSR contribution and hence not a single rupee must be paid by Govt. pic.twitter.com/HnFbs5ZbPy

— Himanta Biswa Sarma (@himantabiswa) June 5, 2022
"Assam NHM duly acknowledged the same. Manish bhai, this is not corruption, it's humanity. My wife hasn't committed a crime, she tried to help Assam at the time of its biggest crisis. Throwing muck at others will not be accepted. You will face legal consequences," Sarma said.
A senior state BJP spokesperson Ranjib Kumar Sarma told The Telegraph that the AAP was levelling all sorts of allegations against the Assam chief minister to "hide" their law and order failure in Punjab. "If they (AAP) were so concerned about Assam why didn't they speak about the calamity in Dima Hasao district?" Sarma asked referring to the widespread devastation caused by heavy rainfall in the hill district last month.
On Saturday, the Assam government spokesperson and minister Pijush Hazarika dismissed the allegations against the chief minister's family over procurement of PPE kits, accusing the two news websites of "spreading fake and baseless news".
The minister said nobody in this world was aware about how to deal with the pandemic in the early days. "At that time the whole world was in requirement of PPE kits and PPE kits were not manufactured in India then. So the government had to accept offer of PPE kits from any source," he said.
Hazaika also said the government could "not" follow all necessary procedures and tender process during an emergency situation.
"A cabinet decision was taken to form an 'expert committee' to approve procurement of necessary items related to Covid 19 based on nomination. And on that basis 35 number of firms were given order for providing PPE kits. Few managed to deliver the order and few could not," he said.
Orders of those who could not supply were cancelled. 
Hazarika also said orders to supply hand sanitizers were given to nine firms as not more than two factories produced hand sanitizers in Assam at that point of time.