40-foot gamosa to weave poll awareness into voters
Tiwa woman from Morigaon spins a story of democratic rights and duties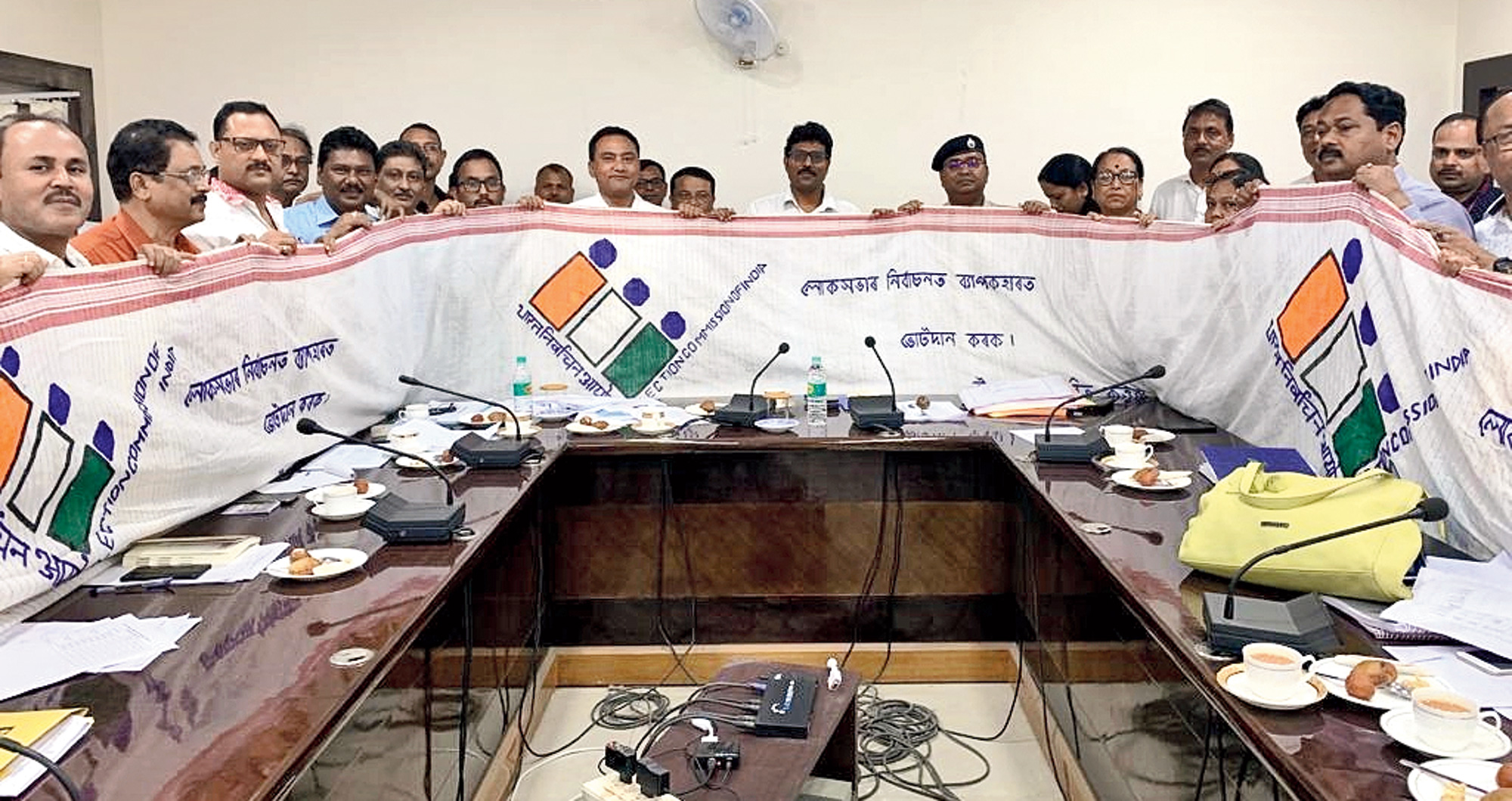 ---
|
Nagaon
|
Published 16.04.19, 06:58 PM
---
Basumoti Pator, 35, of Morigaon district has woven a 40-foot gamosa to enhance voter awareness in the central Assam district about the 17th Lok Sabha elections.
"The 40-foot-long traditional Assamese gamosa contains the logo of the Election Commission and urges voters to vote in a one-liner scripted in Assamese, Hindi and English," additional deputy commissioner Lakhinandan Saharia told reporters on Tuesday.
Morigaon falls under Nowgong parliamentary constituency which will go to the polls in the second phase on Thursday.
Pator had handed over the gamosa to the district administration on Monday with the request to showcase it to make voters aware about their democratic rights and duties.
Saharia said Pator had placed the concept before Morigaon deputy commissioner Rituraj Bora two months ago and he had given her the go ahead.
Bora told The Telegraph that the administration supported the concept as it wanted something different from the routine quiz, roadshows and streetplays under the Systematic Voters' Education and Electoral Participation programme (SVEEP), the Election Commission's flagship programme for voter education, awareness and promoting voter literacy.
"We wanted something unique, something which highlighted our tradition and also attracted voters' attention. The gamosa concept fit the bill under SVEEP. It would also help boost the Election Commission's no-voter-to-be-left-behind campaign," he said. "The gamosa cost us about Rs 4,500 and took about 20 days to weave. Inclement weather prevented us from displaying it publicly today (Tuesday) after the official unveiling on Monday in the presence of Election Commission observers. We will unveil it for public display on Wednesday at DIET Field from where poll personnel will leave for their destinations," he added.
Bora said Pator's unique creation would be showcased in all the significant areas of the central Assam district.
"She actually handed over her gamosa to the Election Commission, whose representative Ravi Kumar was present at the handing over programme," he added.
This is the second venture of Pator, a newly married Tiwa woman from Geruwa. In January, she had exhibited another gamosa of the same length, showcasing the works of Srimanta Xankardeb.
Geruwa, a Tiwa-dominated village, 15km from the district headquarters of Morigaon, is known for its skilled weavers perennially struggling for better market connectivity.
Pator said, "I am proud of the gamosa. If I get support, I can do more such things."
Bora said the district administration would help Pator continue her work.