17 held for Republic Day blasts
5 low-intensity bomb blasts rocked three Upper Assam districts during Republic Day celebrations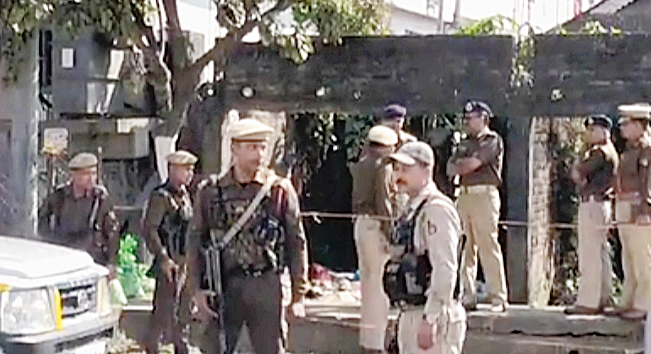 ---
Dibrugarh
|
Published 27.01.20, 08:21 PM
|
---
Police detained 17 people for interrogation from Dibrugarh and Charaideo districts of Upper Assam in connection with five bomb blasts on Sunday.
Ten persons were detained by Dibrugarh police and another seven were detained by Charaideo police.
Five low-intensity bomb blasts rocked three Upper Assam districts during Republic Day celebrations.
Two blasts occurred in Dibrugarh town around 8am on Sunday — one at Graham Bazar near a garbage dump along NH 37 and the other at AT Road next to the boundary wall of Sikh National School at Marwari Patty.
The third blast occurred at Peepaltal Tiniali in Duliajan around 8.05am, damaging a footpath.
Another explosion took place near Koliapani bridge at Doomdooma in Tinsukia district. The fifth blast occurred near a shop at Teok ghat at Sonari in Charaideo district.
"Seventeen persons have so far been detained and are being interrogated in connection with the incidents. We are trying to find out their connection with Ulfa (Independent) since the outfit has claimed responsibility for the blasts. All were low intensity blasts," a senior police official said.
Additional director-general of police (law and order) G.P. Singh on Monday also visited the blast sites in Dibrugarh.
The first blast was reported outside a shop at Teok ghat in Charaideo district.
Three explosions followed soon after in Dibrugarh district — two at Graham Bazar and A.T. Road in the town — and another at the oil township of Duliajan at Peepaltal Tiniali, just 100 metres away from the local police station.
The police said the two blasts in Dibrugarh town and the one at Duliajan were carried out with timer-fitted improvised explosive devices (IED).
The blast at Sonari was caused by a grenade as locals witnessed two motorbike-borne youths lobbing it and speeding away.
Ulfa (I) in a statement signed by lieutenant Joy Asom of its publicity wing, claimed that all the blasts in three districts were carried out by the outfit.
While four blasts took place in Dibrugarh and Charaideo, it is assumed that the third district he was referring to was Tinsukia where an explosion supposedly took place under a bridge at Doomdooma around the same time as the other four blasts.
However, the police said no such blast took place at Doomdooma in contrast to local people's version that a loud explosion was heard and smoke was seen at the site.
According to sources, similar blasts had rock Upper Assam during the Republic Day celebrations.
Dibrugarh superintendent of police Sreejith Tiraviam said, "Overground workers of Ulfa (I) were involved in the blasts. We have picked up 10 persons from Dibrugarh district. Eight were from Dibrugarh and two were from Duliajan. Our interrogation is on."
Assam chief minister Sarbananda Sonowal termed the blast a "cowardly act" and sought the people's support to strengthen democracy.
Sonowal on Monday expressed his gratitude to all sections of the people of Assam irrespective of all caste, creed, class and religion for spontaneous participation in the 71st Republic Day of the nation.
In a press statement on Monday, the chief minister said the spontaneous participation of the people of Assam in the celebrations of the Republic Day is a testimony of the people's deep faith in the democratic process of the country.