1124 seized cattle die
BSF rues lack of infrastructure to take care of animals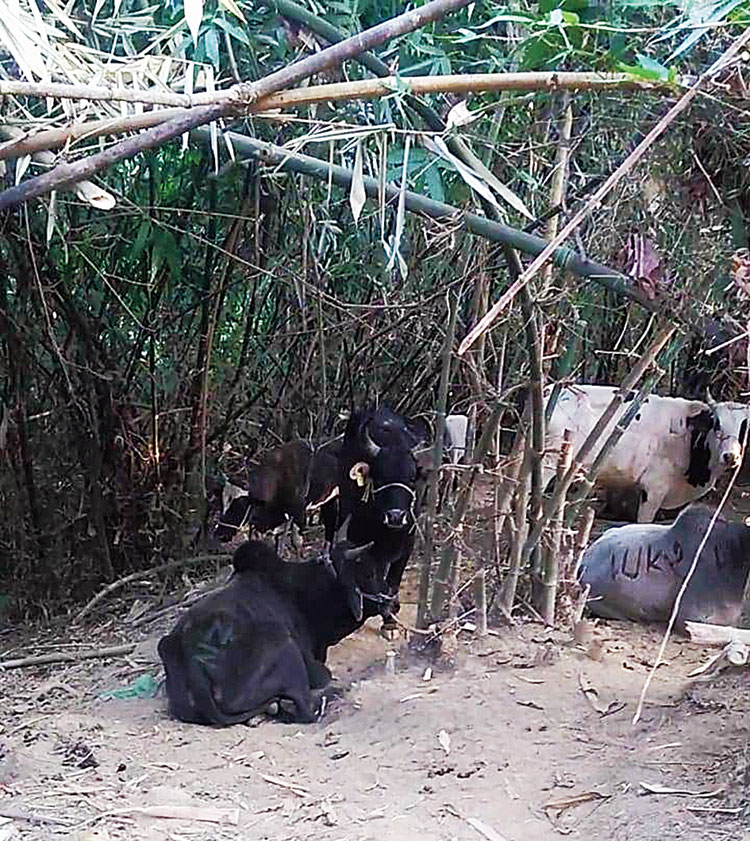 ---
Shillong
|
Published 26.12.19, 08:46 PM
|
---
The BSF on Thursday said more than 1,000 head of cattle seized this year had died owing to poor basic amenities and the force admitted it was struggling to managing the animals.
In a statement issued on Thursday, the BSF said while 1,327 head of cattle are kept at various border outposts along the international border in Meghalaya sector, around 1,124 head of cattle have died owing to lack of basic amenities.
Apart from manning the 444km-long international boundary with Bangladesh, BSF's Meghalaya Frontier has an added responsibility — looking after seized cattle meant to be smuggled to the neighbouring country.
The seized cattle have to be kept with BSF until the judiciary issues an order that they should be handed over to local police. Earlier, BSF would hand over the seized cattle to the customs department for auctioning.
The BSF has also expressed concern that the seized cattle are usually auctioned in areas close to the border.
"In those cases where the authorities are taking over the seized cattle, the auction of these cattle is carried out very close to the international border and the same cattle are recycled for smuggling," a BSF official said.
He also said disposal of seized cattle was a "headache", and wanted the auction process to be amended. "In many instances the seized cattle are not taken over by the authorities, in spite of accepting the seizure memo and the cattle are kept at the border outposts. BSF troops are struggling to manage the cattle as there is no infrastructure," he said.
To alleviate the problem faced by the BSF, the Meghalaya government had signed a memorandum of understanding with Dhyan Foundation, New Delhi, earlier this
year, and land measuring about five acres at Saitsama village in West Jaiñtia Hills have been temporarily allocated for sheltering the seized cattle.
According to the memorandum of understanding, the foundation will provide the necessary care to animals and the directorate of animal husbandry and veterinary will provide medical support.
The foundation had approached the animal husbandry and veterinary department to collaborate for care and maintenance of cattle seized and handed over by BSF. The land at Saitsama will also be used for grazing and growing fodder for cattle.
The official said on Wednesday, 208 head of cattle were seized during an operation.
Acting on a tip-off, the border troops carried out a search operation at Kuliang forest in Jaintia Hills close to the boundary.
During the operation, the force seized 164 cattle which were concealed in the jungle for smuggling into Bangladesh. "It is learnt that the cattle were earlier seized by the BSF and were auctioned close to the border. They were again recycled for smuggling into Bangladesh," the official said.
On the same day, BSF troops seized another 44 head of cattle in various other operations. The value of the 208 seized head of cattle is around Rs 32.7 lakh.