The Square at Novotel Kolkata Hotel and Residences hosted a bunch of amazing events in association with t2 — the Traditional Turkey Dinner on Christmas Eve, the Christmas Celebration Brunch and the Festive Christmas Dinner. The two-day celebration was certainly a grand one with guests enjoying fulfilling meals from the specially curated menus for both days while melodious tunes filled the air. The little ones were in for a treat as well, with Santa Claus handing over chocolates to them. Patrons of all ages were in for a blast at the events.
"It is that time of the year when there is a celebratory mood all around. As a Christmas ritual, like every year, this time also we came up with an innovative Christmas Tree titled Tree of Gratitude as a symbol of appreciation for everyone who stood by humanity in the tough Covid times. The F&B offerings were abuzz with the traditional fervour in a befitting celebratory ambience. To complement the food, there was also a live band and celebratory festive decor to ensure a fun-filled exciting time at Novotel Kolkata," said Sandeep Johri, general manager, Novotel Kolkata.
Nostalgic and melodic notes defined the music being played. Festive classics like Last Christmas, White Christmas and Coco Jumbo were some of the songs played.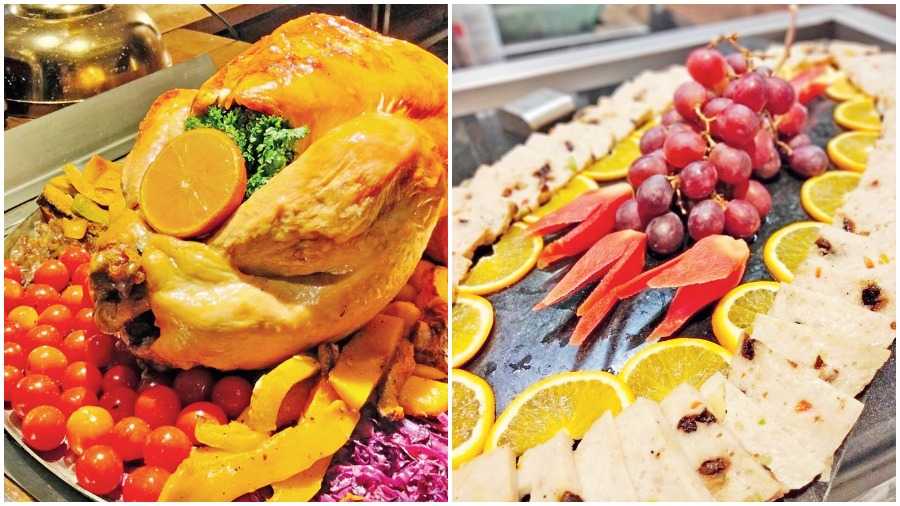 The decor included an innovative take on the Christmas tree, complete with
recycled material. Made of recycled metal shells and folded wax hands, The Tree of Gratitude was set up at the lobby of the hotel as a symbol of
thankfulness towards everyone, given that it was a particularly difficult year for everyone.
On both days, one could find extensive spreads spanning Indian and Asian food as well as Christmas classics. Some of the items that were served included Rosemary Leg of Lamb, Baked Fish and more.