Kolkata is the adda capital of India; Shyambazar is the adda capital of Kolkata. 
I discovered this while walking the bylanes of North Kolkata in the pursuit of candid photographs.  
I extended beyond facades; I prospected people plus facades, the ferment helping create an 'experience'.  
I got lucky; while walking to the left of Calcutta Bungalow, a model of responsible heritage restoration, I chanced upon a morning street conference of about 25 individuals with their backs to building facades, sitting on steps or occupying every square feet of a North Kolkata 'rok'. 
A casual enquiry revealed that 'aamra eykhaaney 365 days of the year' that sounded almost like a territorial statement and that this was 'shudhu 20 per cent of our normal attendance.' Some 30 feet down the pavement another adda was in animated progress, diagonally across the street yet another and beyond that a fourth. This then was not just a weekend aggregation seeking peppered toast and aada-cha; this was more than 50 people engaged in detail, debate and dissection on a slack morning.  
I returned the following morning, this time notepad in hand to scribble. This then is the result: 
We live for the adda
'Aamra adda'r jonnye beynche aachhi; we live for the adda. This is one of the last places in the city where people can engage as equals without the trappings of wealth or social position.' 
'We are proud to be the preservers of one of the last great traditions of the city. Aapni jaaneyn that the adda got a chapter in the book Hutum Pyanchar Noksha written in the 19th century?' 
'As neighbourhoods evolve and old residents scatter, people are spending less and less collective time. The adda is the last consistent everyday glue that holds people together.'    
'The adda is the creation of two critical elements – a cup of tea and a place to sit. We have a cha dokaan (Uttorer Adda) that provides us with cha that has been consistent for years; we have a place where we can sit without being encroached by a hawker's stall or a building owner complaining about the decibel value of our discussion. The result is one everlasting constant (adda) in a world of change.' 
'What the adda does for us? In one word: 'praan-khola'. It is oxygen for our soul.'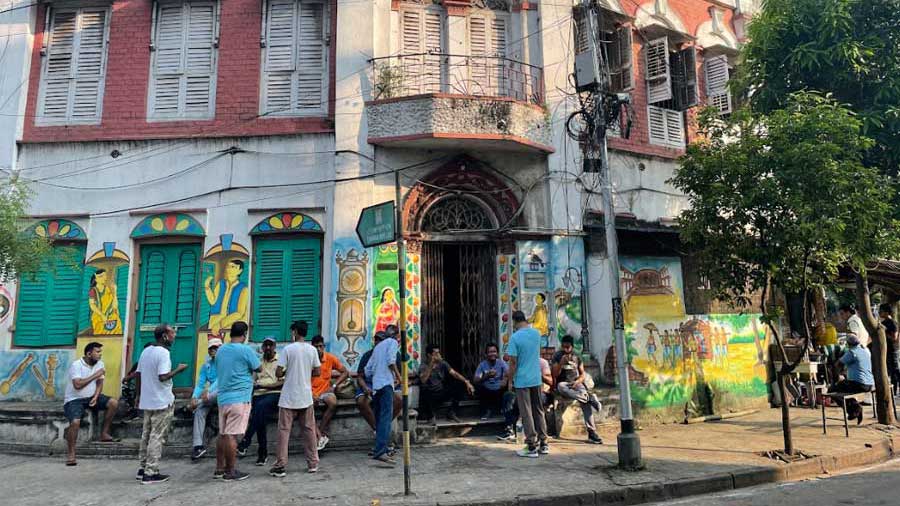 The objective is to find any space to sit – the ground floor street-facing steps leading into a home or the 'rok'
Photograph: Mudar Patherya
A lesson for the country
'In a world where people are living increasingly like islands, the adda is the last great institution that holds people together – people of diverse opinions, calling and social status. It is a lesson for the country. Those that can discuss together can live together.'
'I am a woman in this male-majority adda in Shyambazar. Normally one would have felt awkward. I have been coming here for 12 years and not once have I felt out of place on account of my gender. There is a message in this: if more men made women feel at ease in other walks of life, there would be a healthier engagement, which would lead to an opening of minds, which would lead to a safer society.'
'Our adda is ei paara'r kaagoj. What has happened where. Who is moving in. Who has gone on a vacation. What were the experiences of that vacation. The price of potol. The nature of Bumrah's yorker. Why Ashwin should not have been dropped. The policies of the Centre. It is one of the last places where you can get people disagreeing without becoming disagreeable. Aapnake to bollam…this adda holds out a lesson for this country.'
'The rotating nature of the adda makes it dynamic. There is a 630 crowd that comes and blends into the 730 crowd by which time the earlier crowd begins to leave; the 730 crowd blends into the 830 crowd; the 830 crowd blends into the 930 crowd. We are like actors on a stage; actors may change; the stage remains. Eta shudhu adda noy baba, this is a metaphor for jibon.'
'At the adda, we celebrate the birthdays of individuals even before their family members do – with shingara, jilipi and cake.'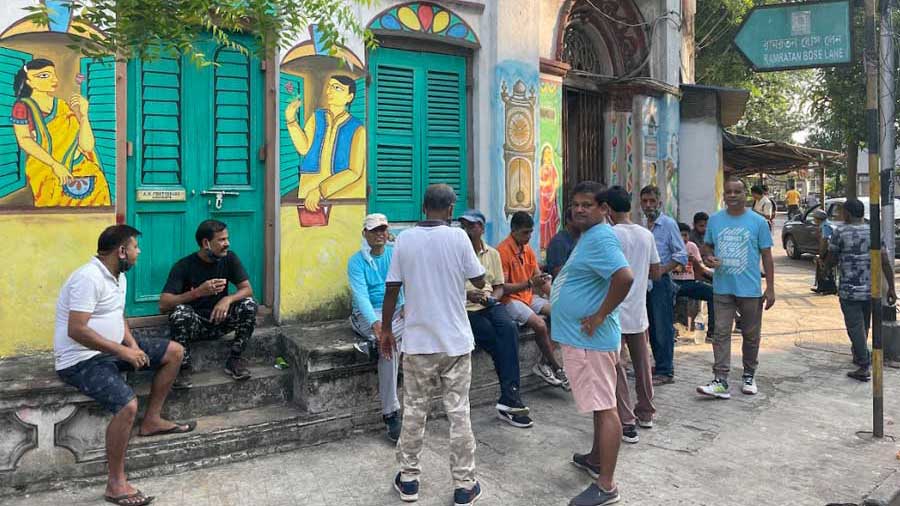 The Shyambazar adda is sustained by a cup of tea and a place to sit
Photograph: Mudar Patherya
Shock absorber in the vehicle of life
'To say that we come together for cha and shingara is to miss the essence. We come here for friendship in a world that is becoming lonelier; we come here to vent our disappointments and go back lighter. The adda is really our psychotherapist; it is our shock absorber in the vehicle of life.'
'The adda started with individuals coming together; thereafter, their families became closer – a society within society. As a result, they are aware of the details of the lives of people they may have never met before. This is Kolkata's Facebook!'
'I had booked a property in Salt Lake; the facilities were better; the advance had been paid; I changed my mind when I realised that a life without this morning adda would be a life without meaning. I cancelled my booking and got my money back. I don't think I can ever move out of North Kolkata.'
'Go and write in your paper that South Kolkata may have more money than North Kolkata but people in North Kolkata lead richer lives. Sposhto bhaabey likhbayn!'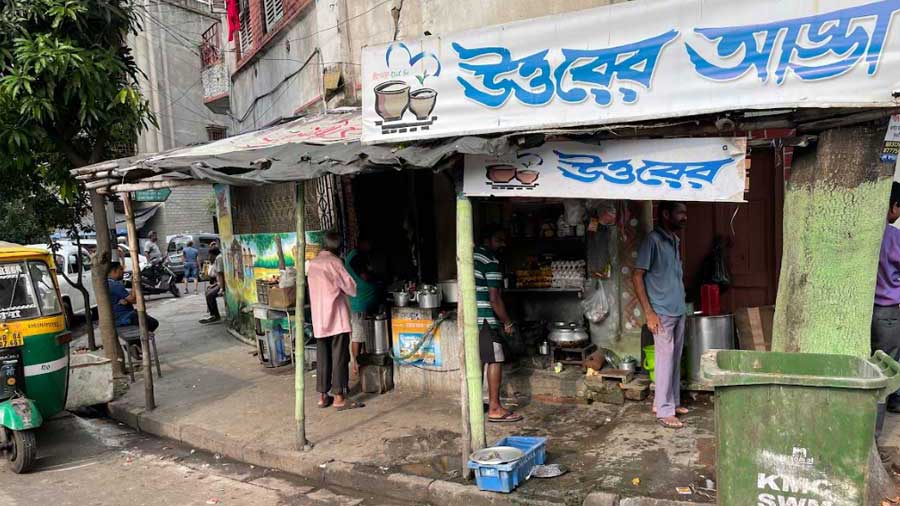 The tea shop that has spawned this large adda hub is proudly positioned as Uttorer Adda
Photograph: Mudar Patherya
'Aami jeta mone kori… as families have evolved from the joint to the nuclear and what was once a large number of people within one household is now limited to less than the fingers on one hand, the 'family' inside the family has been replaced by the 'family' outside the family – which is where adda members come in. The adda members are now the support system of our family members. Ekta telephone call and we know six people will be at our doorstep. This is where I would like to grow old.'
'We discuss everything within the adda, but there is a core adda group within the adda where only specific things can be discussed. So there is a layer within a layer.'
'There are other groups who we may not know by name but know by face. The result is that all of us who do adda across Deshbandhu Park are really one community.'
'The evening adda is the best attended. The young crowd. Come in the evening if you wish to see an eclectic crowd.'
'The adda has a 'taan' or pull. Why else would we come here every single morning after our walk in Deshbandhu Park even when it is raining?'