"Are you going to Gili T?"
The number of times I was asked this question while flashpacking through Indonesia took me by surprise.
If you're wondering who or what a flashpacker is, it's similar to a backpacker, on the move for several months, but on a slightly broader budget. Ideally someone in their 30s or 40s who picks hotels over hostels, style over simplicity (think laptop, GoPro and ear pods) and keeps it easy on the cost yet big on contentment.
The Gili Islands (Gili Trawangan or Gili T, Gili Meno and Gili Air) are located 95km east of Bali, Indonesia
www.livingnomads.com
So, one fine day, I succumbed to peer pressure, removed myself from the cultural and spiritual abode of Ubud and booked a fast boat to Gili Trawangan in search of what makes the biggest of the three islands Indonesia's hottest ticket.
1. Gili T is a party island by night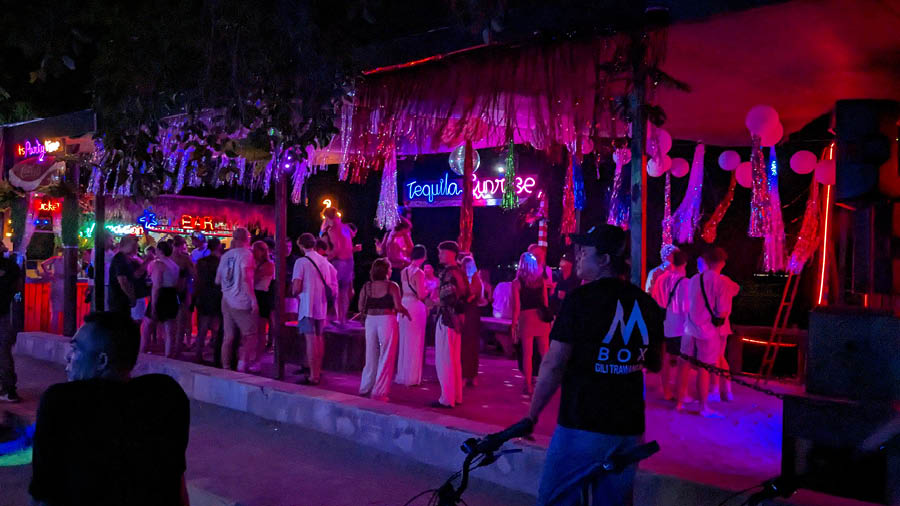 The Main Street becomes an extended party pad after sunset
Karo Christine Kumar
After watching the sun melt into shades of pink and crimson at Sunset Beach, get set for a wild night as the island's nightlife swings into action. The Main Street becomes an extended party pad with tequila shots and 'shroom shakes replacing Bintang beer sessions. If this is your scene, you're at the right place.
2. Spend the day snorkelling, diving, surfing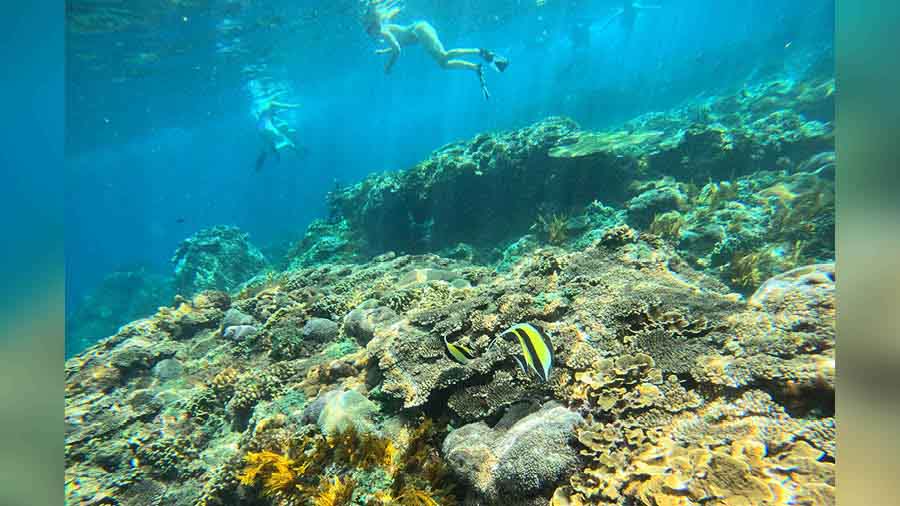 Snorkelling in the Gili T waters
Karo Christine Kumar
If listening to the sound of the waves gently lapping against the shore is your idea of serenity, then you'll find that too (though Gili Meno and Air are quieter destinations in comparison). The beaches on Gili T look like a dream, but watch out for the coral. Rent gear from the beach and snorkel with sea turtles… sometimes even before the ocean's reef break, or book a snorkelling boat tour that takes you to the three Gili islands. There are also plenty of dive schools if getting that Open Water certification or levelling it up is on your list. Surfing spots are few and while they're good, they don't compete with Bali. Stand-up paddle boating, kayaking and yoga are other options.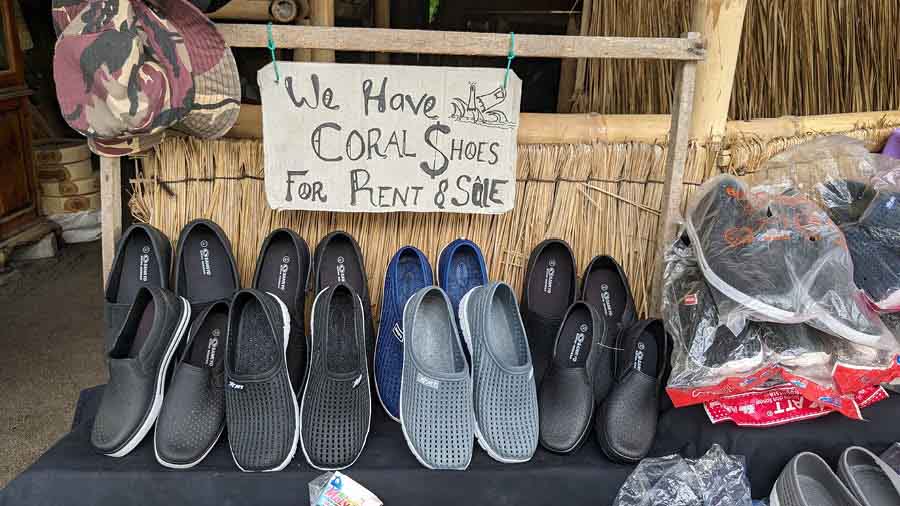 The shores have broken coral and you might need one of these to protect your feet
Karo Christine Kumar
3. There are no motorised vehicles on Gili T…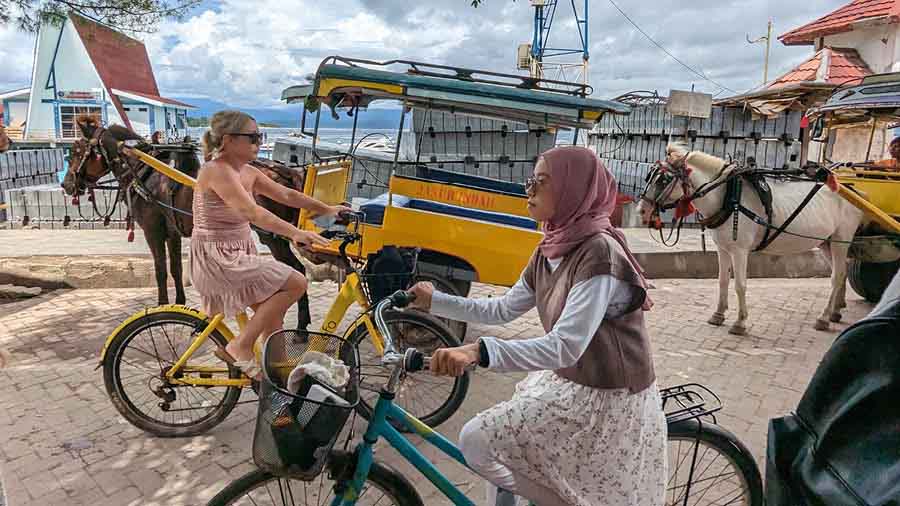 Pedal, paddle or ride on horse-pulled carts on the island
Karo Christine Kumar
There's only cycles, e-bikes and horse-pulled carts on Gili T! An island that is pollution- and noise-free has a special place in any flashpacker's heart. Gili T is 3km long and 2km wide so you can even walk around the whole island in two hours. Some accommodations throw in bikes for free.
4. Pick from luxe to low-cost stays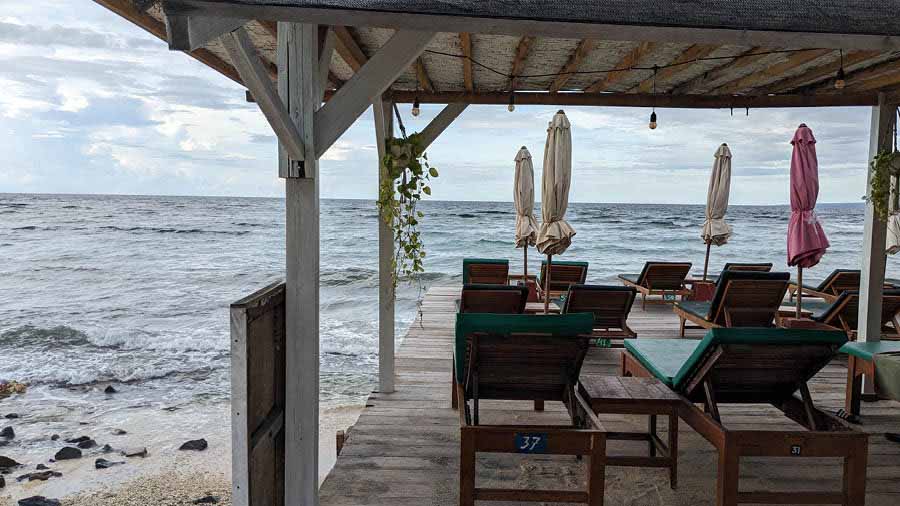 Gili T has stays for all budgets
Karo Christine Kumar
Luxury traveller, flashpacker or backpacker, Gili T covers all pockets. Splurge at Pondok Santi Estate and Pearl of Trawangan, half that at Hotel Ombak Sunset, budget stay at Gili Smile Bungalow or Pondok Sunrise 2 or go the hostel route at Mad Monkey and Beach Bum. Book your stay in advance as the Gili islands are small and the good places go quickly. Opting for 'breakfast included' will work out to be more economical.
5. It has a bustling night market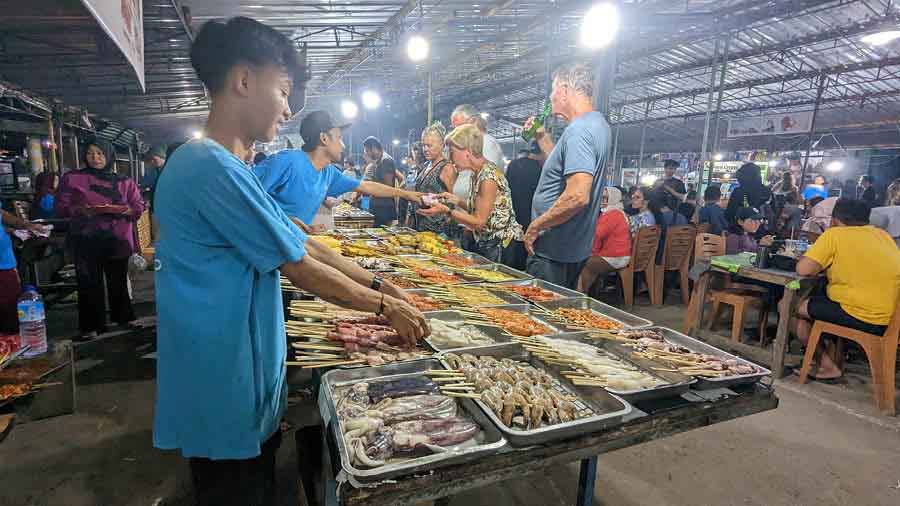 Pick from fresh catch, nasi campur (Indonesian thali), satay, nasi goreng and more
Karo Christine Kumar
The Trawangan Night Market opens around 6.30pm and you'll find plenty of stalls selling local food and fresh catch at prices less than the beach clubs. Learn the keywords: taho (tofu), ayam (chicken), ikan (fish), babi (pork), sapi (beef), kambing (lamb/ goat), bakso (meatball). Eat at a warung (family-owned eatery) like Oh Warung Gili and try the BBQ at Scallywags. Selamat makan! (Bon appetit!)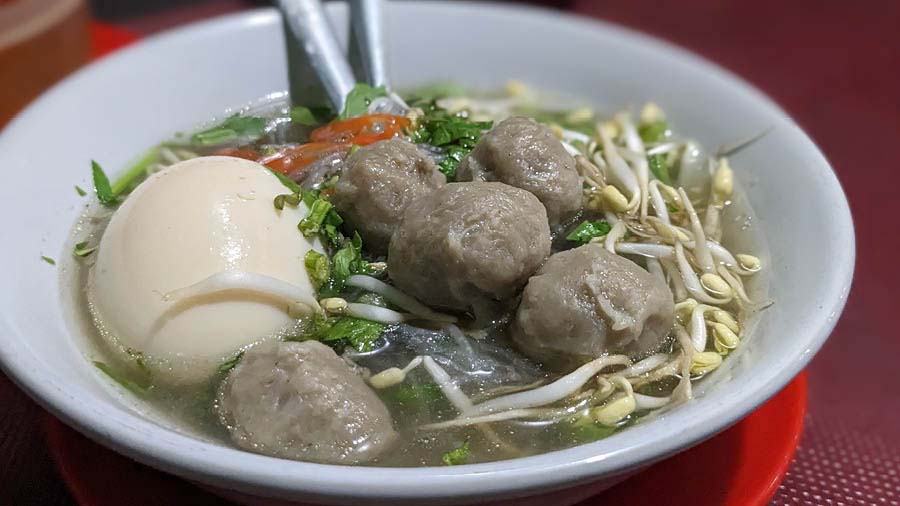 Bakso (meatballs)
Karo Christine Kumar
6. There are work-friendly cafes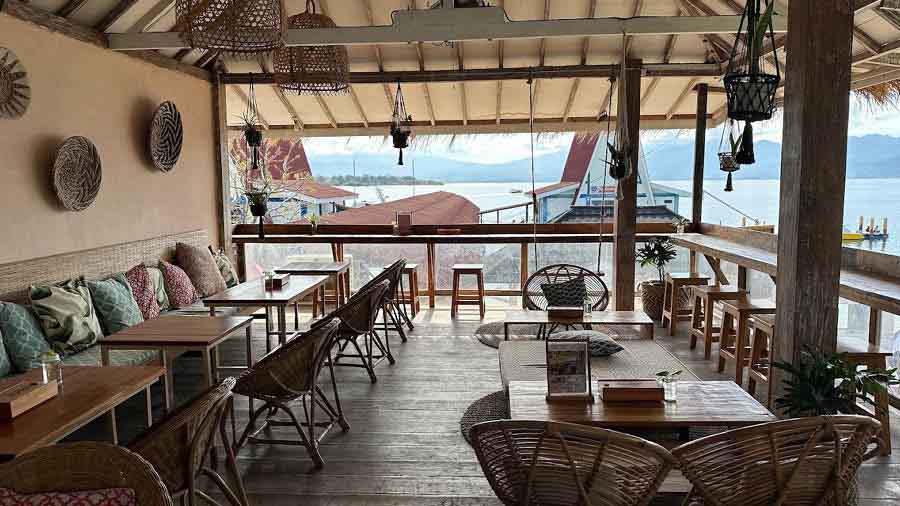 Coco Cafe
Ekaterina Pan
The truth is you'll hardly spot anyone buried in a laptop in this party getaway, but there are no dearth of beachfront eateries with wi-fi. Coco Cafe is a nice spot to work from and if air-conditioned comfort is what you're after in those hot summer months then Kayu Cafe and Coffee & Thyme seal the deal.
7. Catch the free beach cinema
A number of places like Villa Ombak screen films for free in the evenings. Grab a pouf and some popcorn and chill. Carry insect repellent!
8. Swing into the sunset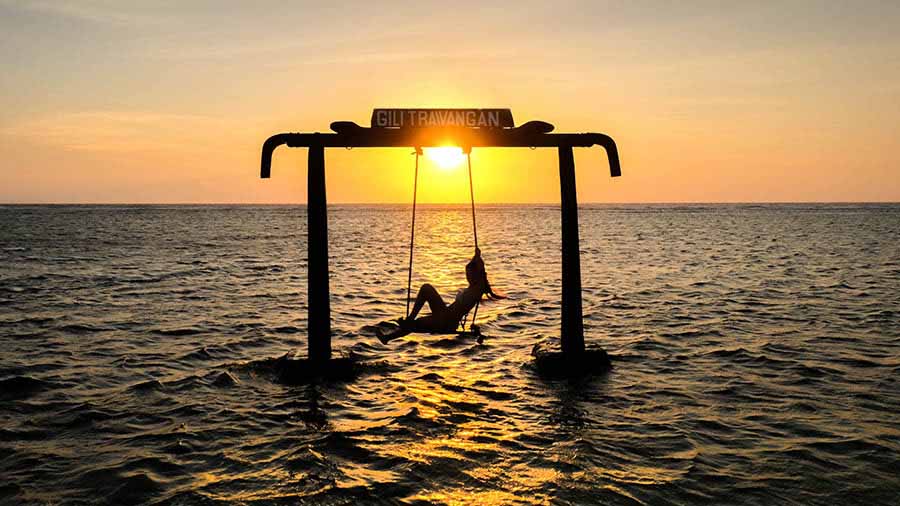 Swing your way to serenity (and Insta posts) at Sunset Point
Shutterstock
Sunset Point on the island is where the sun really sparkles. And has a flashpacker even been to Gili T if there isn't an Instagram picture on 'The Swing'?
9. You can support the island's animals
If the condition of the horses pulls you to tears, check out Horses of Gili, a non-profit that supports the working ponies, while Luni Lombok keeps the cat population of Gili islands happy and healthy. However, not much is being done against the caged songbirds which are a common sight in Indonesian homes. You can also volunteer to clean the beach because waste management is a big problem on the tiny island.
10. Get a Balinese massage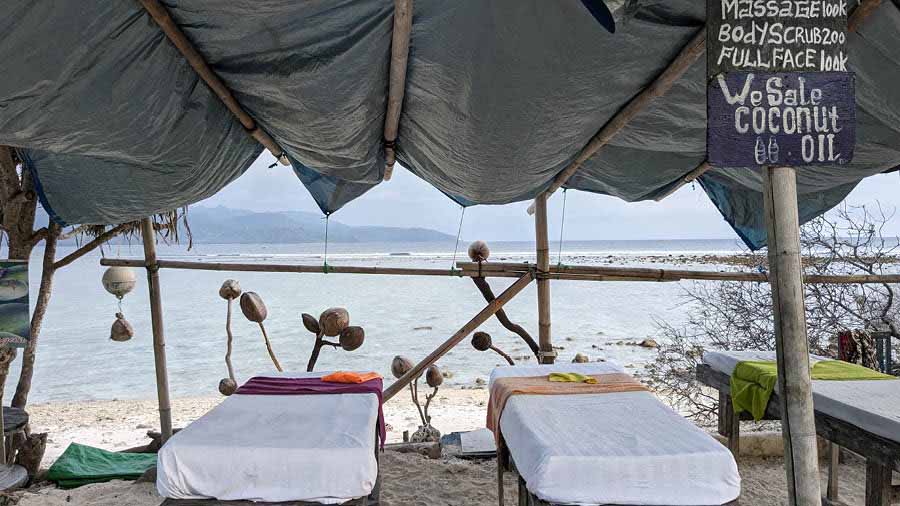 Massage beds overlooking the sea
Karo Christine Kumar
Chances are you would've already got pampered in Bali's countless spas. Continue the ritual on ocean beds overlooking the turquoise waters and white sands, flashpacker-style.
Travel tips
A 30-day tourist visa on arrival for Indians travelling to Indonesia costs Rs 2,500 approx. As of now, a Covid test is not mandatory
Carry enough cash because cards are not freely accepted on the three Gili islands — Gili Trawangan, Gili Meno and Gili Air. Carry USD, AUD or SGD instead of INR if you plan on converting currency in Indonesia
Get a local SIM card for data on-the-go. Telkomsel works well on the islands and in Bali
Booking a return ticket from Bali to the Gili islands on a fast boat will cost you less than one-way (IDR 450,000-500,000 is a good return rate – approx Rs 2,800)
Remember, everything is marginally costlier on the islands than the mainland. The east side of the island is cheaper than the west, but also noisier
Stay alert and look out for the evacuation signs. Indonesia lies in the Pacific Ring of Fire and is disaster-prone. In 2018, an earthquake in Lombok led to evacuation of tourists across the Gili islands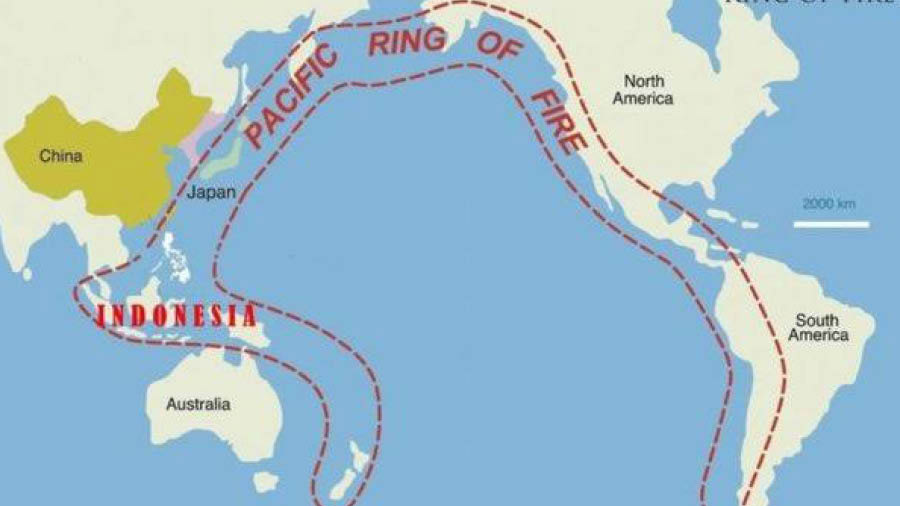 The Pacific Ring of Fire