Though the oldest surviving church of Calcutta is situated at the heart of the city, it is seldom visited by tourists. The church, which has lost much of its gloss after witnessing more than 250 years of rules from Robert Clive to present nation builders, is now in decay and partly crumbling.
Situated at Mission Row of central Kolkata, the old church or old mission church tells a lot from its own name. Interestingly though, the church is commonly known as Old Mission Church, while its actual name is Mission church and ever since St John's church was set up on June 24, 1787 and started being called as new Presidency church, this one founded 17 years earlier got the name old church for obvious reasons. 
It was never known as the Old Mission church. All old records and bank documents clearly mention it as Mission Church. In fact, the confusion is stimulated from the big marble tablet installed at the gate of the church, where it is written as " Old Mission Church". Noted historian Radharaman Mitra clearly wrote in his book that this mistake was committed in the 1970s, when for the sake of correcting its year of foundation a new plaque was placed with the wrong name. Mr Mitra has checked the church's 175th years commemorative book and saw it is titled as One Hundred and Seventy Five Years of the Old or Mission Church. However the 250th year commemorative book has mentioned it as Old Mission Church.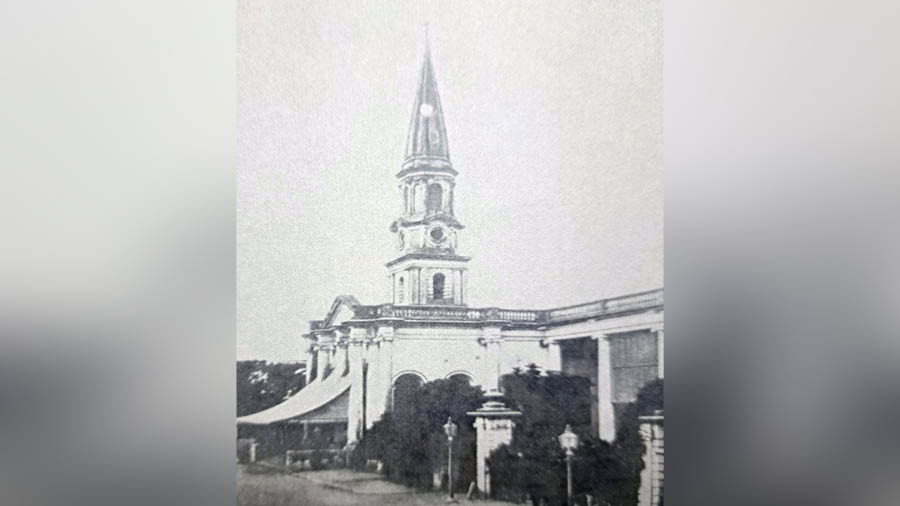 An old photograph of the church
The church has an interesting history. In 1758, Lord Clive then beaming in extreme supremacy after cementing the political and commercial position of East India Company in Bengal invited a Swedish missionary named John Zachariah Kiernander from south India to settle in Calcutta and to start his missionary school. He was exceptionally granted the permission to convert Roman Catholics and native population to Protestant Christian.
On November 25, 1763, he appealed to the Council of Calcutta to get a house to set up a church. Though he got the Collector's office building to start with, he soon established a new school named Mission School with 175 children on December 1, 1758 with direct support from Society for Promoting Christian Knowledge (SPCK ).Meanwhile he had involved himself in religious activities among Portuguese.
It is noted that the oldest English church Calcutta St Ann's was demolished by Siraj in his 1756 Calcutta attack and as the European population had no church left in the city, Kiernander took an initiative to establish a church. His appeal was placed before Calcutta Council of the company on November 25, 1763 and finally in 1767 the foundation stone was laid. The church was consecrated on December 23, 1770.
This was open to common people from the very beginning. The cost of the building was nearly Rs 60,000 and it was mostly taken care of by Mrs Wandeler, the first wife of Kiernander. After her death, he was remarried to Anna Oly who donated all of her ornaments to the church.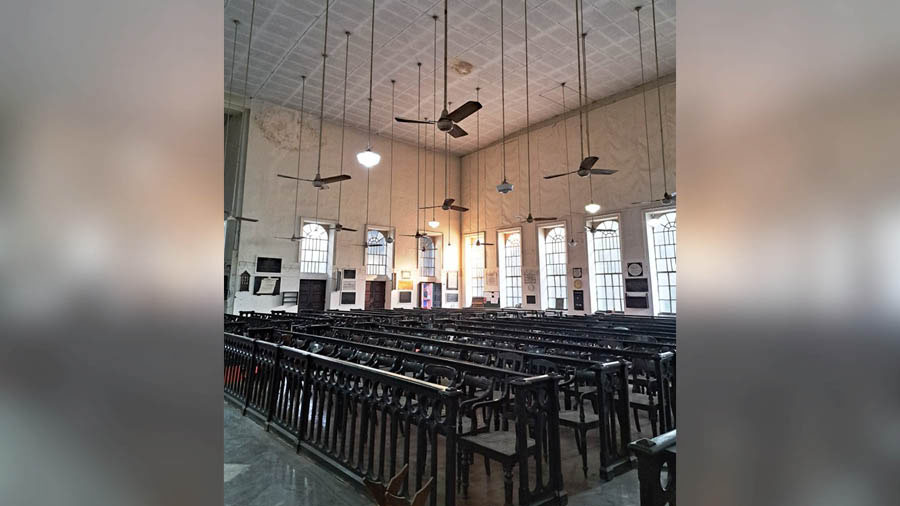 A view inside the church
As this church was known as Mission Church, the road before it was called Mission Row. The church was also known as "Lal Girja" or red church for its oblong blocks of dark red plastering. Many believe that the water body of Dalhousie Square was named Lal Dighi only because of this. However, there is a different theory on this.
Till 1787, when St John's church came into existence this church was for all elite and highly placed Europeans in Calcutta. The same year, the church along with the school and Park Street cemetery was taken under three trustees. Kiernander, the Father of Christian missionary work in north India and founder of this church, died in 1799.
Mission church had undergone many structural changes in the years to follow. In 1774, adjacent to the church, a hall was built. An upper flat was added in 1801.The church was enlarged again in 1804. The church came under the constant influence of East India Company and that is evident from the conduct of Charles Grant, a powerful member of the Court of Directors of East India Company at London, who started providing Chaplains to the church, a system which continued till 1870. Rev Thomas Thomason was the first Government Chaplain of the church.
Rev Krishnamohan Banerjee was the first Bengali pastor of the church.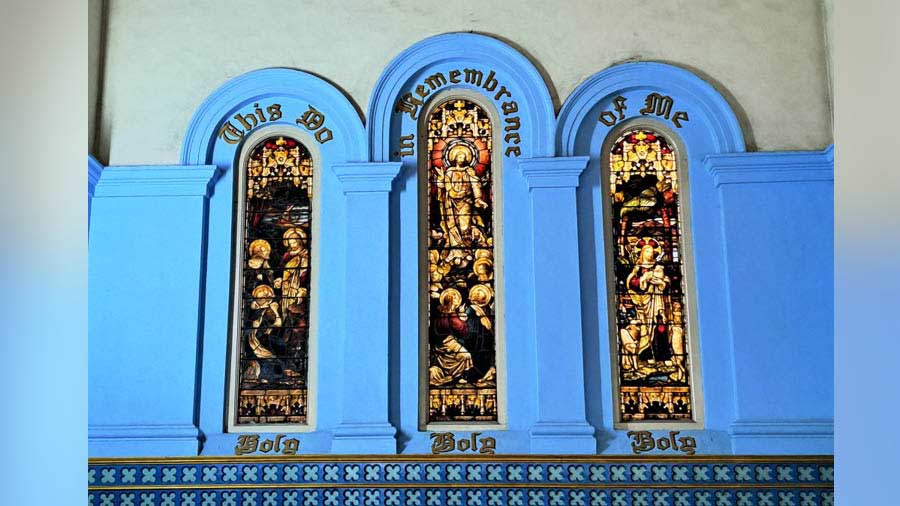 The altar with stained glass
It is believed that on February 9, 1843, Madhusudan Dutta, then a student of Hindu College and later to become one of the biggest icons of Bengali literature, was baptized here by Archdeacon Dealtry.
The church got its giant bell in 1846 donated by TS Kelsall and WS Kelsall . It was made by C & G Mears, Founders London.
Mission church gained an exceptional height of honor in October 1899 when it became first church in Bengal and probably in India to have electric lights and fans.Messers Osler & Company spent Rs 2000 to install four electric fan and many electric lamps in side the church a real big thing when electricity had arrived in India.
The church record shows Lady Brabourne visited the church for a morning service while in 1936, Lord Linlithgow, the Viceroy of India, attended a service with his wife.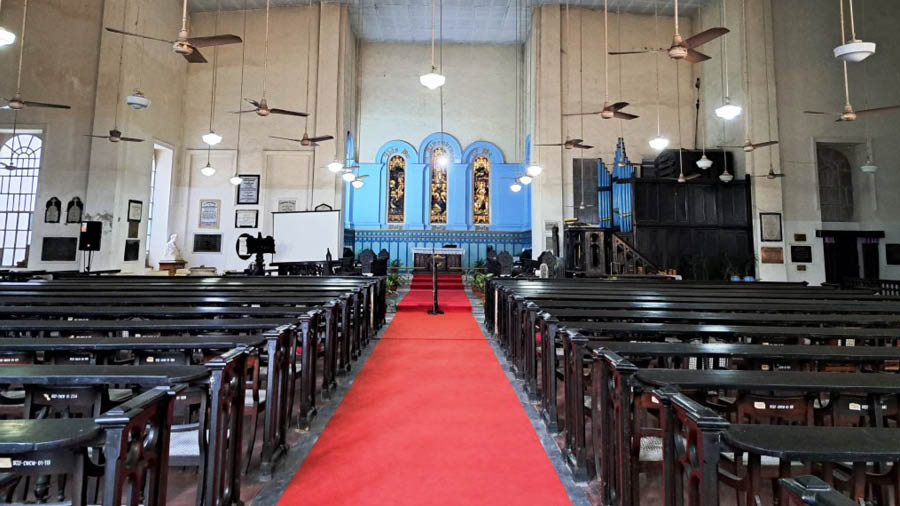 The nave of the church
This church has a direct connection with World War II that started in 1939. One member of the church named H Anderson joined military services. The church was impacted in December 1942 when the Japanese bombed Calcutta and a bomb was dropped almost near the gate of the church. Luckily, except smashing its window panes, not much was damaged.
The old photograph of the church shows a sharp pier, which had three layers in the bottom. However this pier is no longer there but the side portico of the church is still supported by an array of tall and strong ionic roman pillars. Though these are in little bad shape, still give an elegant look to the church.
The church has a small nave and its altar is decorated with beautiful stained glass describing the life of Christ. On the right side of the nave, there is one statue of Bishop Thomas Dealtry and on its right, there is a magnificent vintage pipe organ imported from Europe.The pipe organ is still in use but only a handful people can play it. There is one excellent marble baptismal area, where infants are baptised.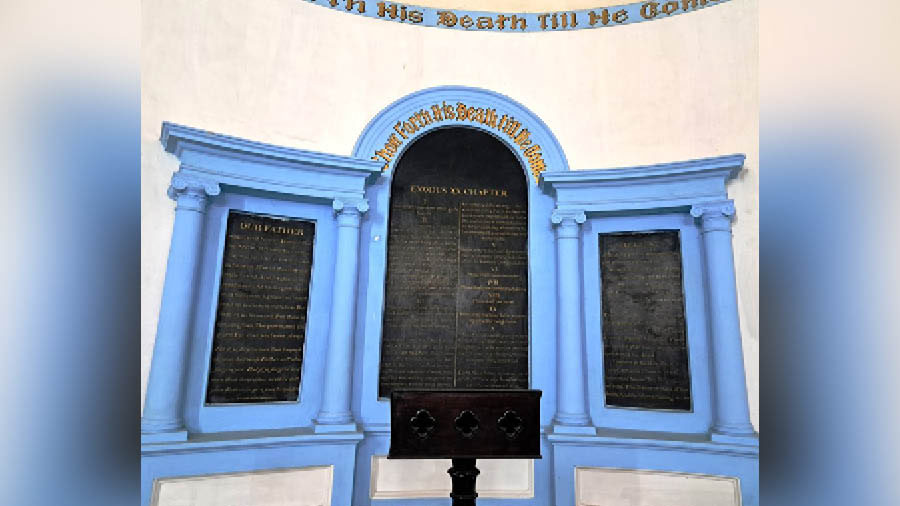 The church walls
The main attraction of the church is perhaps its walls, which are loaded with several dedicatory white tablets and each of them tells a story. There is one dedicated to one Shakespeare though his name was not William by any chance. He was Henry Davenport Shakespeare, a member of the Council of India, who died on March 20, 1835.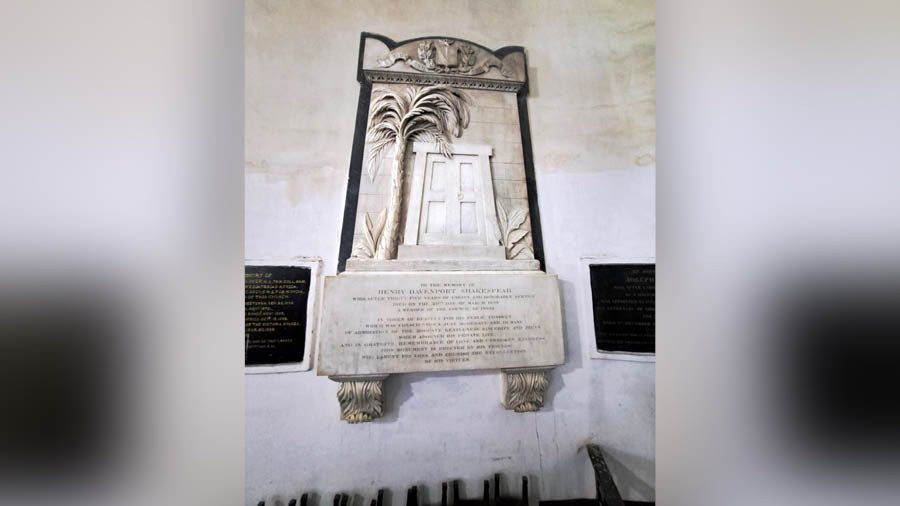 The plaque dedicated to Henry Davenport Shakespeare, a member of the Council of India, who died on March 20, 1835
One interesting marble plaque has the name of one Rev Jani Alli, who as the tablet writing says, was a Muslim converted to Christianity in 1855 at Masulipatnam by Robert Noble. There is another plaque dedicated to a Muslim lady named Wullee Ul Nissa Begum of Jedda daughter of a hadjee.She was baptised in this Mission church on February 16, 1871. She died on December 8, 1876 at Murshidabad. A beautiful marble tablet is dedicated to Robert Swinhoe of St John's church. He died on February 17, 1845. Another decorative slab is found in the name of ICS Stephen Jacob, who died young at the age of 45 on December 11, 1898.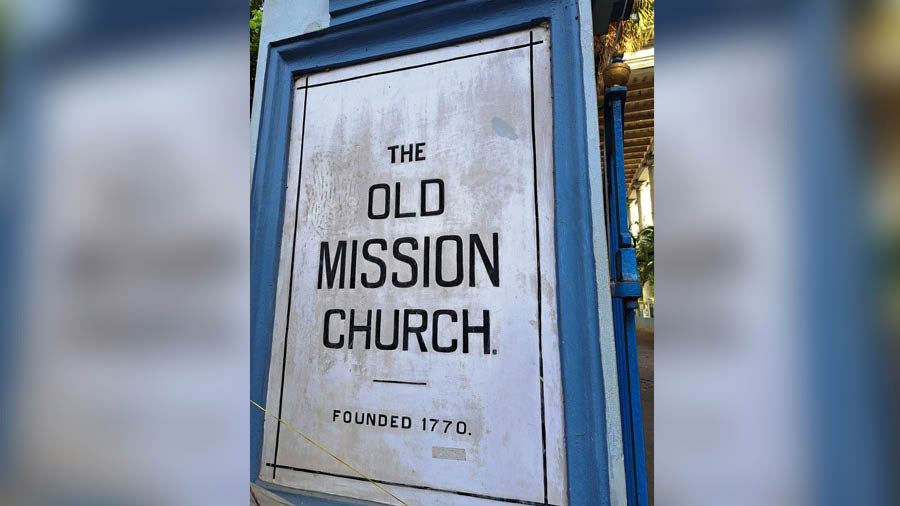 The marble tablet of the church bearing a wrong name
Mission Church completed 250 years in 2020 but an abnormal situation due to the pandemic spoilt the celebration. The deferred 250 years celebration took place on December 18, 2022.