When you walk into SWAhealth, it feels nothing like a doctor's chamber or medical clinic that you've been to. The warm lights, the cheerful colours and the reception which is reminiscent of a café, might not make that nagging pain in your elbow recede, but it's likely to put you at ease.
SWAhealth is powered by a team of physiotherapists who hold masters degrees, and led by Trambak Chakraborty, who specialises in ortho-sports and also took a course in functional movement screen from fitness industry veteran, Henrik Olofsson. He was associated with a major hospital before he decided to fly solo in order to let Kolkata feel the long-term benefits of personalised physiotherapy.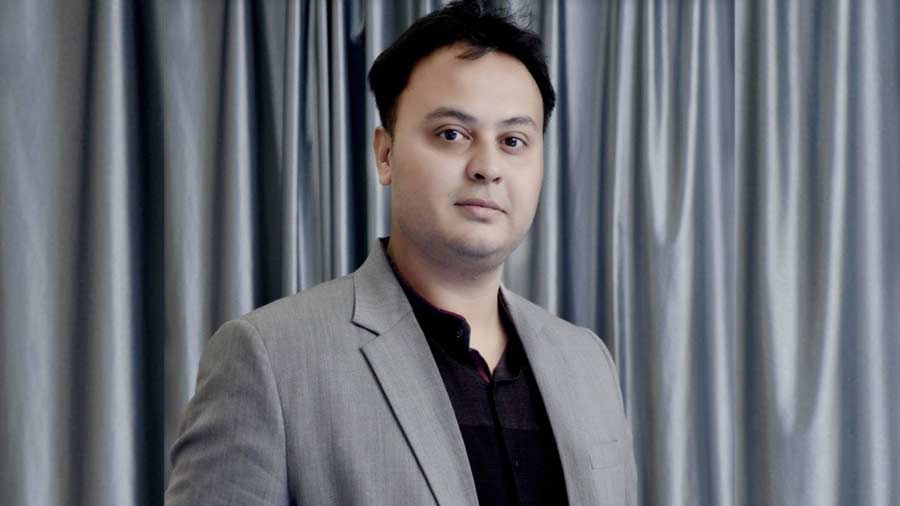 Trambak Chakraborty
"When people experience difficulty in movement or a nagging pain, they tend to ignore it or assume they should silently suffer. But, in most cases, these are symptoms of a deeper problem. Unattended pain and movement issues often flare up or become precursors to major diseases later," said Chakraborty, who set up SWAhealth in 2020 under the aegis of Boroline. While his team of physiotherapists will execute any treatment, there is a single ethos that everyone follows. 
Single ethos at SWAhealth: Look at the "whole" system
The website lists a number of pain-areas which can be addressed. But it's not enough to simply ask for the pain to be fixed. Chakraborty has no patience for people who demand an ultrasound machine for their back pain. As far as he's concerned, there's more to physiotherapy than just the "fad" of the ultrasound machine. It's about looking at the whole "system" and that is the ethos which is followed at SWAhealth. This Physiotherapy Rehab Clinic helps its clients to get to the root of a problem and then strengthen the body to nip said problem in the bud. Here, they invite you to understand the mechanics of your own body.
Before Chakraborty launches on any kind of rehabilitation, he begins with a keen interest in your life. "It's important to first establish the 24-hour routine in people's lives, right from how much water they might be drinking, whether they are lifting heavy objects in the house or even if they have a large dog who jumps on them all the time. Your daily routine will affect you in ways you wouldn't guess. But the idea is not to change all your habits. The idea is to work with the established patterns of your life to prevent further deterioration."
For instance, most of us can't change desk jobs which involve sitting down for long hours. And while this weakens the gluteal muscles, other parts of the body are habitually affected as well, such as the knees when one is heaving up to one's feet or even the wrist if one likes to hold on to the arms of the chair while getting up. Our personal patterns reveal themselves only over a few sessions. 
It's more than just about the pain release
In fact, Chakraborty prefers prehabilitation to cure because the effects last longer. "If you need an operation, it's best to make sure the muscles are already strengthened so that post-surgery integration is easier." According to him, there is much to be learnt from the ways animals move, whether it's the tiger who can take long leaps or the horse who can stand all day. It's the smaller muscles that support the larger groups, and so it is imperative to work what seems minor at first and then move to the area where one feels the pain. Carpal tunnel for instance, could be relieved by improving shoulder mobility.
He also points out that ailments could be bizarrely related. "Your back ache could be related to the itch in your eye because there is a correlation between Iritis and Spondylitis." 
All of this to illustrate that "it's more than just about the pain release". As for the pain, there are state-of-the-art machines at the New Alipore clinic which are equipped to penetrate layers of tissue which the human finger cannot. With minimal discomfort, the laser breaks the knots which make us stiff. And if you want to see the whole analysis, the high-energy laser therapy machine in the consultation room comes with pre-loaded conditions which help to narrow down an analysis.
He really helped me to recover from a bad neck injury: Ranadeep Moitra
"Trambak's laser therapy was a very helpful supplement to my corrective work. He really helped me to recover from a bad neck injury. That apart, we have a very healthy respect for each other's work and space of operation," said strength-and-conditioning specialist, Ranadeep Moitra, proprietor of Endorphins Corrective Exercise Studio. 
SWAhealth also boasts a rehabilitation gym, to be used under instruction and supervision only. Here, a treadmill is more than just a cardio machine and is used in an entirely different way to synchronise your shoulder and hip movements.
"Here, we think of the clientele as guests. We want them to be at ease while undergoing treatment and we are happy to answer all questions because it is best that everyone is able to understand their own body," says Chakraborty. 
We caught up with a 33-year-old mother of two who was visiting the clinic to fix her stiff neck as well as her son's. "When my three-year-old had a painfully stiff neck, he was very understanding of the situation and saw him within the hour. My son was much better with only one visit to him. The team here is always super-friendly and helpful and it definitely adds to the charm that his chamber is not the usual hospital setup. I had a fabulous experience, actually," said Diviya Singh Dhillon. 
Ronojoy Basu, a consultant, has been seeking Chakraborty's assistance for an acute problem in his spine which keeps recurring. "It's a genetic problem which might not be cured entirely, but I visit the clinic once or twice a week to keep up the maintenance. What I like is that the younger physiotherapists are also very good. There's also a good gym instructor, for which there's no added cost if it's part of your treatment. And they will make sure you're doing your prescribed exercises, in case you're one of those lazy ones who slack off on that," said Basu, who has referred many of his acquaintances to Chakraborty. 
Watch this space for more from the desk of Trambak Chakraborty