Popular pandals from across Kolkata have tried to go beyond the court and government-mandated safety measures to ensure a Covid-free Puja. The precautionary steps have assumed added significance with Covid cases on the rise in and around Kolkata.
The most basic measure that popular Pujas such as Nalin Sarkar Street Sarbojanin Durgotsab, Kashi Bose Lane Durga Puja Samiti, Ballygunge Cultural Association and Tridhara Akalbodhan have taken is maintaining a distance of 10m (approx 30 feet) between the devotees and mandap. Some are employing the help of police to ensure this, while others are deploying more private security guards than other years.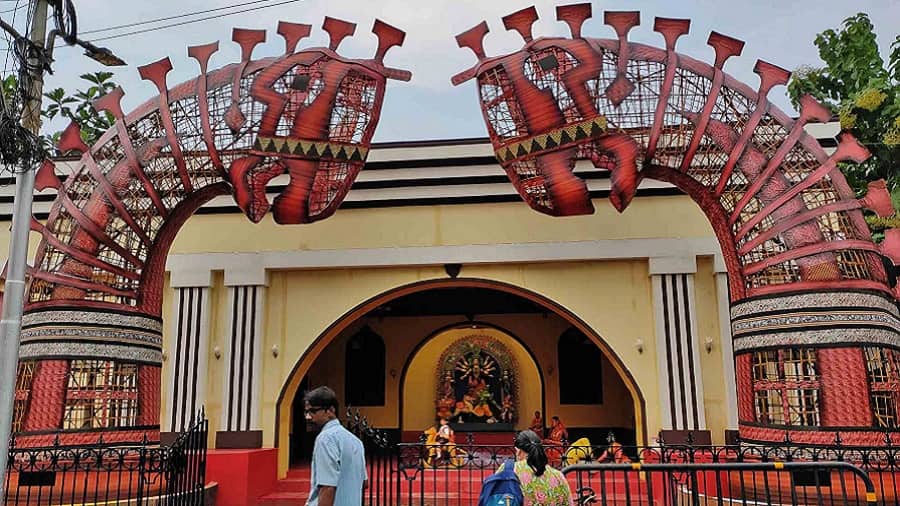 Santoshpur Lake Pally has kept the pandal behind a barricade to restrict entry,
Amit Datta
Naktala Udayan Sangha had an eye on the Covid situation even during the construction of the pandal. The club ensured that all the labourers working on the pandal were double vaccinated. Ajeya Sangha, on the other hand, has a tunnel that will run an automatic thermal scan on visitors. The idea is to prevent those who might be infected from entering the pandal.
Besides reminding people to wear masks, pujas like Dumdum Park Tarun Sangha are distributing masks to visitors who do not have them. The puja committee has assembled a team of 200 volunteers to ensure that all Covid protocols are followed and set up a helpdesk to address grievances.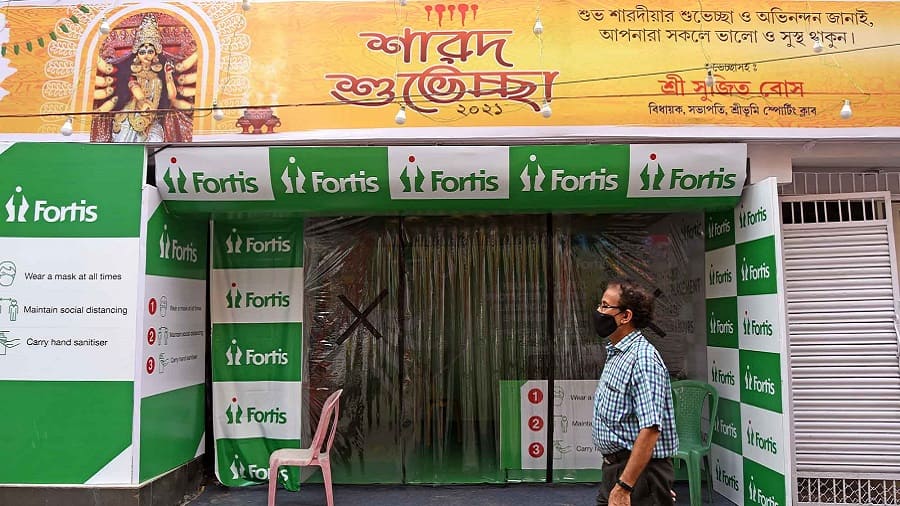 A separate zone outside Sreebhumi Sporting Club is spreading awareness about Covid-appropriate behaviour among pandal-hoppers.
Amit Datta
Suruchi Sangha has gone a step further by circulating three WhatsApp numbers for members of the locality who are ailing or physically incapable of coming for darshan. A team of 50 volunteers are going to their homes, collecting their puja offerings, getting them blessed by the goddess and delivering them back.
Despite space crunch, Manicktala Chaltabagan Lohapatty Durga Puja Committee has set up a vast Covid-zone equipped with medical facilities. Kashi Bose Lane has done the same and even got medical professionals from Apollo Hospitals to teach people how to use oxygen concentrators. For crowd control, Chaltabagan Lohapatty and Bosepukur Sitala Mandir Durgotsab are allowing devotees to see the goddess from their vehicles.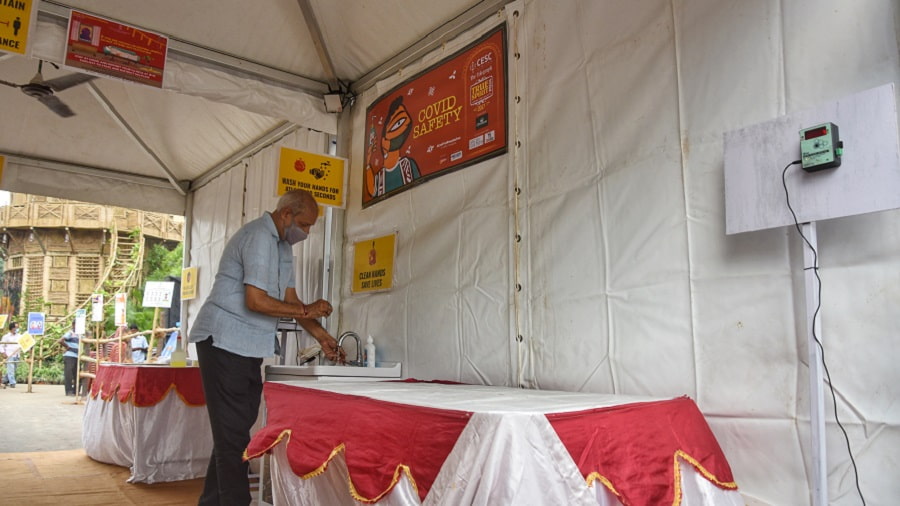 Manicktala Chaltabagan Lohapatty Durga Puja Committee has created a separate Covid-safety zone with thermal scanners, a wash basin and spare masks.
Amit Datta
Some pujas like Olabibitola Sarbojanin Durgotsab Samiti, Howrah, and Mudiali Club, near Rabindra Sarobar, have even done away with a theme this year to prevent crowding and instead built a basic pandal that can be accessed from all directions.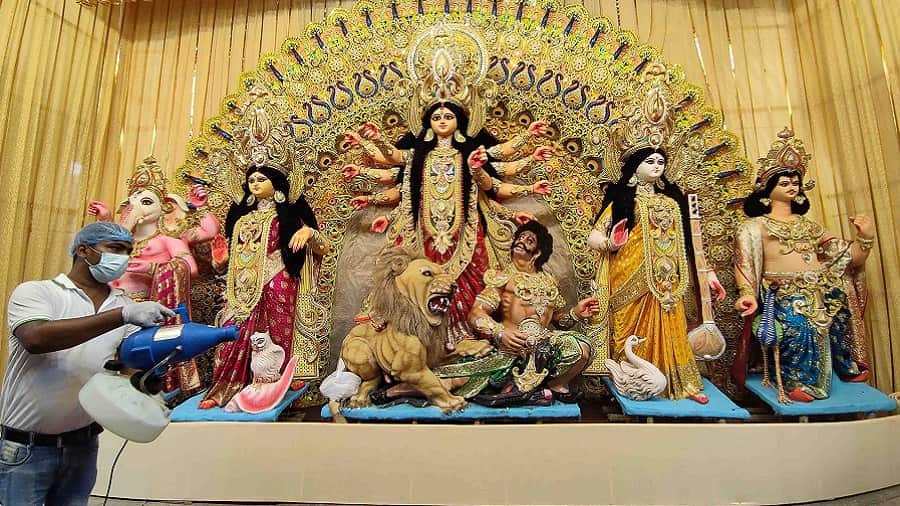 Mudiali Club has been sanitising the entire pandal.
Amit Datta
Telengabagan is using their Puja platform to spread awareness. Even their theme revolves around the pandemic. The pandal has been structured as an oxygen plant in a nod to the devastating oxygen crisis during the second wave of Covid.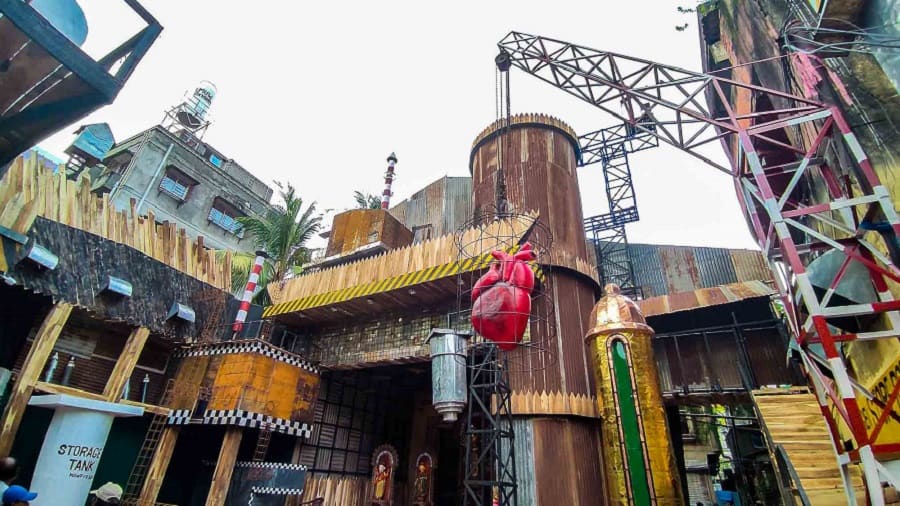 Telengabagan's pandal is structured like an oxygen plant and makes devotees think about the oxygen crisis that rattled the country during the second wave.
Amit Datta
Chetla Agrani Club and Tridhara Akalbodhan have also opted for a sombre theme, remembering those who lost their lives in the pandemic. The latter also has a medical camp in place with doctors and nurses on call throughout the day (and night).
These measures are an inspiring example of the community coming together to find joy amid adversity and hold out the hope of a healthy and happy Puja for everyone.