Santosh Mitra has a park to his name with a bust and a slogan "Long Live Martyr Santosh Mitra" with his death year shown as 1931. However the park is not famous for the man, but for the Durga Puja that is organised at the park every year with great pomp and show.
If one ventures inside Hidaram Banerjee Lane opposite to the park, within a distance of 250 meters, one may locate a small Martyr Memorial on ground level at the entrance of a bylane.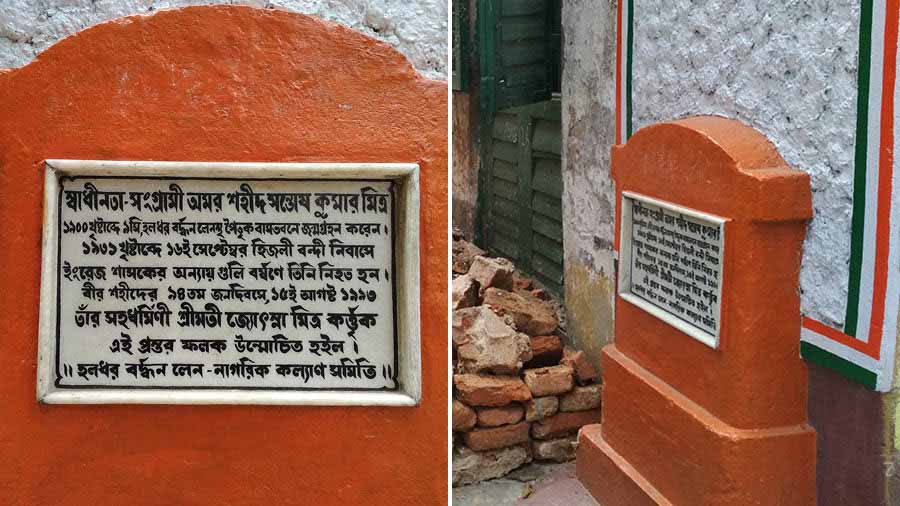 Martyr Memorial of Santosh Kumar Mitra at the entrance of Haladhar Bardhan Lane
At the entrance of the narrow Haladhar Bardhan Lane, the small memorial at the entrance of the lane has text carved on it in Bengali. This is what it translates to:
"Freedom fighter and immortal martyr Santosh Kumar Mitra was born in the year 1900 AD at his residence located at 9C, Haladhar Bardhan Lane. On 16th September 1931, he was killed at the Hijli detention camp by the English Government's unjust gunfire. On 15th August 1993 – the 94th birthdate of this brave martyr, this stone plaque is being inaugurated by his wife Srimati Jyotsna Mitra. Haladhar Bardhan Lane – Citizen Welfare Association."
What really happened at Hijli detention camp in West Midnapore district and how did this man from Calcutta ended up there?
Who was Santosh Kumar Mitra?
Santosh Kumar Mitra completed his M.A. and LLB in 1921-22. He participated in the Non-Cooperation Movement of the Indian National Congress leading to his imprisonment in 1921. After the suspension of the Non-Cooperation Movement, Santosh Mitra shifted to extremist activities in the struggle for Independence. In 1923, he got associated with lawyer Jatindra Mohan Sengupta, Barin Ghosh of Jugantar and Bipin Behari Ganguly.
On August 3, 1923, Barendra Ghosh — a youth associated with Bipin Behari Ganguly and Santosh Kumar Mitra, and three others, attempted a dacoity at Shankharitola Post Office. The postmaster was killed but Barendra was caught while escaping and was convicted of murder and sentenced to life imprisonment.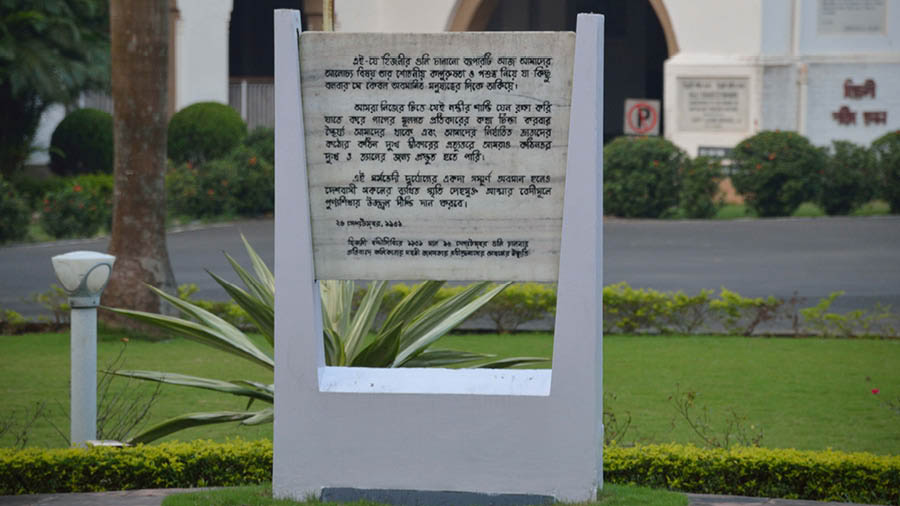 Quotation of Rabindranath Tagore against 1931 British Police firing at Hijli Detention Camp
Wikimedia Commons/ Biswarup Ganguly
Santosh Kumar Mitra was arrested in relation to this case because of his association with Barendra Ghosh and other co-conspirators of this case. Similarly, he was also arrested in connection with the Second Alipore case of 1923. Both times, he was acquitted of all charges by the help of Jatindra Mohan Sengupta.
Mitra was detained after his acquittal using a special legislation named the Bengal Criminal Law Amendment Ordinance of 1924, enacted into law as Bengal Criminal Law Amendment Act in 1925.
Earlier those persons who were detained under Bengal Regulation III of 1918 were termed as "state prisoner" for long. Now those detained under Bengal Criminal Law Amendment Act were termed as detenu and "security prisoner". The amendment act actually increased the scope of Bengal Regulation III of 1918 by removing rights of habeas corpus and extending measures of indefinite and arbitrary detentions.
Hijli detention camp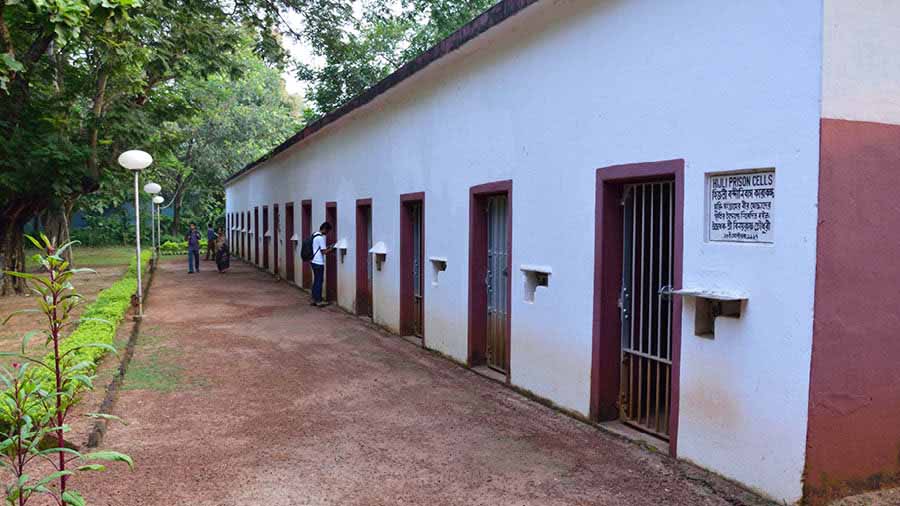 Hijli prison cells at Hijli Shaheed Bhavan
Wikimedia Commons/ Biswarup Ganguly
Three detention camps were created by the British — one at Buxaduar, one at Berhampur and the other at Hijli in 1931 to accommodate bhadralok alias "gentleman" prisoners, as it was stated that normal jail conditions were not suitable for most of these prisoners. A large number of detainees were shifted to Hijli Detention Camp. Since these were considered to be elite prisoners, they could play football and stage theatre productions for entertainment in the day as well as study for their exams. They were kept under lock and key at night. Outside this detention camp, there was a detention camp for women too. The living conditions of the camps were not very elite though. There was a scarcity of water, chances of malaria and snake bites.
Death of Santosh Kumar Mitra
The detainees had many grievances and complaints against the jail administration but initially there was never any serious altercation.
On September 15, 1931, three detainees — Nalin Das, Phani Das and Chintamani Das — escaped from the detention camp. The jail authorities were extremely enraged by this incident. On September 16, 1931, in all probability with prior approval from district authorities, the police surrounded the camp and some entered the premises. They started a deliberate altercation with the detainees and suddenly started firing on these defenseless men. For no reason, the alarm bell of the detention centre started off. Santosh Kumar Mitra and Tarakeshwar Sengupta were shot. Mitra was shot in the abdomen while Sengupta was shot in the forehead. About 29 rounds of ammunition were fired.
The aftermath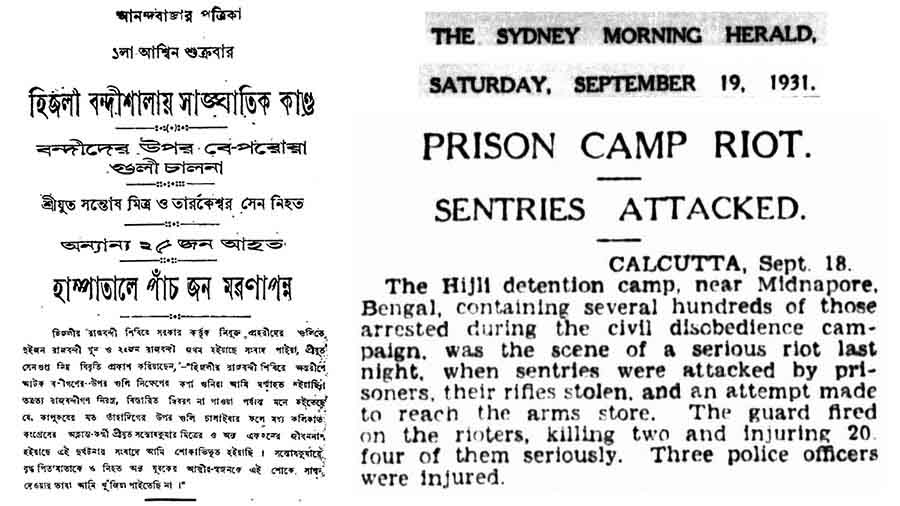 Anandabazar Patrika's coverage of the Hijli Detention Camp shooting incident and (right) The Sydney Morning Herald's version of the shooting incident describing it as a prison riot
Besides the death of these two, over 100 were injured, out of which 23 were seriously injured. The British government first tried to cover up the incident but failed to do so. Anandabazar Patrika came out with the news in detail and followed up with the story. Subhash Chandra Bose and J.M. Sengupta visited Hijli to bring back the dead bodies of Santosh Kumar Mitra and Tarakeswar Sengupta. Many national leaders, including Rabindranath Tagore, raised strong protests against the British Raj over this incident.
In the beginning, the British government tried to blame the detainees saying that the firing was done by police for self-defense. Under severe public pressure, the government put up a judicial inquiry led by Justice S. C. Maulick and Drummond, I.C. S., District Magistrate. The commission condemned the behaviour of the sepoys.
The Detention Camp was closed in 1937 and was reopened in 1940. In 1942, it was closed for the final time and the detainees were transferred elsewhere. During World War II, it was occupied by the US Air Force.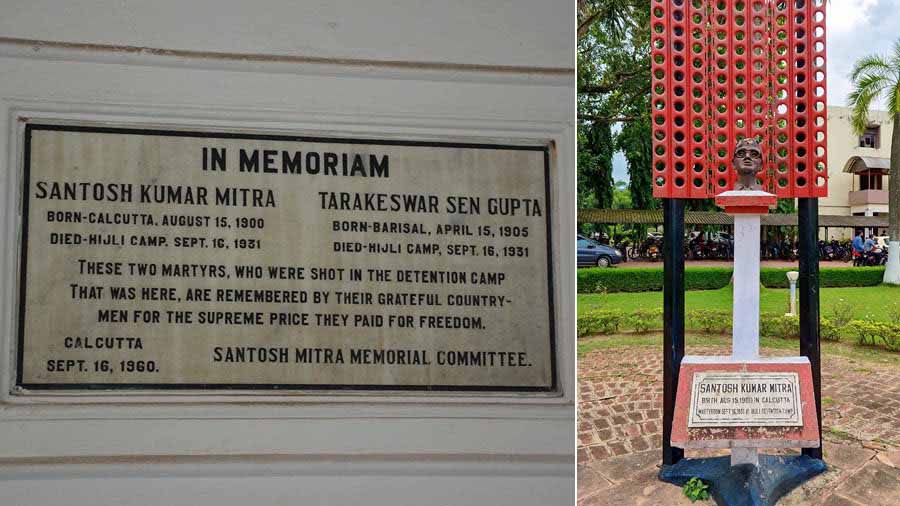 Santosh Kumar Mitra and Tarakeswar Sen Gupta Memorial Plaque at Hijli Shaheed Bhavan and (right) Santosh Kumar Mitra Memorial Statue at Hijli Shaheed Bhavan
Wikimedia Commons/ Biswarup Ganguly and Monojit Mondal
Indian Institute of Technology, Kharagpur, started in 1951 on the premises of Hijli. A part of the Hijli detention camp building is now named as Hijli Shaheed Bhavan. At present, there is a memorial plaque in the name of both Santosh Kumar Mitra and Tarakeswar Sengupta at the campus. Also there are small busts of them in the same premises. The main road inside the IIT Kharagpur Campus has been named after Santosh Mitra.