As you enter Sonajhuri Haat, a colourful structure attracts you, even from a distance. As you approach it, thinking it to be the entrance to a handicraft stall, another surprise hits you!
This colourful structure is actually an installation made of plastic littered by people who visit the haat. 
Shreya Dutta from Kolkata was awe-struck as she stumbled upon this piece of art made from garbage. "I thought it to be another stall selling handmade jewellery. It seemed so colourful from a distance. But, as I came closer, I was shocked. It was shocking to see the content and how mindlessly people use and litter plastic."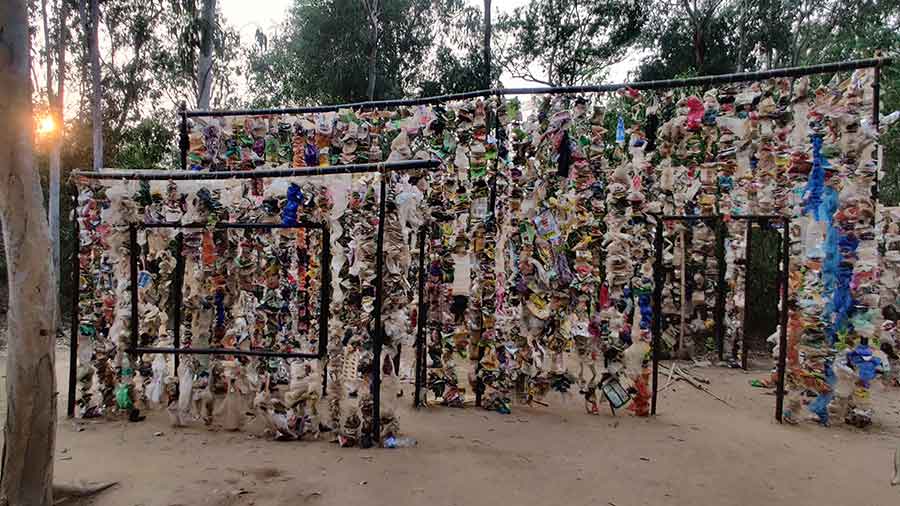 A wider view of the structure
Hundreds, or maybe thousands, of packets, wrappers and other plastic waste that people leave behind have been stapled to ropes on a bamboo structure. This initiative was taken by students of Kala Bhavan at Visva-Bharati to depict the harsh reality of tourism at the lap of nature.
Achintya Bhattacharya, a representative of the students' group working on this project said, "Thousands of people visit this haat. Even with dustbins being installed at several places, people keep littering. We have been collecting plastic waste for the past seven days and in no time, we made this structure. If we continue any further, we can build an empire out of this waste."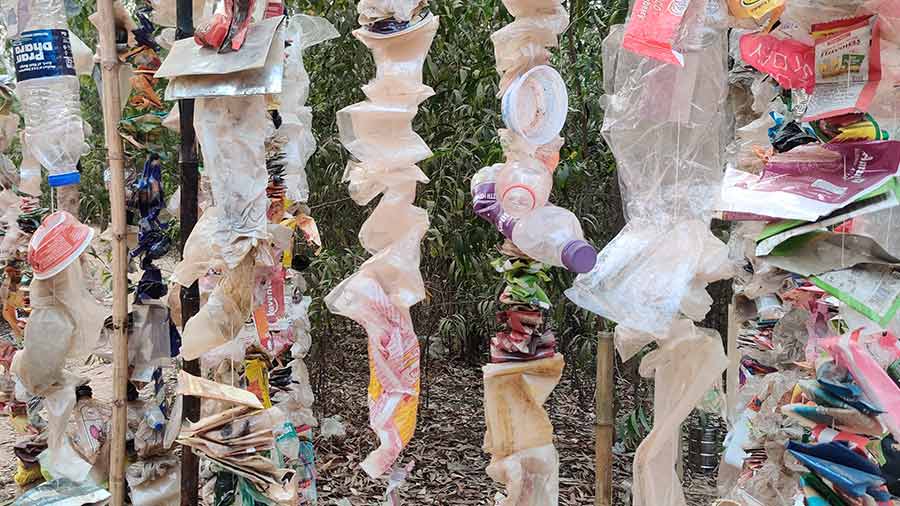 Plastic wrappers, bags, bottles, etc., stapled together to form the structure
Students took turns to pick up the waste and clean the Sonajhuri jungle. Every piece of plastic they collected has been pinned here — from wrappers to plastic bags.
"We decided to do this to create mass awareness. If you install hoardings or ask them not to use plastic or not to litter the place, in all probability, they'll ignore it. But, as you can see, our efforts have had an impact on the minds of several people who have seen this," said Bhattacharya.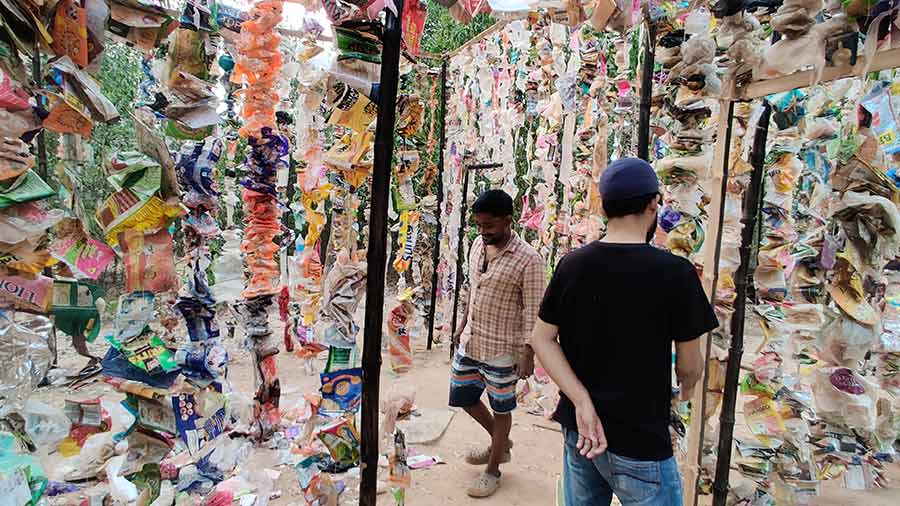 Students collected plastic from Sonajhuri haat and the jungle
Saroj Pal, a businessman from Kolkata, found it to be shocking after he saw the amount of plastic waste the students collected. He said, "It is a massive structure of plastic waste. It is so shameful. These students have taken a good initiative. Hope people wake up and stop using plastic."
Students of all batches are involved in this project which they call "Existence of Inside Outside", which means keeping both our homes and surroundings clean. These youngsters have chosen art as a weapon to spread awareness to save the environment and hope to succeed in their endeavour.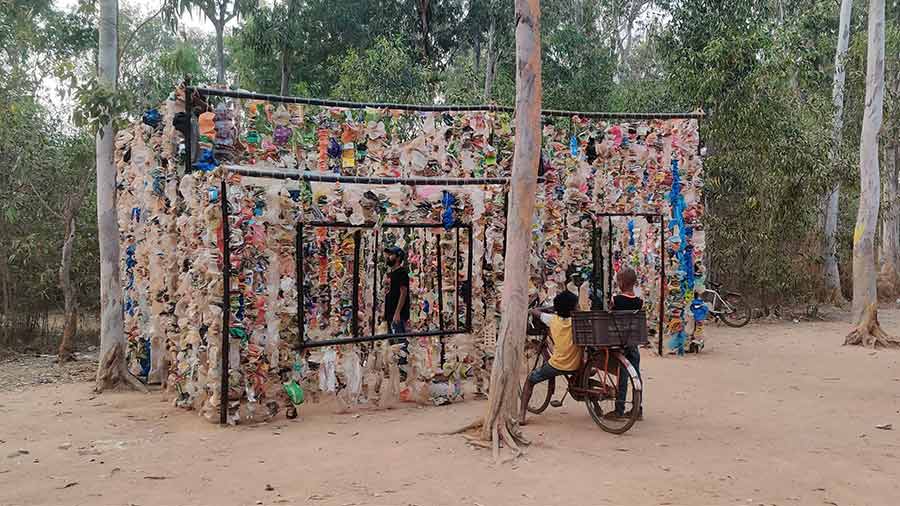 The students of Kala Bhavan hope their initiative brings about a change in people's attitude
"Plastic is not healthy for the environment. Humans tend to keep their houses clean, but when it comes to the world outside, they don't give a second thought about littering. We would like to request people to save the environment while there's still time and to stop using plastic. Many students have joined us since last week. We are also working on several plastic recycling projects. One of them is building a road with plastic waste. We are doing our bit to save the earth," said first-year students pursuing masters in painting at Kala Bhavan.