It's 5pm. Kids are running around a park in New Town. There are five of them, fighting over one slide. Suddenly, one of them says: "Oi dyakh, Nonte Phonte." They all run towards a stall in a corner, brimming with books. A struggle ensues, as several comics are divided among them. They finally take their seats and pore over the colourful titles. Kids are reading. The sun is setting. It doesn't feel like 2023.
Barely a few minutes from the bustling Akankha More, New Town's first community library is tucked away behind a lush green Futsal Ground in Action Area II.
Inaugurated last month, the small stall packs 188 books in both Bangla and English, catering to all genres and age groups. From 12 in the afternoon to 7.30 in the evening, people can leisurely sit in the chairs kept outside, and read to their heart's content. In order to ensure that the library is accessible to everyone, they are also allowed to borrow books by submitting their address proof with a Rs 100 deposit, and a paltry rental fee of Rs 10 for 15 days.
Sourav Mukherjee, director and co-founder of Kolkata Society for Cultural Heritage, explained the vision: "This library has been set up by residents and for residents, with people in the vicinity donating all the books. We envision this as a space for everyone to come and read. This is the first of 18 stalls that are scheduled to come up in the area, making it a vibrant and lively hub of activity." Mukherjee added that the library is the brainchild of New Town Kolkata Development Authority (NKDA) chairman Debashis Sen, who was perturbed to see people give all their attention to their mobiles. "Social media has immersed people so much that they have forgotten the love for books. This is our effort to bring back a reading culture," he says.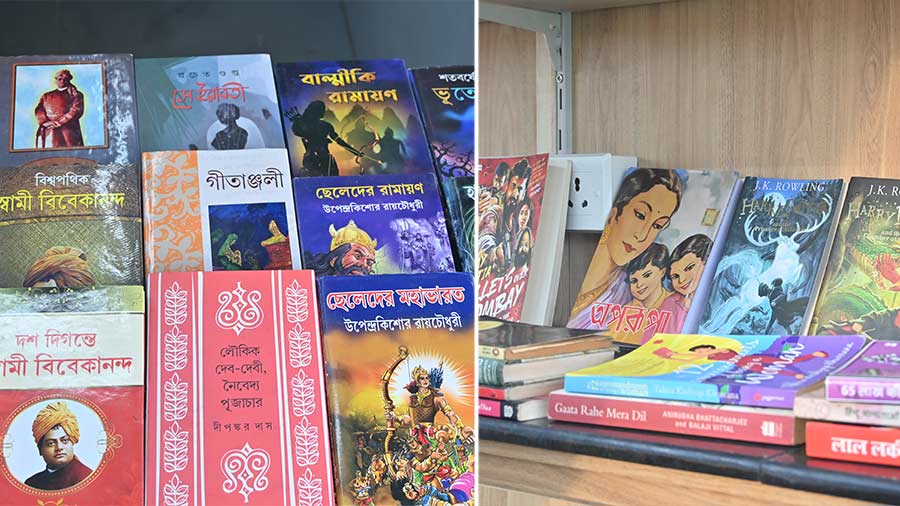 The library's defining quality is diversity, with Harry Potter sharing shelf space with Swami Vivekananda's teachings
The collection has been curated to entice everyone. Keeping Bengal's love for literature in mind, more than half the books are in Bengali, an effort to promote the rich literary history of the state. Apart from popular titles for children like Chacha Chaudhary, Bantul the Great, and Gopal Bhnar, there are also classics by Sarat Chandra Chattopadhyay and Rabindranath Tagore. The same bookshelf invites you into the fantastical world of Harry Potter, and the philosophical genius of Swami Vivekananda.
While the mornings start slow, the stall gradually begins seeing activity after lunch. Mukherjee added that there are at least a dozen visitors every day, and the overwhelming engagement has prompted them to consider starting a book club. An informal book club already seems underway, as the children engage in a spirited debate over their favourite comic strip.
The sun has set, but the kids are still reading. The boy seems to be done with his Nonte Phonte and goes to return it at the stall. Just when he is about to leave, his gaze falls on a popular title by Tagore. He picks it up and sits back down to read. It doesn't feel like 2023.
People can donate their books here, this is the Zero recycling shop. They can also directly go to the library
Contact for donation:
9062072175 - Gunjan Karmakar