Empty plots in Salt Lake, where often garbage and construction rubble are dumped, can be turned into gardens as well as organic farms by block residents.
The move was given a green signal by Krishna Chakraborty, chairperson of the Bidhannagar Municipal Corporation's board of administrators, at a residents' meet at the meditation centre in CJ Block.
Several residents had complained that empty plots in CJ as well as neighbouring blocks were turning into garbage dumps where residents and outsiders were throwing trash ranging from empty bottles to used sanitaryware.
Basudeb Saha, president of the CJ Block residents' association, told Chakraborty that several empty plots in their blocks had turned into —not just piles of waste but also — breeding grounds for mosquitoes.
"They are an eyesore and the stench emanating from these plots is forcing residents of adjacent houses to keep their windows and doors shut at all times. Although civic workers clean the plots, a section of residents as well as outsiders who come in cars are dumping garbage on the plots and roads," Saha said.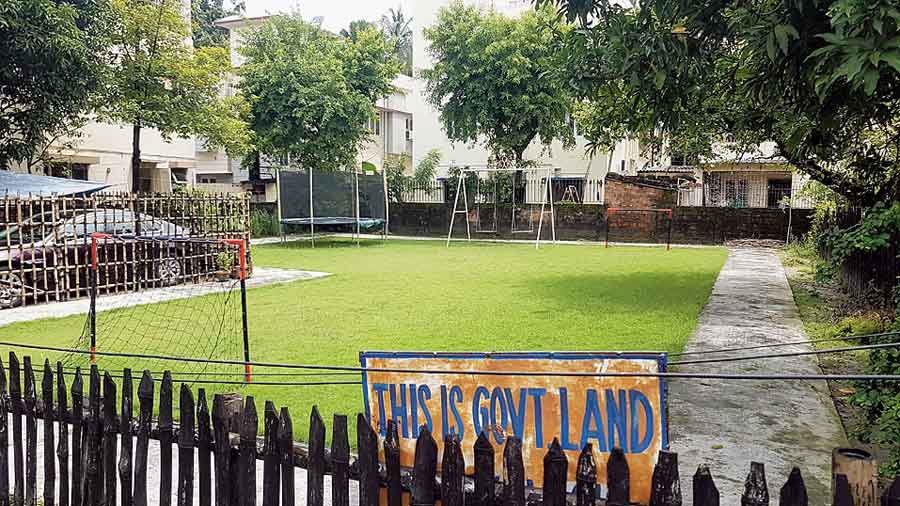 A CL Block plot, that has been cleared of garbage and turned into a children's park and car parking space by the Toshniwals living on the other side of the road.
Brinda Sarkar
Chakraborty confessed that cleaning the waste dumped by people on such plots, streets, pavements and at the corners of parks was proving to be an uphill task for the civic workers.
"I just saw an old piece of sanitaryware lying on the pavement outside the park. The perimeter of the park had been cleaned in the morning but someone dumped it here after that," she said.
As a solution, Chakraborty said that if residents' associations or individuals wanted to set up gardens or even organic farms in these plots, the civic body would extend help.
"Most of the empty plots in Salt Lake belong to the urban development department and I shall request minister Chandrima Bhattacharya to ensure no problems arise in this respect," she said. "Once the plots get allotted they will be duly returned. Plus, in case the owner of an undeveloped plot objects, we will not set up gardens there," Chakraborty added.
However, instead of tall trees, Chakraborty urged residents to plant fruit-bearing trees including mango, jamun, pomegranate and guava so the fruits can be shared by residents and birds.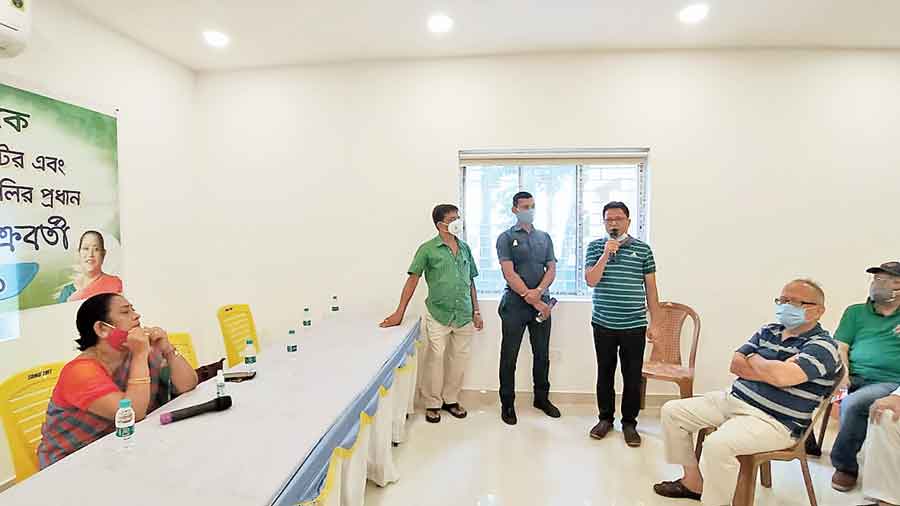 Krishna Chakraborty listens to residents at the interaction in CJ Block on Sunday.
Snehal Sengupta
But such fruit trees grow tall and would pose a problem if the land has to be given up some day. "It would be easier to transplant smaller trees to different plots," said Bidhannagar Horticultural Society secretary Arijit Poddar.
Right to park
Another suggestion given by CJ Block resident Nabarun Biswas was to turn the empty plots into night parking lots. "A lot of cars are parked along the roads of the block due to which the carriageway narrows down considerably. We can turn them into night parking lots," Biswas, an architect, said.
Chakraborty however said it might prove difficult for people to park their cars on such plots as people do not like to walk back home.
An official of the urban development department said they were aware of all the empty plots and their status. "The plots get allotted by lottery but now no fresh calls have been taken. We have the list of people who are operating nurseries and are aware that many are also operating pice hotels on such plots. However, eviction falls under the purview of the corporation and the police and we will notify them once the allotment starts," said the official. "What's important to us is that we get the land back when we need it."
The idea of developing the empty plots has hit home.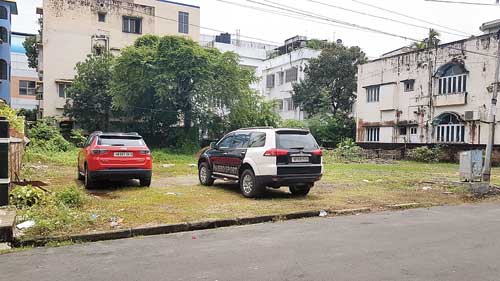 Cars parked in an empty plot in CL Block.
Brinda Sarkar
Ananda Paul, president of CF Block's association, has heard of Chakraborty's suggestion in CJ Block and is keen to take it up.
"Our block has 13-14 empty plots which are an eye sore. One of these is a huge plot opposite Bidhannagar north police station where they dump their seized cars for an eternity. How many times will the ward send workers to clean these plots up? So we are keen to turn these into green patches," said Paul. "We do not want to invite nurseries as they will use the land for commercial purposes so we are on the lookout for similar non-profit options."
The CK-CL Block association has also started converting three or four empty plots into gardens. "It's no use only cleaning the plots as people will dirty them again. It's only if we can create something beautiful will people refrain from littering there," said Shanti Ranjan Paul, secretary of Bidhannagar CK-CL Block Residents' Association.
"In fact we have a huge car parking space crunch in our block and are are keen to turn some plots into parking lots too," Paul said. "We are about to write to minister Chandrima Bhattacharya about it."
Been there done that
A proactive step was taken by the Toshniwals of CL Block 15 years ago when, fed up of the garbage dump opposite their house, they paid out of their own pockets to develop it into a children's park.
"We were helped by the councillor and some neighbours and removed 100 trucks of garbage from this plot," says Shree Kumar Toshniwal. "But the biggest shock came when neighbours — some of whom lived up to 15 houses away — came down to protest. They claimed we were taking away their dumping yard!"
Even when work started on the plot, the family had to ask their staff to stand guard around it as, unable to break their old habit, neighbours still came to fling their bag of trash into the plot.
But now the plot is picturesque enough to click selfies in. It has a manicured lawn of soft grass along with swings, football goalposts and a trampoline. "The land isn't ours but we are taking care of it,' says Toshniwal. "We keep it under lock and key most of the day and open it to children to come and play in the afternoon," Toshniwal said. Since the family has four cars, a corner of the land has also been turned into a parking lot for two of the cars.
Similarly, several empty plots have thriving nurseries in what seems to be a win-win for everyone. "When we set up this nursery in CD Block 18 years ago, this plot was a jungle, had waist-high garbage and was a den of shady activities. Two other people had tried to set up nurseries here before us but were chased off by goons," says the owner, Hemanta Kumar Dey.
While he says the idea of greening the plots is great, he asks the authorities to provide water and electricity connections, even if temporary.
Sanjoy Singh of CL Block's Mahato Nursery says they have had to dig a well for water and use a generator for electricity.
"We used to be gardeners at various houses around here so people knew us. Then things fell into place and we were allowed by the councillor to set shop here. We don't have to pay rent ," says owner of CL Block's Rajib Nursery, Rajib Mahato.
AD Block had so many eye sore plots that they have allowed four nurseries to come up in their midst. "It's a win-win. We are spared the trash and stink, and the gardeners get to earn a living by selling plants," says secretary Arya Ganguly. "We are further writing to our ward co-ordinator to allow us to use some more empty plots as parking lots. We have an office in our block that parks 15 to 20 of their bulky cash vans (vehicles that refill currency notes at ATM counters) around the park every night, making it difficult for others cars to travel."
Word of advice
Bidhannagar Horticultural Society welcomed the idea and said they were, in fact, on the lookout for such empty plots. "Our society wants to promote greenery and if the formalities are taken care off, we can turn these dumpyards into beautiful green patches," says secretary Poddar.
Considering that they would have to let go of the land if the government asks for it some day, Poddar says it is best to invest in neat lawns along with shrubs and plants no taller than shiuli, kamini and gondhoraj. "Also, by planting such fragrant flowers, the lanes would be enveloped by a feel-good factor instead of the stench of rotting waste that they have to bear with now," he said.
Do you think residents will be able to maintain gardens in empty plots? Write to The Telegraph Salt Lake, 6 Prafulla Sarkar Street, Calcutta 700001 or email to saltlake@abp.in