The best time to plant a tree is 30 years ago. The Chinese proverb was quoted by chief guest
Debashis Sen at a tree plantation programme organised by Mangalam Foundation in CC Block, New Town. "A tree like Sal takes 30 years to grow completely. So do not delay further," urged Sen.
The lack of shelter in the Green Verge was being keenly felt by those who could not find space under the garden umbrellas set up over small clusters of chairs. Two people must have felt the brutal heat the most — the dancers at the programme, Papiya Biswas and Rajnandini Ghosh, who performed on an open-air platform facing the covered stage where the dignitaries sat. No wonder they chose the song Esho shyamal sundar to dance to, sending up a plaintive plea for rain. Close to a 100 trees had been planted there in 2019 by NKDA but those that survived were not tall enough yet to provide a leafy shade.
A non-governmental organisation, Mangalam Foundation, has adopted the Green Verge. "We are planting 340 trees including timbre-yielding varieties like Sal and Sishu, flowering ones like Palash and Simul along side a variety of fruit-bearing trees like Guava, Mango, Jamrul, Kotbel and Aata," said Gautam Burman, chairman of the foundation.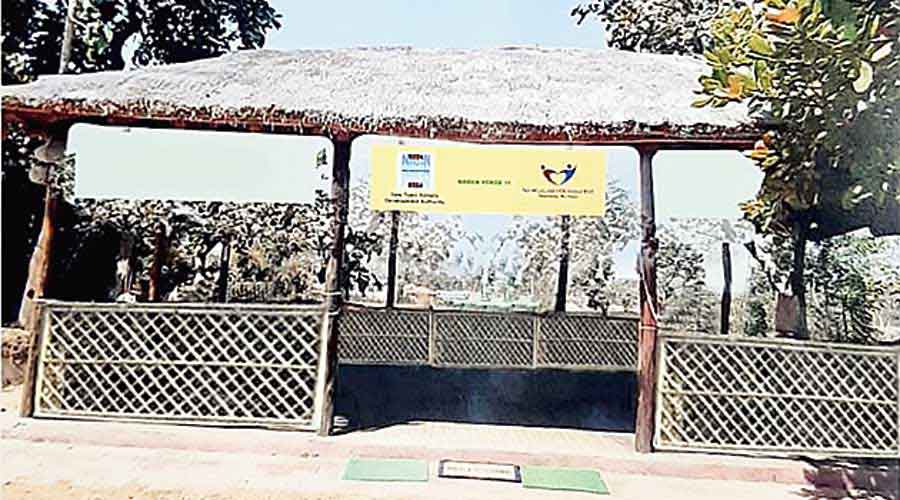 A model of a hut with thatched roof coming up on the Green Verge
The Telegraph picture
Sen urged the organisers to plan the space in the Green Verge so that it can be used not just for morning walks, but for cultural and educational purposes also.
The organisers took the suggestion to heart. Since then, a temporary hutment is being built on the plot with Sal logs as pillars supporting a thatched hay roof, with a plastic sheet underneath. "Our art and culture wing can operate there. Also we plan to teach self-defence, communication and soft skills to underprivileged children from the neighbourhood. While self-defence skills are required for girls, children of caretakers and domestic helps of nearby houses will gain by a bit of extra help over and above what they are taught in school," said Burman.
On August 15, 75 saplings were planted there to commemorate India's 75th Independence Day. And on Sunday, study materials were provided to 65 needy students on the occasion of Teacher's Day.