A bunch of teenage girls, who live in the red-light district of Kalighat in south Kolkata, has been practising football since the start of this month.
Last Saturday, around a dozen girls played for close to an hour at the New Alipore Multipurpose School ground.
Most of these girls are saddled with domestic work, which has increased manifold because of the pandemic-induced curbs. In addition to that, stepping out of home means fighting stigma.
But once on the ground, their enthusiasm surpasses all odds.
"We have started with around a dozen girls. The practice session is like a breath of fresh air for them. Some played football with boys along Adi Ganga," said Rabin Bag, a local youth who is part of a collective that has been mentoring the children of sex workers in Kalighat.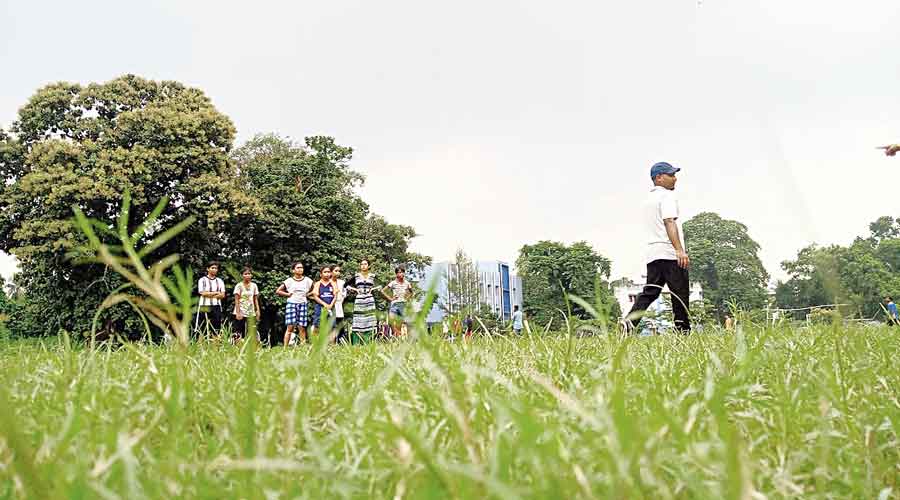 Telegraph photo
Most of the participants live in cramped one-room accommodations, some of them without a father. Their mothers' incomes had taken a massive hit because of the pandemic-induced curbs. Most of them are enrolled in schools but only on paper.
Against such a background, a forum called Bondhu Collective has stepped forward to help these children. The people behind the collective have been organising tutorials for the children. The football practice is an extension of the project.
"Many of the older adolescents have drifted towards substance abuse because of the mental trauma triggered by the pandemic. We are trying to bring them back to a normal life," said Smritiparna Sengupta, who is at the helm of the collective.
A 16-year-old girl, one of the participants at the football camp, has been doing all domestic chores, from mopping floors to cooking meals.
She lives with her parents. Her mother has to step out for work. Her father, out of work because of the pandemic, stays home most of the day.
"Earlier, going to school meant meeting friends. But now, I hardly get to see the outside world. The football session is a welcome break," said the teenager.
"Stepping out of home invites jibes. Stepping out in shorts is doubly challenging. But the girls are determined to continue," said Bag.
Kuntala Ghosh Dastidar, former captain of the Indian women's football team, was at the practice session last Saturday and has promised to mentor the young girls.
"The girls are full of energy. The game lifted their spirits," said Ghosh Dastidar.