The World Wide Fund for Nature (WWF) defines wetland as, "a place in which the land is covered by water — salt, fresh or somewhere in between — either seasonally or permanently. It functions as its own distinct ecosystem." These are fragile ecosystem zones and are often encroached by ever expanding cities, leading to floods and other urban disasters.
Kolkata also has its share of wetlands. Among them the most famous is the East Kolkata Wetland, which covers an area of roughly 125 sq km. It makes for a very cheap, efficient and eco-friendly system of solid waste and sewer treatment system for the city, and is known as the "kidney of Kolkata." But Kolkata has several other wetlands in its vicinity and one of them is the Kamduni wetlands of Kharibari, near Barasat. The wetlands of Kharibari attract winged visitors from far and wide. While some of these birds come from the Himalayan foothills, others travel all the way from central Asia.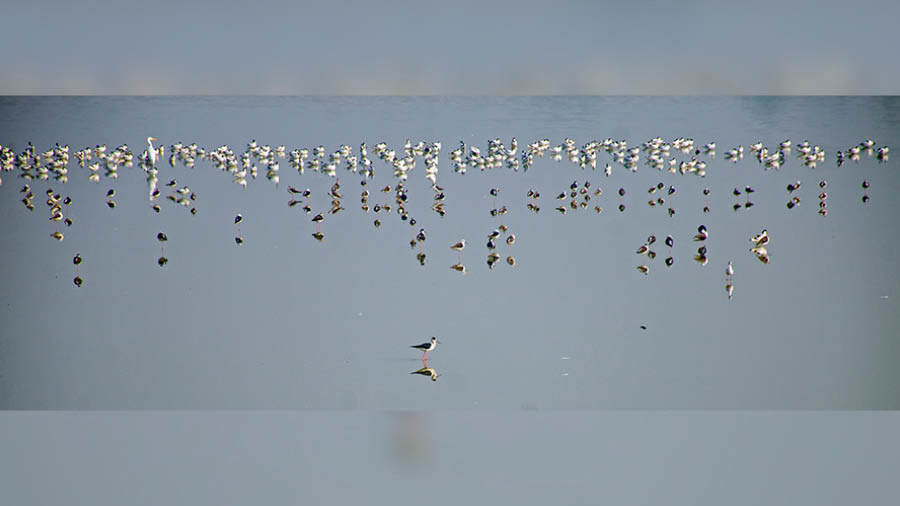 Birds at Kamduni wetlands. Black Winged Stilt in foreground and Pied Avocet in background
During spring, the waters in the wetlands recede making food easily available for the water birds. This attracts a host of long and short distance migrant birds along with local counterparts turning the wetlands into a birders' paradise. But the amalgamation of the birds occurs only for a short period of time. After a short span of a couple of weeks, the birds are again on their way in search of greener pastures. 
The Black Winged Stilt (Himantopus himantopus) are the prime attractions of Kamduni wetlands. Locals call them lal thengi, because of their long slender bright pink legs. With white bodies and black wings, they use their slender legs to wade through the shallow waters in search of food. They are local migrants and always look for water bodies with shallow water, which provides easy food. Once the temperature sores and the water level further reduces, the birds make their way for more favorable grounds.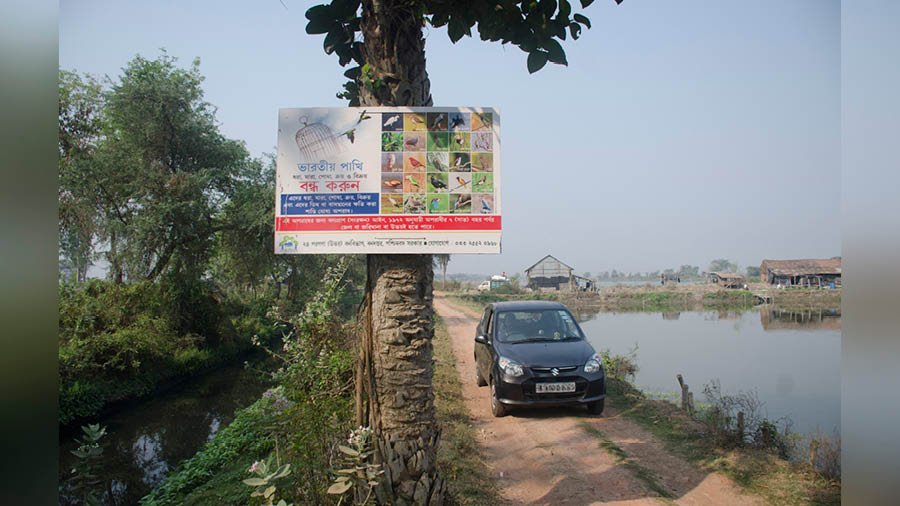 Road to Kamduni wetland. A car travels past a sign by the forest department meant for creating awareness against caged Indian birds
Pied Avocets (Recurvirostra avosetta) are another winged visitor of Kamduni and they come all the way across the Himalayas from central Asia. During winter, they make their way to the coastal regions of the subcontinent. On their way back home, they stop for a short break at Kamduni to regain energy for their long flight across the Himalayas. These black and white birds have a downward concave beaks, which helps them scoop up food from shallow waters. They are locally called Ulto Thuti (reverse beak) because of their strange beak shape. They travel in large groups and create a grand spectacle when they fly out of water.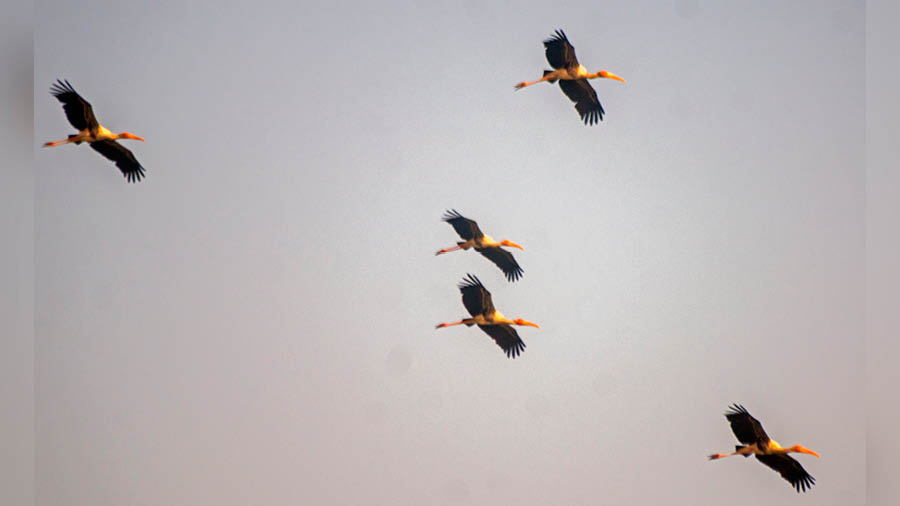 A flock of Painted Storks welcomes visitors to the Kamduni birding spot
A handful of Painted Storks (Mycteria leucocephala) are also spotted at Kamduni among the large folks of Pied Avocets and Black Wing Stilts. Much larger in size they create a stunning spectacle with their pinkish glow among the black and white feathers. Several types of Egrets and Herons are also frequently spotted along with Barn Swallow (Hirundo rustica).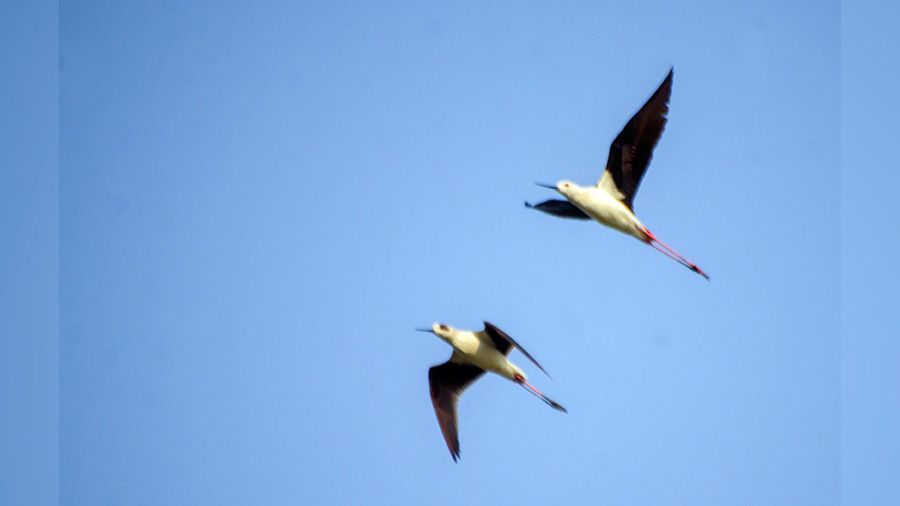 A pair of Black Winged Stilts in flight
Veteran birder and secretary of Bird watchers Society, Sujan Chatterjee, pointed out: "Kamduni is an ideal habitat for transit migrant birds along with the local aquatic species. This area needs to be protected from the fast expanding urbanisation." Chatterjee, who has been actively involved in bird census, also said, "This year, the count for Black Winged Stilt has crossed the 1,000 mark. The data for Pied Avocet is yet to be compiled but it is estimated to be around 500."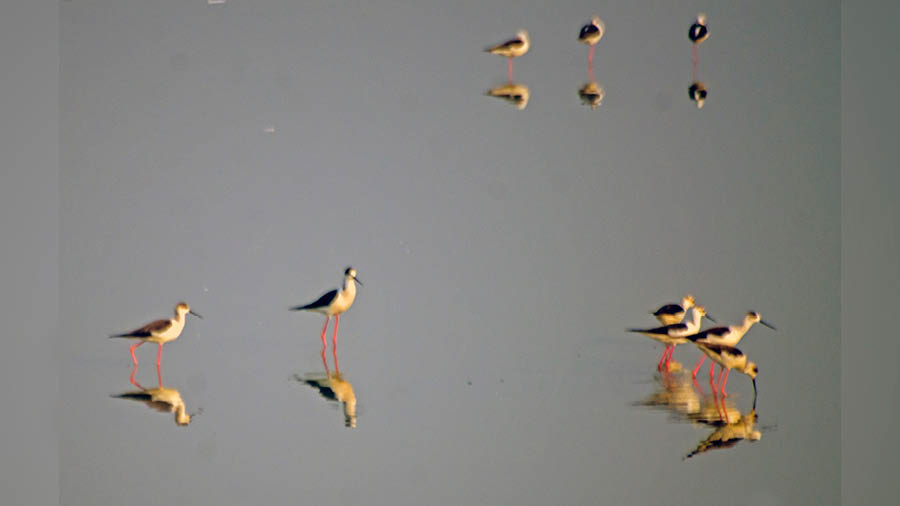 A group of Black Winged Stilts wade through the shallow wetlands (bheri) of Kamduni
The place is easily accessible from all parts of Kolkata. It is best to take the Rajarhat Road from Chinar Park and then divert into the Kharibari Road from Rajarhat Chowrasta. After the North Point School, an arched gateway will welcome visitors to Kamduni Village.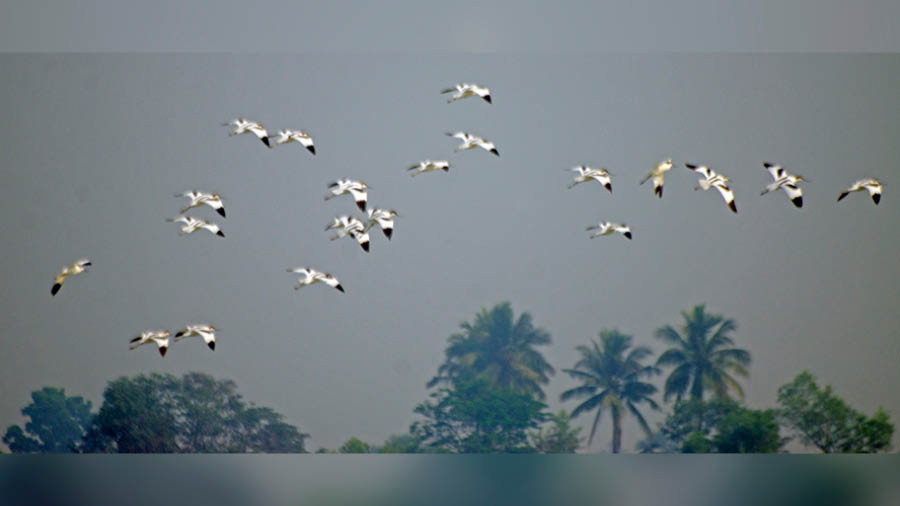 A flock of Pied Avocet in flight
Just beyond the village, a winding road will lead through two water bodies (locally called bheri) to the bird watching spot. So, if you are planning a bird watching trip to Kamduni, don't be late as the birds will soon be making their journey back home.