It's a mountain countless Calcuttans have ogled at from a myriad places, with their relationship arc with the peak often going from being dragged in the middle of night as children to catch the sunrise over it from Tiger Hill through layers of mufflers and monkey caps to dragging their own kids for the same sight under the same duress.
And Satyajit Ray was so enamoured with the mountain that he made an entire film around it and made his creation, Feluda's not-so-fast foil Lalmohan Ganguly, break into bad poetry at the sight of it.
Yep, it's the Kanchenjunga, the world's third-highest peak, but not from the usual locations.
The photograph on top was clicked from across the Mahananda river at Tetulia in Panchagarh district in Bangladesh, according to the photographer, Firoz Al Sabah.
Firoz, 31, told My Kolkata that the Kanchenjunga (8,586m or 28,169 ft) — along with other peaks in the range such as Sinolchu (6,888m, or 22,598 ft) and Pandim (6,691m, or 21,952 ft) — is usually visible in the winters from Tetulia.
This year, Firoz said, this was the first time that the mountain revealed itself in all its glory to him. He said the sight lasted only for a while early in the morning, as the mountain vanished with the rising sun.
"By profession I am a freelance photographer and I am also working for conservation of wildlife in Bangladesh," Firoz told My Kolkata. "One of my photographs of the Kangchenjungha won an award from the tourism ministry of Bangladesh in 2019."
He also shared with My Kolkata that photograph.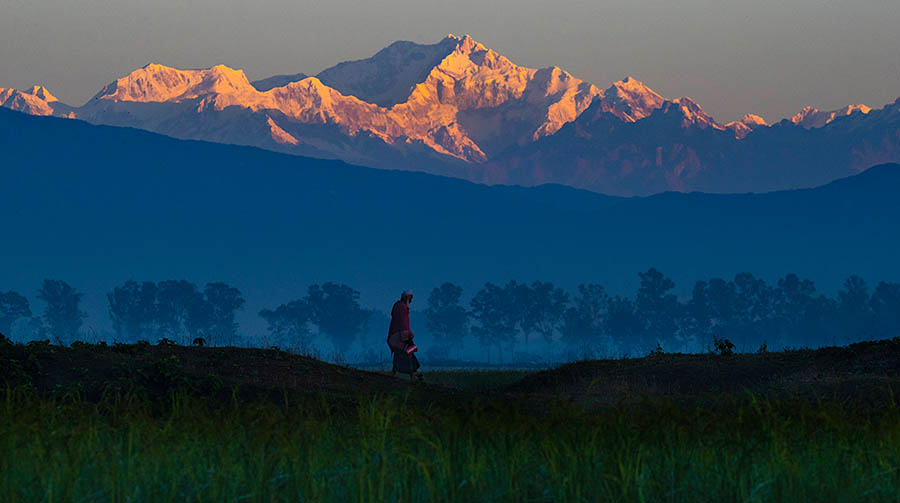 The world's third-highest peak, clicked from Bangladesh last year
Firoz Al Sabah
If you want to see more of Firoz Al Sabah's photographs, click here (external link)