It is a steel grey morning and the narrow streets of Srinagar's old city are wet from last night's snow. The car winds through the kadals (bridges) criss-crossing downtown Srinagar and I hear the chants from nearby mosques echoing off the walls of ancient houses flanking the deserted streets. It is 5.30am and the mercury outside is hovering around 2 degrees centigrade.
A small enclave, tucked between shuttered shops, is open. It is a tiny outlet and I would have surely missed it, if a group of men, dressed in long pherans, had not stood outside its rusty-hued wooden entrance. As my car halts near the shop, a mouthwatering smell wafting through the chill greets me. The shop has no name and in its dimly-lit interiors, the middle-aged owner is bent over a huge earthen pot. I join the small crowd waiting outside. The man carefully inspects the simmering contents of the pot, stirs it with a long wooden spoon and with a wave of finality that would befit an orchestra conductor, adds some more spices into its cavernous depths. He then turns towards the silent crowd, a satisfied smile on his face, "Your harissa is ready."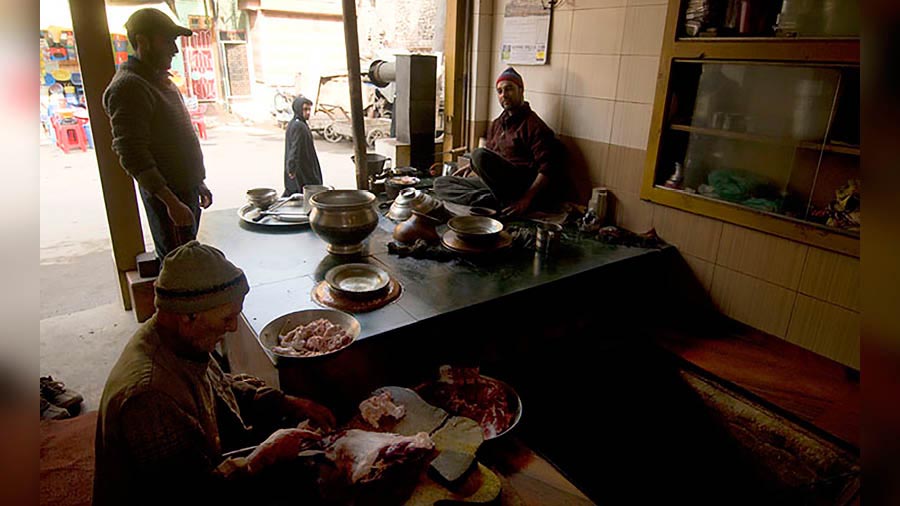 The preparation for making harissa starts immediately after the day's stock gets over
Manzoor Ahmed is the fourth generation owner of the harissa shop that remains open from November to March. His eatery is one of the few outlets in old Srinagar that still serves the traditional delicacy. Harissa is a winter-only delicacy and Manzoor explains how it is prepared. It needs a minimum of ten hours to make the best preparation and this is done overnight in huge earthenware vessels on a slow fire. Even before that, the preparation entails a meticulous mincing of deboned mutton and mixing it with local rice, fennel seeds, cinnamon, cardamom and salt.
Manzoor, whose forefathers came to Kashmir from the Persian peninsula, tells me that Al Harees — a slight variant of the same dish — has been around in the Middle East since pre-Islamic time. Instead of rice, they cook the meat with wheat and use a few different spices. The Mughals brought the delicacy to Kashmir when they first came here in the 16th century.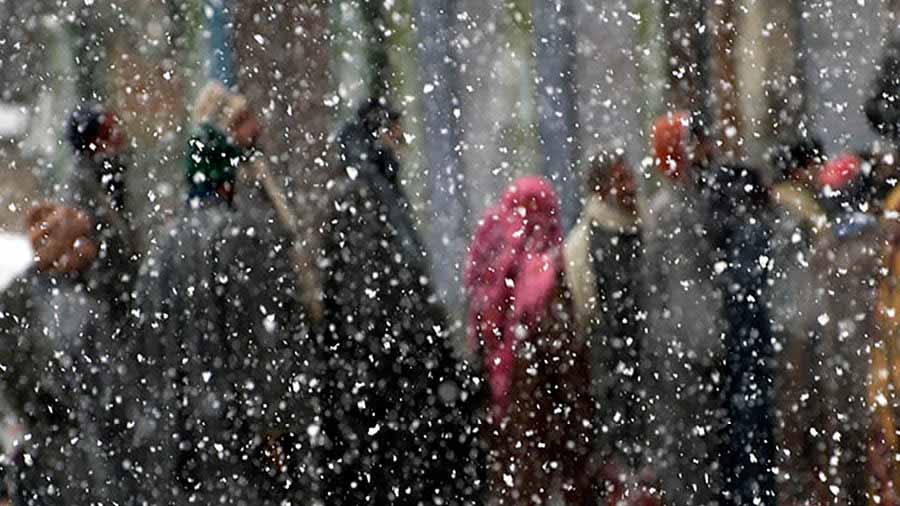 Even on a particularly snowy day, people brave the chill to throng outside a harissa shop. And pre-orders are often necessary
More people arrive and Manzoor's two assistants get busy filling their tiffin carriers and nickel-coated copper plates with dollops of the rich paste. Some of them have even come from Budgam and Pulwama districts, negotiating the snowy roads on two-wheelers. "I seldom get up before 10am in the winters, except when I come here for the harissa. Today I woke at 5.30am," says 32-year-old Altaf Mehmood, a teacher who has come all the way from a village 15 km away from Srinagar. Mushtaq Alam is another loyal customer. "My family has been eating harissa from this shop for the last 40 years," he says. Manzoor neatly packs five kilograms of harissa for the elderly man, who will dispatch the delicacy to his daughter's home in Baramulla.
I find myself at a small table with Altaf. Seated on an elevated stone platform, Manzoor reaches into the contents of the steaming pot and scoops out a generous helping of harissa with a brass ladle, puts it on a small plate and garnishes it with a dose of flaming hot edible oil. I take a tentative jab at the semi-solid concoction with a portion of naan bread. The blend of succulent lamb shanks with fine grains of rice melt immediately in my mouth. Amazingly, the distinctive tastes of the spices — from the gingery cardamom to the faint whiff of cinnamon — tickle my taste buds leaving a slight smoky trail on them. Nazim refills my plate with a generous second helping. "I won't encourage you to take a third, though," he smiles. And he has good reason for his forbiddance. A popular story about harissa is about an Afghan governor of Kashmir in the 18th century. He was so fond of this that he did not know where to stop. He died of overeating.
Sugato Mukherjee is a writer and photographer with bylines in the BBC, The Globe and Mail, National Geographic Traveller, Al Jazeera, Deutsche Welle and several inflight magazines. His coffee table book on Ladakh has received critical acclaim. Sugato's work on the sulphur miners of East Java was awarded distinctions by UNESCO. He writes on travel, culture, environment and food.