As I busied myself in clicking photographs near the sea beach of Sagar Island on a date close to Makar Sankranti, a 60-year-old man from Rajasthan enquired why I didn't take a bath in the confluence of River Ganga and the Bay of Bengal to wash my sins.
I said jokingly I have too many sins which cannot be washed in one bath.
He was not at fault. The man from Rajasthan and I were at two different wavelengths. He had a world of his own belief and mine was based on logic (at least, I thought so).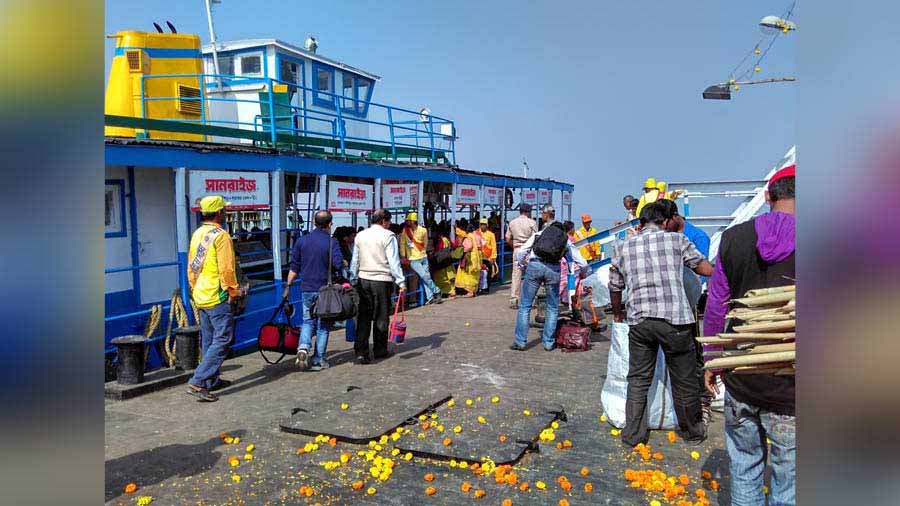 One of the jetties at Lot no 8 at Kakdwip from where motorised launches leave for Sagar Island
A large number of people believe that on or near Makar Sankranti taking a bath at Gangasagar beach results in wiping off all sins. A seven-day-long fair, which starts before the Sankranti, is arranged surrounding Sage Kapil's temple on the island.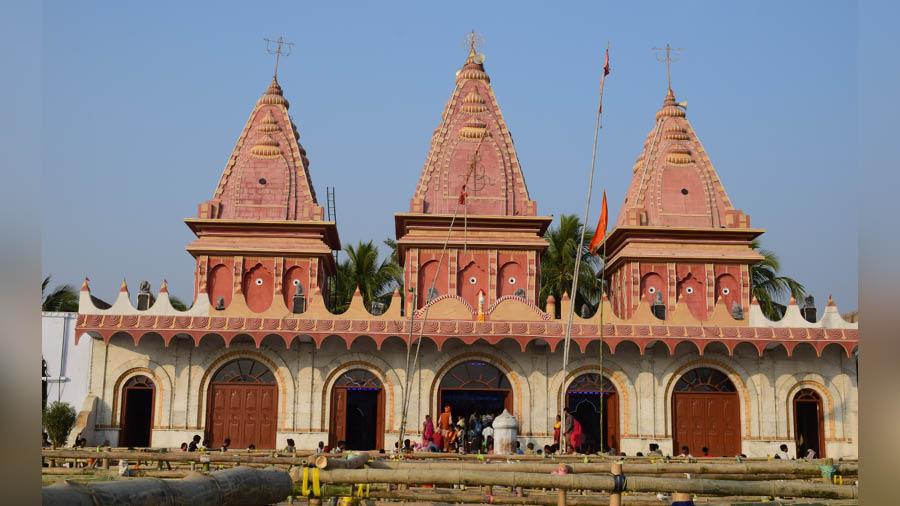 The present temple of Sage Kapil at Sagar Island was built in 1971. At least six temples were built before this which were engulfed by the sea
About Gangasagar Fair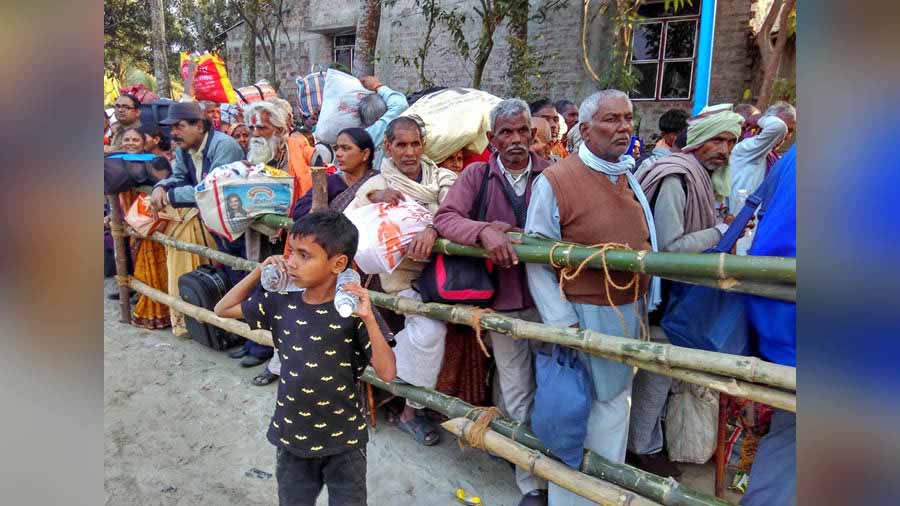 Long queue at Kakdwip to board public launches heading for Sagar Island
Bhagirath, a descendant of King Sagar is famed to have brought Ganga down from heaven to earth in order to mix ashes of 60,000 sons of the King with the holy water of the river for performing their last rites in order to restore their souls. They were turned into ashes by Sage Kapil at his ashram at Gangasagar Island as because the sons falsely accused the sage for speculating about their horse which was intended to be used for performing an Aswamedha Yajna or a horse sacrifice ritual.
The date of the descent of Ganga is at present the 14th day of January of the Gregorian calendar, which coincides with that of Makar Sankranti. It is believed that just like the souls of King Sagar's sons, whoever takes a dip in the confluence around this time gets rid of all their sins.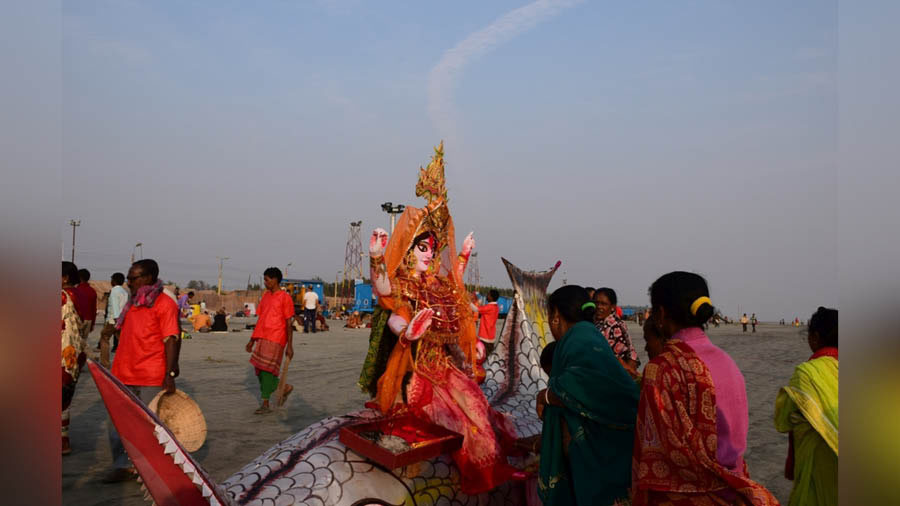 Pilgrims paying respect to deity of Ganga at the beach
The alternative modern school of thought believes that Bhagirath was actually a top class civil engineer and the bringing Ganga to the mainland was nothing but a River Engineering Marvel.
The Hooghly tributary of Ganges flows into the ocean near Sagar Island. The channel between the island and the mainland is locally known as Muriganga.
Reaching Gangasagar Fair during Makar Sankranti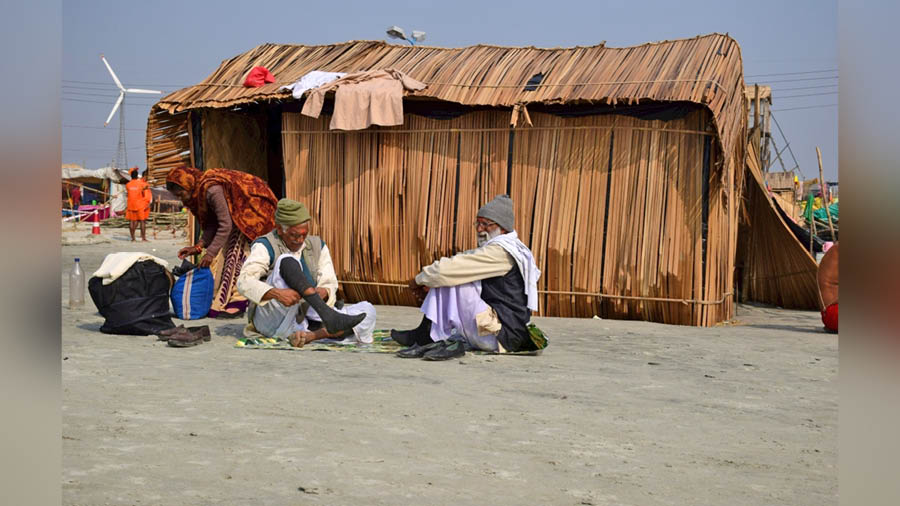 Pilgrims relaxing in front of temporary shades made of Hogla
Getting an accommodation at the Sagar Island is easy throughout the year, except at the time of the fair. Bharat Sevashram Sangha is the top pick, which gets booked long back on a 'first come first served' basis.
Thankfully, I was invited to accompany my photography enthusiast friend Sudipta Moulik to Gangsagar fair who was employed in the public health division of the Government of West Bengal.
We set out on January 12 for our first destination at Kakdwip, which is around 90 km from Kolkata. To reach the Island one has to stand in a long queue to board crowded motor launches from one of the jetties at Lot no 8 Hardwood point.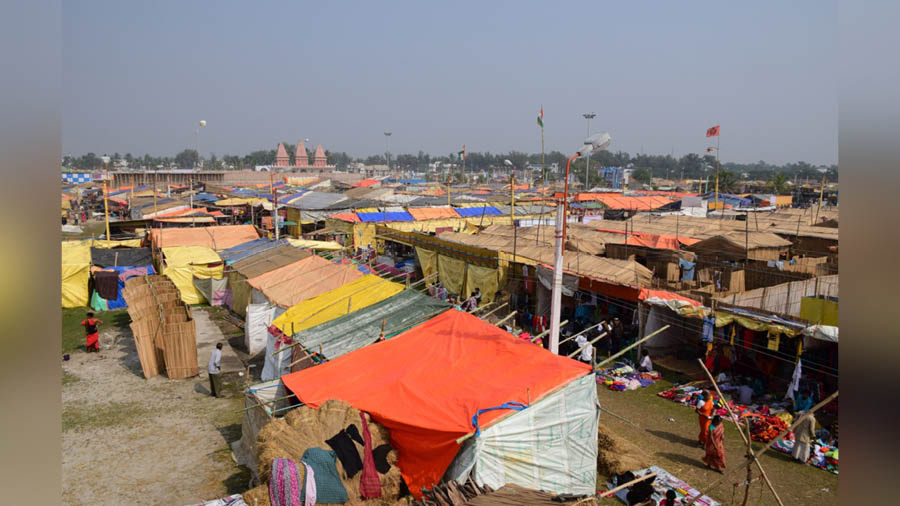 Top view of the temporary accommodations on the fair grounds
Thankfully, we did not have to stand in the queue and board overcrowded launches as a luxurious Government launch was waiting for us. We reached Kachuberia Jetty at the Island in an hour. A car was waiting for us. We took a 20 km ride to reach the Government Guest house on the other side of the island very close to the fairground and Saint Kapil's ashram. There is also plenty of public transportation available from Kachuberia to reach the fairgrounds.
Gangasagar Fair – The experience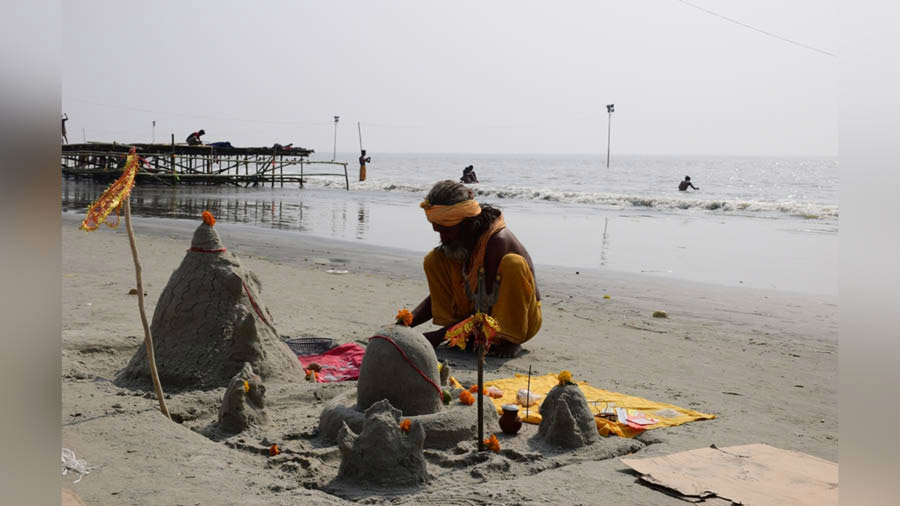 A Sadhu making a Shivling with silt and sand near the beach at Gangasagar Island
From the chaotic situations which I have seen in old films about the fair, currently it is more organised. To prevent any contamination, bio-toilets have been arranged. Several sheds have been built for temporary accommodation of Sadhus who travel from different parts of India. For the several lakh pilgrims, there are temporary shades made of Hogla (southern cattail). Several voluntary organisations arrange to reunite people lost in the fair with their families.
I stumbled upon a Bengali Sadhu who happened to have his ancestral origin from the same village as that of my mother. I found another Sadhu making a Shiv linga with silt and sand near the beach. Several pilgrims were taking a dip in the ocean already. Some women wore striking colored sarees. Suddenly from nowhere a young girl in her teens came running over the beach in a joyful manner just like the young Ganges came flowing following Bhagirath to the earth. I met a man from Rajasthan, who comes here every year just as a habit and not merely for washing his sins.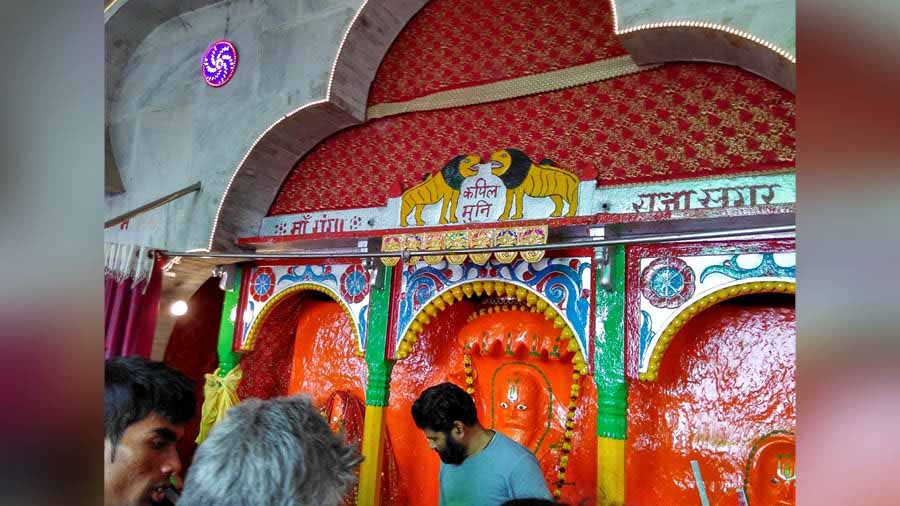 Interiors of Sage Kapil's temple at Gangasagar fair
I visited Sage Kapil's temple, which was overcrowded. There are three crudely carved figures on the central wall painted in saffron. The centre one is that of Sage Kapil and on either side there is that of King Sagar and Goddess Ganga. I took some photos and came out. There are several food stalls and souvenir shops selling items which are mainly locally made in the fair. We sipped some tea and bought some souvenirs. As night fell, the weather became extremely cold. We took some top shots of the fair from watch towers. The temple was well-lit.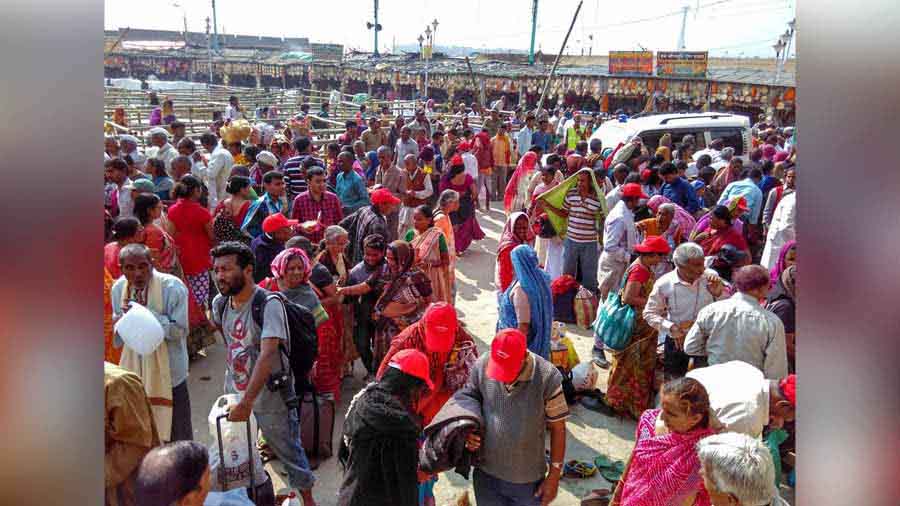 Crowd of pilgrims in front of Sage Kapil's temple at Gangasagar fair
Usually, January 14 sees an almost uncontrollable crowd at the fair which is not exactly ideal for photography. So, we left the earlier day i.e on January 13 after lunch. Many of Sudipta's colleagues took holy baths in the morning while I restricted myself to indoor shower.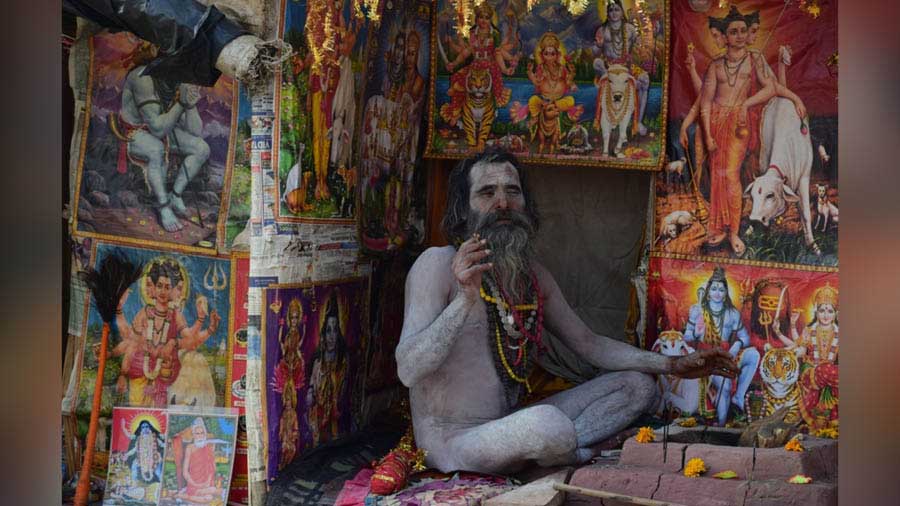 Sadhus are most favourite subject of photographers at Gangsagar fair
While coming back, after we alighted at lot no 8, I found a huge queue standing to board the launch, which was declared to be 1 hour late because of low tide. Standing in the queue were two Bengali women, shivering in the cold. One said to the other "How long will this take? I am feeling so tired." The other said "Have patience. The process to wash away your sins is never easy."
As the number of believers increases over the centuries, the importance of events like the Gangasagar fair will increase.
Travel information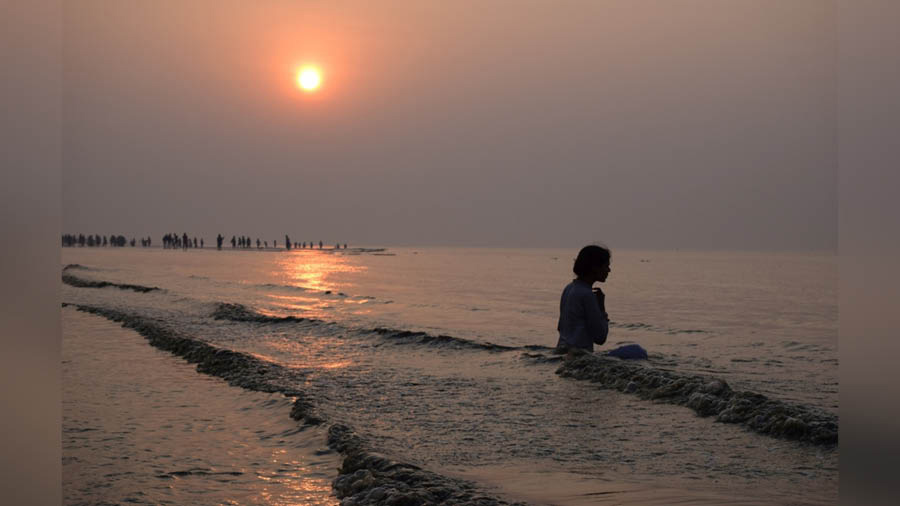 A woman taking bath in the ocean at Gangasagar fair
There is even a cruise facility available from Kolkata to Gangasagar, both Government and Private, but you can stay on the island for only three hours within which you have to reach the fair, take a bath and come back. You can reach Kakdwip by train or public bus too.