If south Kolkata has the big ticket pandals with fantastical themes that transform an entire neighbourhood, north Kolkata has the regal pujas that echo traditions carried on from centuries. In this tussle for pujo supremacy, the pandals of Salt Lake have often been forgotten.
Tucked around the corners of quaint lanes lie the most elegant pandals that are a product of the entire block's vision. The pandals here aren't generally about scale, but details, bringing together modernity and tradition in the most unique ways. My Kolkata brings to you a list of five Salt Lake pandals you must visit.
FD Block
The most obvious one to start the list with, FD Block was the first Puja in Salt Lake to gain celebrity status, utilising its huge park to create sprawling pandals around various themes like Harry Potter and Titanic. This year, the theme is 'Obulupti Theke Aloke', documenting the story of a tribal clan's struggle for survival in a remote village of Latin America. According to lore, a Bengali traveller stumbled upon the village and advised them to pray to Maa Durga. The legend also states that the Goddess was so pleased with their devotion that she saved them from extinction, leading to a yearly celebration of her divinity within the clan. "In keeping with our theme, all the materials we have used are eco-friendly and plastic has been completely banned in the pandal. In fact, the greenery that you see in the park is real and has been grown over four months. This has been our way to bring complete authenticity to the tribal experience," said Avi Basak, assistant secretary of FD Block Sarbojanin Puja Committee. 
AE Part 1 Block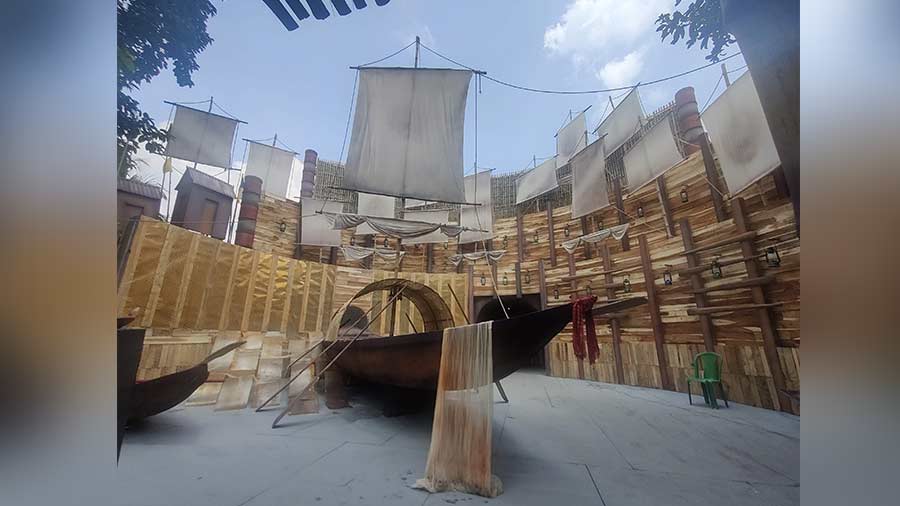 AE Part 1 has attempted a fantastical recreation of the lives of fishermen.
Over the years, AE Part-1 has built a legacy due to their innovative concepts and passion for detail. They were one of the few Salt Lake pandals that bounced back with a theme puja in 2021. Building upon their spirit, this year's theme is 'Padmaparer Rupkatha', which delves into the lives of fishermen who live their lives on the Padma riverbank. Yet again, their focus has been on details, and the materials used in the pandals are those which are exclusively used by fishermen, with much of the decoration being through boats and nets. "We have tried to create a fantasy around the lives of these fishermen who spend all their time on boats. Even the music we play in the pandal is Bhatiali gaan, which is normally sung by maajhis. We want visitors to get a novel realisation of the lives lived by this community," said Soumya Gupta, member, AE Part 1 Block Committee.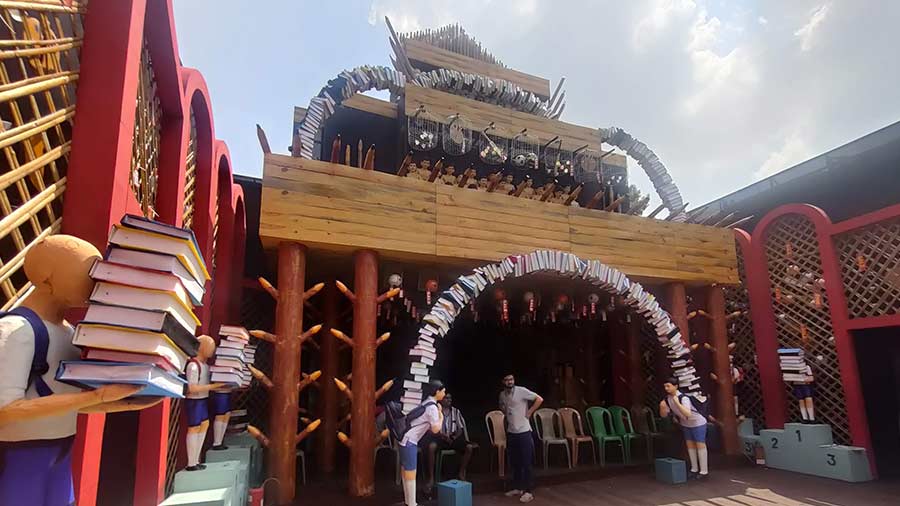 AK Block's pandal focuses on how children have been burdened by expectations and kept away from pursuing their dreams.
In recent years, AK Block has upped the ante with both scale and themes, creating a buzz amongst pandal-hoppers from around the city. This year is no different, and their theme 'Swapno Ghorer Golpo' explores the duality of education in Indian society, with its role being both a boon and a burden. At the entrance is a kid whose spine is almost bent due to the burden of a heavy school bag. The pandal also has kids struggling to carry books, and huge stacks are displayed on the forefront while items of recreation such as cricket bats, balls and guitars are locked behind bars. "Parental pressure doesn't allow today's kids to have dreams of their own. After the pandemic, they are only attached to gadgets, and detached from reality. We want to make parents realise the harm that career-related pressure can have on kids, and inspire them to let kids pursue their passions," said Shraman Chattopadhyay, Puja Convenor of AK Block.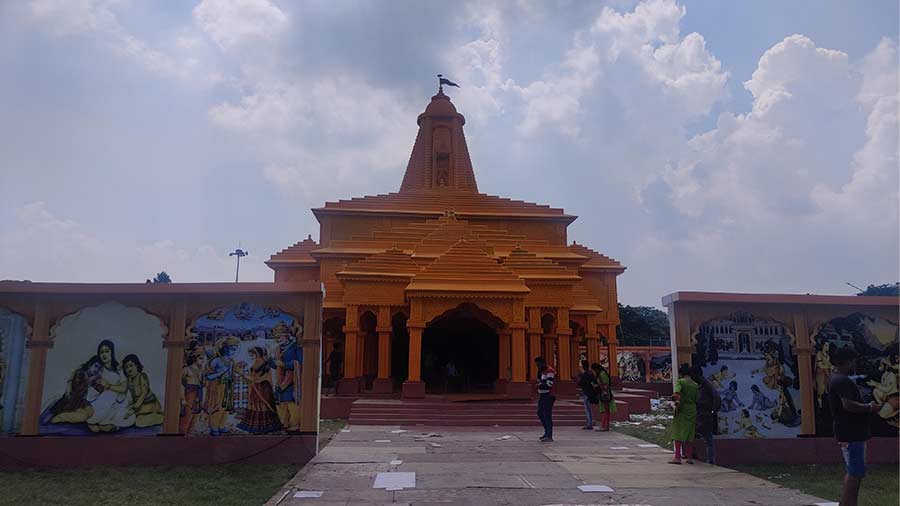 BJ Block has paid homage to Akal Bodhon with a pandal that is inspired by the replica of Ram temple at Ayodhya.
This puja has become something of a picnic in itself, with the sprawling park hosting tons of food and beverage stalls. The theme for this year is, 'Akal Bodhon' paying homage to this chapter of Ramayana where Ram worships Durga before his battle with Ravana. Even the pandal has been created based on a replica of the Ram temple at Ayodhya. "We felt that this crucial tale that we grew up with has been forgotten by today's generation, and hence decided to make it the theme for our puja. The panels across our pandal depict how Ram, when short of one Neel Kamal to offer to Durga, gave up his own eye to complete the offering of 108 lotuses," said Chitra Sarkar, secretary, BJ Block.
AH Block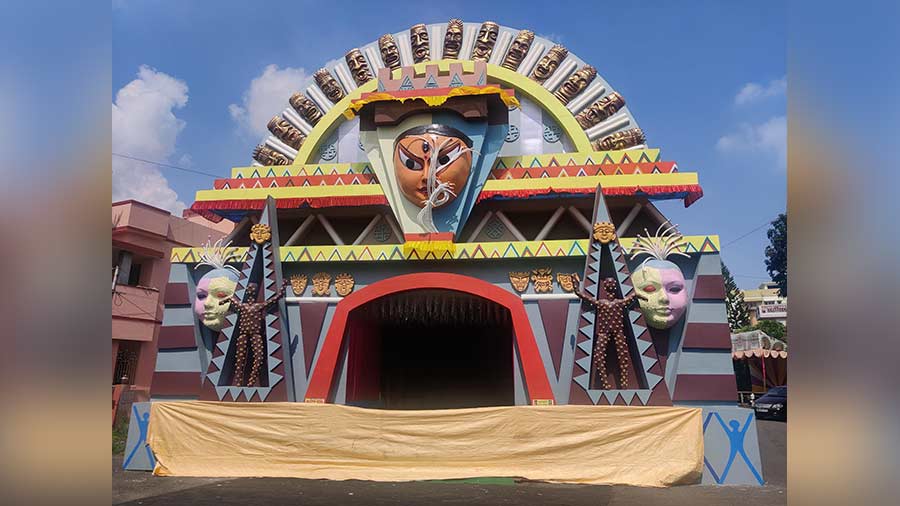 AH Block's pandal uses masks of various kinds to bring out the duality within all of us.
One of the smallest pujas on the list, AH Block has built up a significant following over the years with its detailed execution of simple themes. "Ours is a small block with a restricted budget, so we try to do the best we can with what we have," said Goutam Basu, secretary of AH Block Residents Association. This year, their theme is 'Two Sides' and the pandal has been adorned with various masks that depict all the facets to our personality. "The two masks on the sides are bi-coloured, depicting how each human has black and white shades within themselves. While it is inevitable for human beings to be grey, we pray to maa so that she guides us to our brighter side," added Basu.