There are few ways to make the best of the nip in the air when the mercury dips than al fresco dining. And with projections of a cold start to the New Year, Kolkata's restaurants with open-air spaces are going to be abuzz.
While some NYE special events have been cancelled in lieu of COVID, many of these open-air venues are wrapping up 2021 with safe, distancing-friendly, dinner and parties under the stars.
Here's My Kolkata's list of the five newest spots offering that and more:
LMNO_Q, Park Street
This skybar is one of the newest additions to the Park Street party scene. The rooftop setting designed with pop-coloured elements and fun seating like swings gives the place a fresh and young vibe. Teamed with panoramic views of the city, it's a perfect Instagrammable spot.
Apart from their usual delicious fare of cocktails and food, LMNO_Q has a new winter menu, which features a selection of kebabs and dishes like Amritsari chole, along with seasonal desserts with classic flavours such as Twisted Gajar ka halwa and Nolen Gur Choco Blast.
Operating an open-air space in Kolkata's warm weather is always a challenge but the pandemic has seen a shift in the dining out habits of the city. "They prefer open-air seating and to cater to this need, we constantly come up with new ideas for managing and dealing with the weather to give an unforgettable rooftop experience," said co-owner Shreevardhan Asopa.
This evening, LMNO_Q is hosting a party with DJ IImrran and Belarusian saxophonist Irina Lepesh.
Location: 24, Park Street, Magma Building, 12th floor
Cost for two: Approx Rs 2,000 with alcohol
31 32 - The Westin, New Town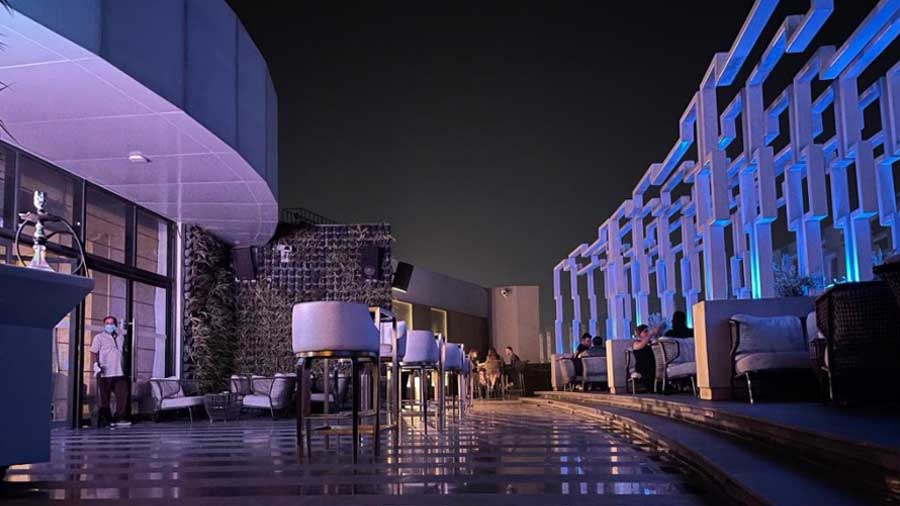 Courtesy: The Westin, Kolkata
The sleek-yet-cosy rooftop setting on the 31st and 32nd floors of New Town's The Westin transitions seamlessly from from perfect lunch-date spot to venue for partying the night away.
With views of the cityscape, their craft cocktails and a delectable selection of world cuisine, there's no surprise that this is a sought-after spot for any big day, and New Year's Eve is no exception.
There are three different New Year's Eve parties being held at The Westin's three venues. Air 152M is being held at 31 32 Bar with DJ Dharak playing his very own set to make sure you dance your way into 2022.
Location: The Westin, Plot CBD/2, Action Area-2, New Town
Cost for two: Approx Rs 2,500 with alcohol
Trapeze, Park Street
Trapeze is celebrity interior designer Sussanne Khan's first F&B venture. Khan had mentioned to The Telegraph earlier that the 6,000-square-foot space in Park Street reminds her of old Bombay. The rooftop restaurant has a Mediterranean-inspired look with hanging lights, decorative vines and white bench seatings.
Trapeze's menu is known for its selection of Asian, Indian and Italian delights, but the highlights are the desserts and cocktails. Their most stunning creations, these are delicious and Instagrammable.
Co-owner Dhruv Jhaveri agrees that rooftop settings are most sought after now, but there are always things to be planned in advance since they are "at the mercy of the weather gods." But "we are happy to make all the arrangements when we see the happy and relaxed faces of all our patrons," he added.
Trapeze's rooftop New Year's party will go on from 3pm to 3am with live music by the likes of Samir Khan, Zordan, DJ Ayush J, KunalG, DJ Roniii, Rwikraj, and Amyth Rajput.
Location: BFL Bangur Estate, 1A, Russel St, near India's Hobby Centre, Park Street
Cost for two: Approx Rs 1,800 with alcoho
Ølterra, Park Street
With the moniker of 'Land of Beer' and a Greek-inspired design theme, Ølterra is a swanky new addition to Kolkata's party street. There is even a giant statue of Zeus looking out from behind the island bar in this indoor-outdoor restaurant (brewery opening soon!). The alfresco seating area has gorgeous tiled floors and wrought iron seating that lend a rich look.
They serve modern Indian and Asian cuisines and one of the must-try dishes is the Pan Fried Cilantro Fish. If you're in the mood for one-of-a-kind cocktails, this is your spot. The outlandish green and foam-topped Have a Blast is highly recommended.
For their Greek-style New Year's party, DJ Hanna from Moscow has the music sorted and there will be other highlights including belly dancing, Greek-style plate smashing and pyrotechnics.
Location: 18, Park Street
Cost for two: Approx Rs 2,400 with alcohol
Hammer, Park Street
With a chic rooftop-garden vibe, this restro lounge navigates easily from day hangout to a dinner-and-drinks destination. Both boozy brunches and evening dates fit right in at the Hammer. Fit in a shot with the neon sign on the faux grass wall before you leave.
Outside of their fare of Indian and Asian dishes, the new menu features a selection of dim sums, sushi and kebabs, and they are launching a breakfast menu soon that will have dishes like Eggs Benedict and Croque Monsieur.
Owner Abhishek Kajaria swears by the magnificent city views and adds, "there are plenty of Instagrammable spots here on this Park Street venue."
The unlimited alcohol and dinner party at the Hammer will have patrons dancing under the night sky well into the wee hours of 2022.
Location: 6th Floor, 20G, Park Street
Cost for two: Approx Rs 1,200