Kolkata ramp-struts in its six-lane arteries but lives in a relaxed ganjee in its bylanes.  
The bylanes meander from College Street into Shyampukur Street; the sub-arteries extend from Ripon Lane to Alimuddin Street; the walkways snake from the river to Balaram Majumdar Street to Rabindra Sarani.
There are hundreds of winding bylanes where the brickwork is exposed, where windows are pane-less and where doors have been scribbled over in coded municipal chalk. Nothing much to talk about at an eye-blink. But if you should troop off to Quest, Victoria Memorial or Howrah Bridge in search of your DSLR orgasm, you might have missed the story of what just makes this metropolis.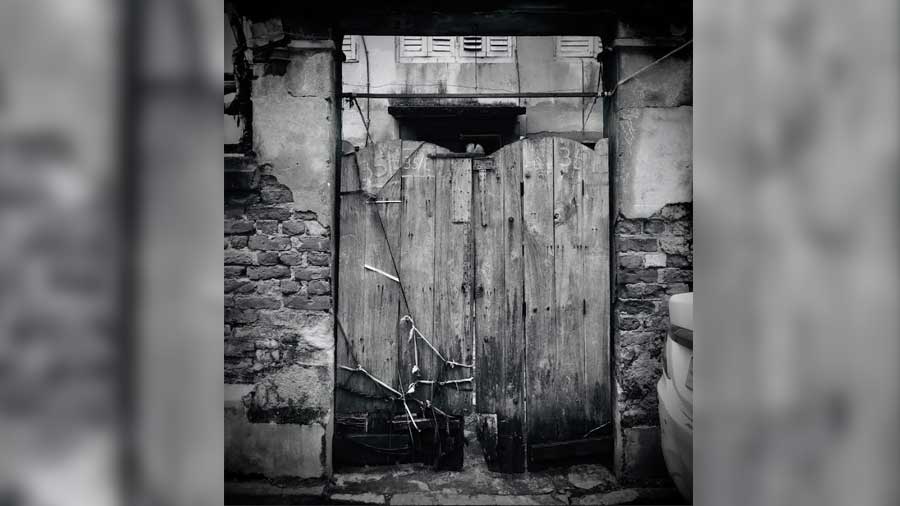 There is a door in Kambulitola Lane that I flipped for. Strapped. Strung. Fastened. Kolkata does not discard; it repurposes.
Mudar Patherya
The streets, people, river, echoes, intonations, friendliness and middle-classness make Kolkata a Nineties jewel. Eighteen Nineties.
I keep referring to 'bylanes'. It is that geographic reference, narrower and denser than streets, where you will find residents claiming territorial ownership ('aamaar neejayr para'), where residents are recalled by their daak-naam over their esquired reference, where everyone knows everyone else plus their cat, where the waft of cooked fish floating through the neighbourhood evokes comments on breed, where the domestic help maashi's 'Ekkhuni aylaam!' bellows across three homes, where the 7.10am slot is reserved for the Basak baarir tub to be placed under the street tap, where the half-crouched street cat sizes you up when you train your iPhone camera, where the borda returning from the morning bajaar hisses about the state of the country (read 'rise in potol price') and where the Kumartuli older gentry is still engaged in a 'rok' debate on whether Netaji wore his seat belt in August 1945.
Over the past few decades, we have been progressively disengaged from downtown Kolkata. The pavements have been appropriated by market forces; the facades have been blotted out by ditto; the moment you park, a didi will appear after you have locked to pronounce, 'Eikhaane gaari raakha jaabey na… aamadeyr kaastowmurr-der oshubidha hobey.'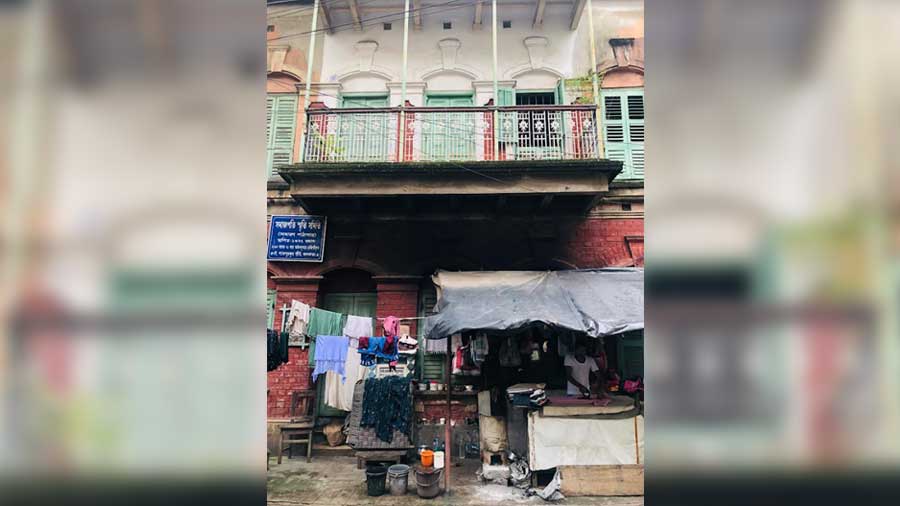 Two existences cheek by jowl. The presentable façade on Shyampukur Street contrasts with the dignified (but bare bones) existence of the dhobiwala below. He said he had been 'pressing kapda' for 38 years at that location. Gave him a multi-decade territorial right one presumes, evident from the way he has appropriated the pavement, ground floor window spaces and name plaque. There is a surfeit of detail: folding bed, wooden chair for 'mehmaan' and the façade architecture styled into an open shelf. He said 'Yahi hai hamara sansaar.' Evident. Though it would have been nice to get a perspective from the descendants of Charu Chandra Mazumdar on this.
Mudar Patherya
So I do something better; I walk four hours each weekend squeezing pictures out of subcutaneous Calcutta; I walk nearly 10km on a given day at an average 13 minutes to a km. I zig-zagged from Sovabazar to Shyambazar a couple of weeks ago; Park Street to SN Banerjee Road last Saturday; I walked the lanes of Shyampukur Street last Sunday.
I stopped to capture an aesthetic angle of door-frame decay, the rust of the metal door, the sunlight bounce off the water running down a bathing labourer's midriff, the leisurely dog-sprawl in the middle of the lane, multi-message graffiti that would have stretched dear Watson, typeface on a marble name plaque that told you about the class of people who lived within, the starched straightness of the roadside dhobi's ironed shirt and the commitment of a local resident to feed Shyampukur Street neighbourhood dogs.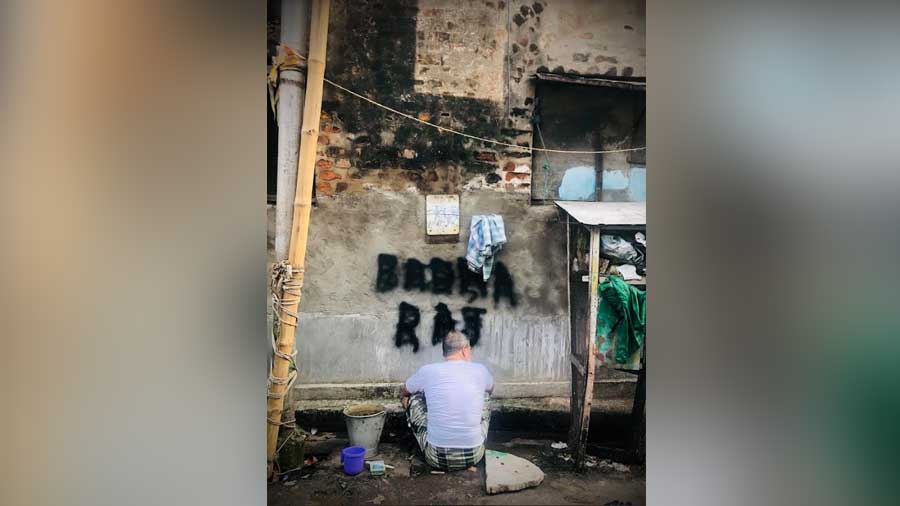 I have seen a number of every-day bathing instances like this one. The mirror completed the picture. It is a place where one doesn't just empty a mug over one's head; it is also a place where one changes into fresh clothes and preens one's hair or pats one's cheeks with cream before stepping out into the world. Additional bonuses from this Komedan Bagan Lane picture: the toothbrush, soap dish and smooth sitting slab.
Mudar Patherya
At first glance, these vignettes are boringly routine. Everyone sees them. But wait, crop the pictures and see them in dispassionate isolation. They begin to speak. Layers materialise. Extraordinariness emerges. You wonder 'How could I have missed this for so long?'
This — I promise — will transpire each time you walk the hinterlands of Wellesley, College Street, Jorabagan, Burrabazar and Rabindra Sarani to places like Mehdi Bagan, Taltala Bazar, Creek Row, Malanga Lane, McLeod Street, Balaram Dey Street, Notun Bazar, Beniatola, Radhakrishna Jeu Street and others. Especially when you 'see' and not just watch; when you reinterpret and not just accept; when you decipher and not just be spontaneously seduced.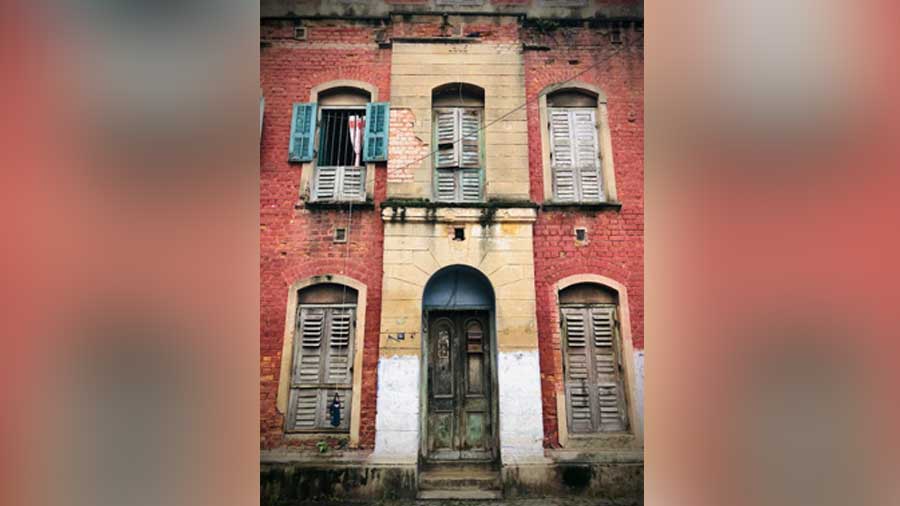 The façade with the right tint of barracks-red on Balaram Ghosh Street in north Kolkata. The picture was characterised by the long-standing Kolkata tradition of the bag being launched out of the second floor — a manual 'product elevator' system. One significant advantage: zero carbon footprint effort!
Mudar Patherya
Maybe someday, there will be diverse bylane walker groups taking discreet cellphone pictures of a Kolkata in the moment. This could spark a movement: better façade presentation, home stopovers for cha and bishkoot, benches to talk to residents on 'puraano shei diner kotha' and the romance of a story being told in photographs.
You may say I am a dreamer but soon I may not be the only one.
Mudar Patherya is a romantic who revels in Kolkata anecdotes, pictures, bylanes, characters and memorabilia. He is responsible for having kick-started the Rabindra Sarobar turnaround and the painted electricity boxes.