It was the night of September 22, 1914. A German cruiser, SMS Emden, crossed the dark waters of Bay of Bengal and silently entered the Madras harbour without being noticed. 
It has been two months since the World War I started. Though there have been fierce fighting in several war theaters across Europe and the Middle East, it has been all quiet on the Indian front. 
There were hardly any guards at the port entrance but the lights were on, giving clear visibility to the 3,600 tonne ship loaded with 22 guns. Captain Karl von Müller didn't waste any time and fired a volley of shots at the Burma Oil Company tankers, which were docked at the harbor. The tankers carrying 5,000 tonnes of kerosene immediately went up in flames. Emden went on with its firing, with shots landing even beyond the port area. The raid killed 5 and injured 13. The shots also hit several nearby buildings, including the boundary walls of the Madras High Court. By the time the guns at the Madras port fired back, Emden was already on its way out of the harbour and into the black waters of Bay of Bengal.
Although the raid was short and casualties were few, it created panic in Madras. Expecting more attacks, people fled the city in thousands. Soon, the word Emden would enter the lexicons of both Tamil (emden) and Malayalam (yamandan) to signify 'a person who dares and works with precision.' The fear of Emden returning never materialised and during the next four years of the World War I, there was no attack on the Indian soil.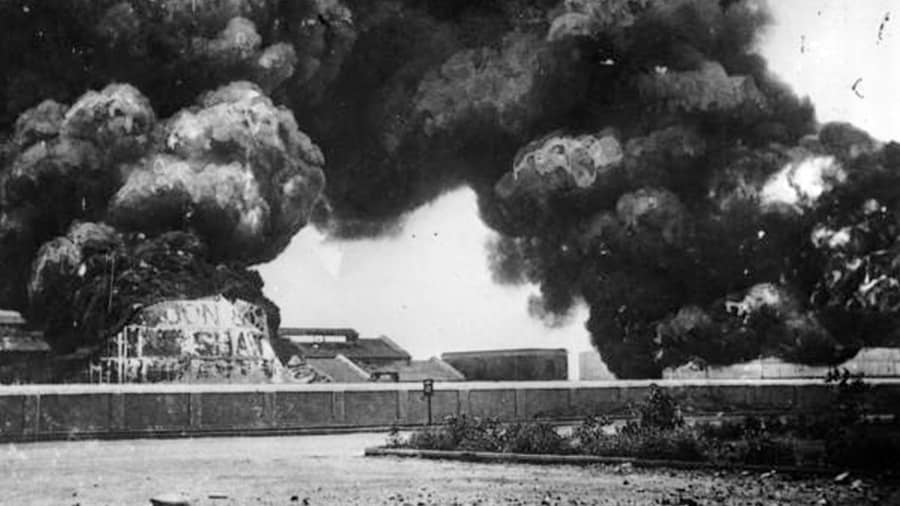 Madras port engulfed by fire
Wikimedia Commons
Later, as the war progressed, India got involved. Over a million Indian soldiers served the British Army during World War I. Over 70,000 died fighting in different war theatres across Europe, Middle East and Africa.
These fallen soldiers are remembered through various memorials spread across the country. They include well known landmarks, like the India Gate or the ornate Teen Murti Memorial in Delhi.
Kolkata, the capital of British India during the war, houses the towering Glorious Dead Cenotaph and a few other memorials like the Lascar Memorial and the Bengali War Memorial.
On the other hand, a small plaque on the eastern walls of the Madras High Court commemorates the only World War I attack on Indian soil. The plaque is situated on the exact spot on the boundary wall of Madras High Court, where the Emden cell struck 108 years ago. Located at ground level, the small plaque is difficult to spot and often overlooked.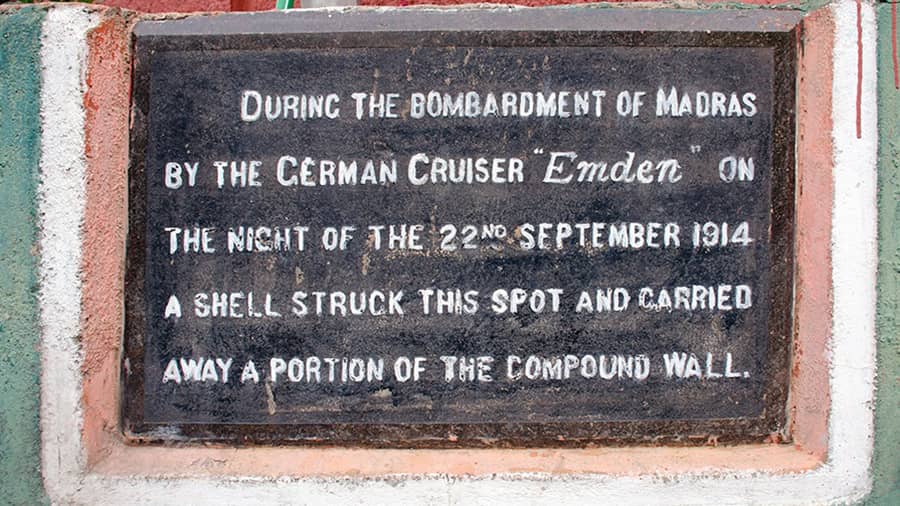 Emden plaque on the eastern wall of the Madras High Court
Shrabani Basu in her book For King of Another Country: India Soldiers of Western Front, 1914 – 18 mentions, "A plaque on the eastern wall of Madras High Court building still marks the spot hit by the Emden shell. ... The residents of Madras would not forget the day that German guns attacked their city."