When commentators for a cricket match being played at the Eden Gardens commend a batsman for sending the ball "out of the park", they are being more true to history than they can perhaps imagine.
Lord Auckland's beautification drive
The mecca of cricket was originally a park for the royals. The Auckland Circus Garden, as it was then called, was established in 1842.
George Eden, popularly known as Earl of Auckland or Lord Auckland, took over as governor general of India in 1834 and spent much of his eight-year stay in India beautifying urban spaces.
He created an unmatched green patch with a Biblical-styled walled garden, a splendid panorama, an artificial lake, a band stand, tree-lined walkways, creeks and fountains. From Esplanade, the garden was a direct terminus for all walkers, horse carriages and palanquins. Walkers could enjoy a cool breeze blowing from the Hooghly. 
One Captain Fitzerland was given the responsibility of planning the landscape of the park.
Auckland came to India with his two unmarried sisters — Emily and Fanny Eden — who were known to be aristocratic British royals in the European-American community of (then) Calcutta. Both the sisters were uncomfortable with the hot and humid climate of India and spent most of their time travelling. They spent a considerable amount of time at the Barrackpore Government House, where under their supervision a beautiful garden was developed inside the governor estate.They had a love for gardening for sure.
It is not known whether these two sisters directly influenced Lord Auckland to build a new garden for the governor and royals, but records show that he acquired a good size of land in 1840, stretching across acres from Governor House to the edge of newly built Strand Road keeping the Maidan and the new Fort William in its vicinity.
It is not clear from whom the East India Company acquired the 50 acres of prime land. Purnendu Patri suggestd two possibilities in his book. One, it could be a gift received from one Raja Chandradas, husband of Rani Rashmoni, and the other could be that this land was taken over from Nawab Mir Jafar. According to some accounts, the land was purchased by Auckland in 1841
A new name for Auckland Park
The name Auckland Circus Garden was hushed up after Lord Auckland left India rather unceremoniously. His exit was prompted by the unbelievable loss of British lives and money in the Anglo-Afghan war from 1838 to 1842. The East India Company's board of directors decided to send Auckland back.
Auckland himself could not enjoy the park for long, but the city royals found it an equal to the garden of Eden. Soon after Auckland's departure from India, the park was renamed the Eden Gardens.
The park proved a more convenient destination for morning and evening amusement than the Royal Botanical Garden, another great park established in 1787 by Robert Kyd across the river. Soon, especially from 1857 onwards, when British rule in India was cemented under the direct control of the crown itself, this garden on the bank of the river became a "promenade of Calcutta"
A major source of entertainment
Soon, a lot of attractions were added to the park. One was a provision for boating and another was the erection of a band stand, where a town band regularly performed in the evening for visitors in 1861-62.
Surprising as it may sound, every evening the Eden Gardens was illuminated with electric lights much before electricity became commonly available for domestic users of Calcutta. The illuminated Eden Gardens was such a big evening attraction of the time that any disruption there would be announced in the newspaper. Such a news item published in The Statesman on March 27, 1890, reads: "Early Disruption – owing to repairs to the steam engine connected with electric lighting of the Eden Gardens there will be no display of the light from 1st to 6th April next."
A public place with a dress code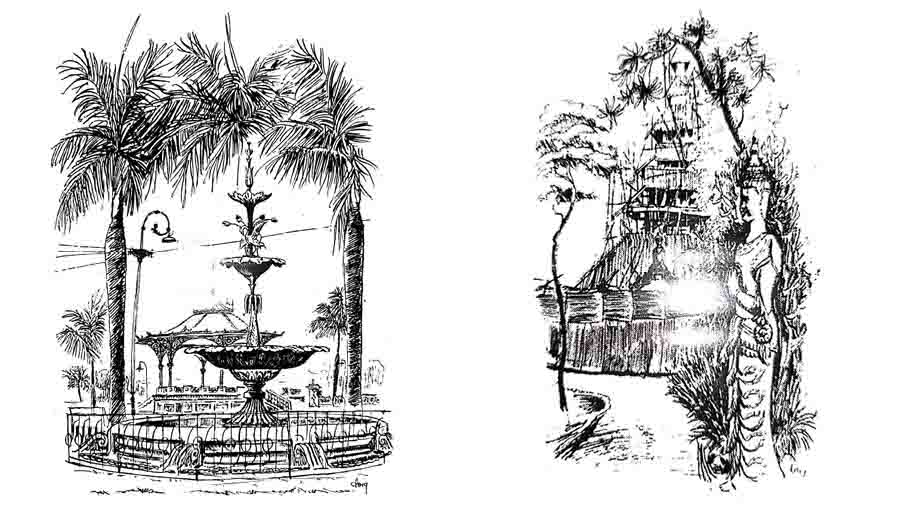 Sketches by Desmond Doig published in The Statesman in 1960s
The Eden Gardens, after many British clubs and societies, was probably the only public place where a dress code was implemented for many years by the foreign rulers. Harsh action was against Indians for not maintaining proper dress code inside the garden. This is evident in a letter published to the editor of the The Statesman on March 22, 1882, where a reader wanted to draw the attention of Mr Harisson, Commissioner of Police of Calcutta, describing how inhumanly a police sergeant had abused a few Bengali gentlemen who were " dressed in their national costume".
In the same newspaper on June 2, 1881, another reader who preferred to be called "A Citizen" expressed the same grievance of being insulted by police for not being properly dressed and he very clearly wrote "why not plant a placard"?
However with time, this dress code barrier was abolished and from the early 20th century, Indians were allowed freely in the garden. It became a common place for many musical events, exhibitions and theatre performances from 1910 onwards. In 1923, legendary Bengali theatre personality Sisir Kumar Bhaduri performed his iconic Bengali play Sita at the garden. The Eden Gardens also hosted Calcutta's first International Film Festival in 1952. The park was the exhibition ground of a mega event in 1957, celebrating 10 years of India's Independence. Even now, every year a flower exhibition organised by the government of West Bengal is hosted here.
Buddhist pagoda — a new landmark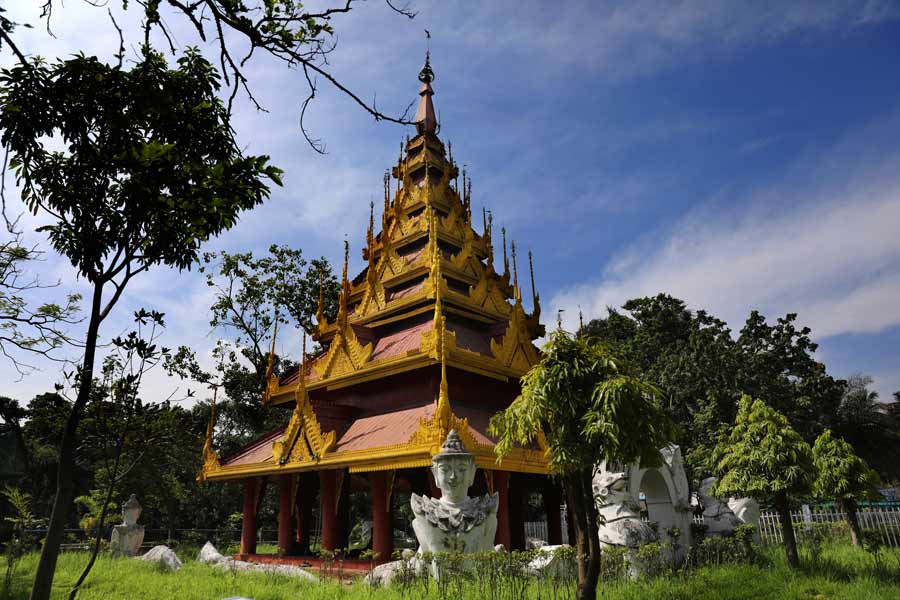 A decorated pagoda imported from Burma sits inside the garden
Arijit Sen
Another gem was added to the Eden Gardens by Lord Dalhousie in the form of a Buddhist pagoda.
During the second Anglo-Burma war in 1853, Lord Dalhousie visited the city of Pye in Burma. He was so impressed to see the pagoda made at Taehyung School of Architecture by an artist named Mong that he wanted to replant the structure in Calcutta.The pagoda was built in three months at the initiative of wife of Mong Honen, the Governor of Pye city, at the cost of Rs 1,500.
Dalhousie requested or may have ordered Mong Honen to hand the pagoda over and accordingly it was shipped from there to Calcutta in 1854 in a company ship named HMS Sawaraganga. The pagoda, after arriving in Calcutta, was placed somewhere in Auckland Circus and then in 1856 it was erected at its present place.
The wooden pagoda brightly painted in red and gold became an attraction for Calcuttans. Its presence in the garden and its reflection on the lotus pool became a tourist attraction much before Howrah bridge and Victoria Memorial.
An old advertisement of "Indian Photographic Xmas Card" by W Newman & Company published in The Statesman on November 29, 1888, avowed two of their attractions — the Burmese Pagoda at Eden Gardens and High Court from Eden Gardens. In 1870, the Eden Gardens pagoda became world- famous through the photographs taken by G. Stretton as a part of "Dunlop Smith Collection: Sir Charles Aitchison Album of Views in India and Burma".
The original look of the pagoda is now nearly gone with several modifications over the years but its biggest damage took place in 1996 when at the time of inauguration of the cricket World Cup it was partially burnt by firecrackers falling from the stadium. Now, a modern substitute has been built with two original Burmese temple guards carved in wood that still survive.
A tribute to Auckland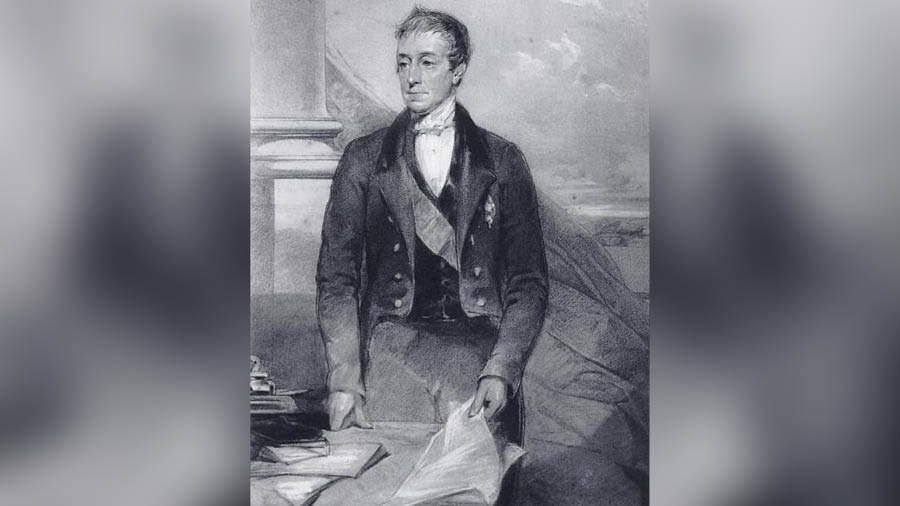 George Eden, popularly known as Earl of Auckland or Lord Auckland
Wikipedia
As a tribute to Auckland, a grand statue of 8 ft 6 inches sculpted by Henry Week was established here in 1848. It was moved in the late 1960s to Victoria Memorial and later gifted to Auckland city of New Zealand. Its transportation cost was funded by the New Zealand Insurance Company. There was another great statue of Naval Commander William Peel. The statue was in a sorry state as observed by Desmond Doig in the late 1960s. The statue is now in Barrackpore. Earlier, the grave of Lady Canning was also there but was later shifted to Barrackpore in the colonial era itself.
Losing ground to cricket
The Eden Gardens, the dream park of the British in Calcutta, faced a jolt in 1864 when the Calcutta Cricket Club acquired permission to play on one side and gradually had its address cemented there. The Cricket Association of Bengal was formed in 1928 and soon it started organising Test cricket on one side of the park, where in later years India's biggest cricket stadium came up. This ate up a large part of the garden, which once had a gate towards Governor House.
Again, in 1958, the Eden Gardens lost more ground when All India Radio's office-cum-studio shifted there from Garstin Place of Dalhousie Square. Next to this new building named Akashvani Bhawan, the Netaji Indoor Stadium came up in the mid-1970s.
So today's Eden Gardens is a much-reduced park compared to what it was in its heyday.
Colonial heritage
Though the Eden Gardens, the park of elite and powerful citizens of colonial time, holds a rich load of heritage in Calcutta's history, it sadly and very obviously lapses on one account.
Unlike Wellington Square, College Square, Curzon Park, and Beadon Square, this is the only major park in the city where no major political meeting or demonstration ever took place in the pre-Independence era.